News
David Foster Sparks Dating Affair Rumors With Elizabeth Hurley-Months After His Previous One!
New couple in the town!
After spending a weekend together, David Foster and Elizabeth Hurley are now exchanging some playful comments on Instagram posts. All those comments in the Instagram posts have sparked the dating affair rumors that these two is an item, now.
The 52 years old actress spent the vacation with Billionaires friends of David. The duo first sparked the dating rumor after they were photographed together boarding a private jet at an airport.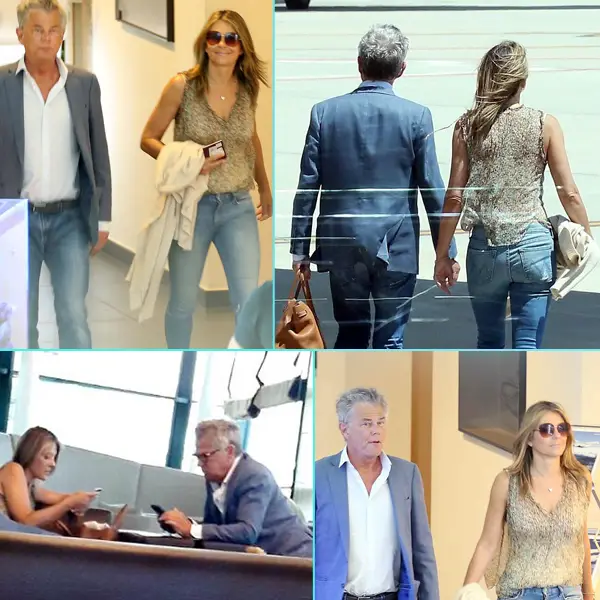 Caption: The dating rumors of David Foster and Elizabeth Hurley sparked after the two were snapped together at an airport.
Photo Credit: liverampup.com
Additionally, a friend of the alleged couple, Cheryl Saban, shared a snap from the trip with some friends who were also on vacation.
A source dished,
"They looked like a couple in the beginning stages of getting to know each other. They were with a group of friends, but they had some private flirty moments together where they laughed and got close."
The duo had been friends for a long time, and it gives the impression that now is the time to turn the friendship into a relationship.
As of now, the two are seen sharing flirty comments. Lately, David has commented on a picture of Elizabeth Hurley where she posed in her swimsuit and flippers writing "Mermaid."
Caption: David Foster and Elizabeth Hurley could be an item as they are now seen sharing some flirty comments.
Photo Credit: dailymail.co.uk
It also seems that Elizabeth is relatively close to David's daughter Sara Foster, as she has commented on the Instagram video of Sara.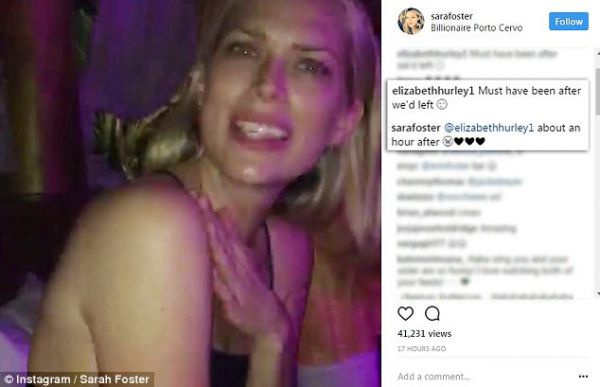 Caption: The alleged girlfriend of David Foster commented in one of the Instagram video posts of daughter Sara Foster.
Photo Credit: dailymail.co.uk
The actress also mentioned that she likes to laugh as she said,
"I do like to laugh. I like someone who's loyal and kind of fabulous."
And now it comes across as though; she has now found someone who's meeting the requirements!
Talking about Elizabeth Hurley's past relationships, she met Hugh Grant and started dating him in 1987. The then couple had a cooperative split in May 2000. She also gave birth to Steve Bing's son, Damian Charles Hurley on April 4, 2002, even though the two were not in an exclusive relationship.
Elizabeth then started dating the Indian Businessman Arun Nayar in late 2002 and married him on 2007; until the two got divorced on 2011.
After the split with the spouse of a couple of years, Elizabeth Hurley had been in a relationship with cricketer Shane Warne, with whom she split on 2013. However, the now rumored boyfriend of Hurley is the marked one after her last split.
On the other side, before the alleged dating with the mother of one, David previously sparked the dating speculations with Katherine McPhee and Christie Brinkley.
He split with the mother of Bella Hadid and Gigi Hadid, Yolanda Hadid on 2015, of which Yolanda will be talking about on her memoir "Before Me."
Stay with us for the emerging updates on David Foster and Elizabeth Hurley!