Entertainment
Erin Phillips: Lesbian Partner Tracy Gahan, Everything For Her, Was Not Married, But In Family Pic
Love prevails over hate; the Australians tried to comprehend the sentiments of the LGBTIQ community in 2017 legalizing the same-sex marriage.
And one of the famous persons who had been vocal about the issue was Erin Phillips, a mother of two twins.
She is a former Dallas Wings guard, who won WNBA championship two times with Indiana Fever and Phoenix Mercury in 2012 and 2014.
Erin and her wife are a perfect example of a loving same-sex couple. They got married even before the Australians passed the marriage equality law.
Dates Female Athlete!
Erin Phillips, an Australian rules footballer for Adelaide, first met the former standout from Lowa State, Tracy Grahan in 2010, when they both were playing basketball for the Adelaide Lightning.
With no partner on the scene at the time, she started dating Tracy, who not only shared the same profession but also had impressive playing stats like her.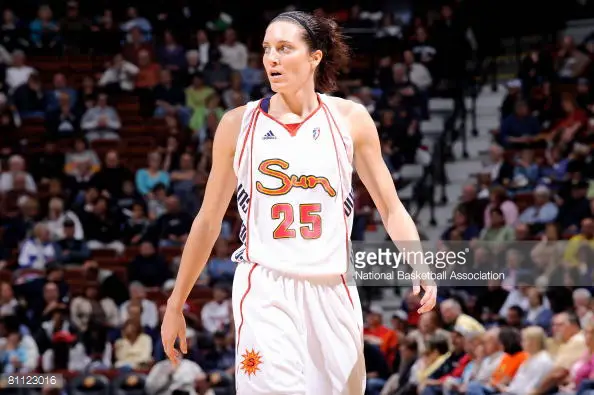 Erin's beau Tracy Grahan used to be a prolific basketball player at her time (Photo: gettyimages.com)
Tracy, who was also an inductee in her High School Hall of Fame, had the history of 1357 points in her Lowa State Career and was known for her exceptional run with the Adelaide Lightning in the 2007-2008 WNBL triumph.
She was also inducted into her high school hall of fame.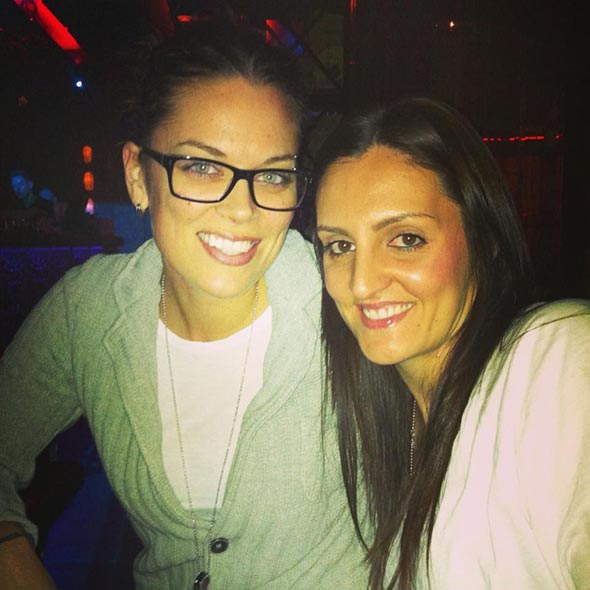 Erin Phillips and Tracy Gahan (Photo: Imguir.com)
Though Erin's beau never made it into WNBA except for few training camps appearances and a brief stint with NY Liberty, she made sure that Erin stays focused in her career.
Phillips' then-dating partner, Tracy profoundly influenced her to decide to choose Dallas as her overseas base.
Erin Phillips' Lesbian Partner: Her "Everything":
While the couple was on their dating days, both Erin and Tracy were often witnessed on each other's social media.
One of the Instagram posts depicted the couple together under the caption "My Best" with hashtag everything.
Erin also included Tracy in her family photo.
The photo consisted of everyone in the family including Tracy, her dad, and little children, and was captioned "my crew" by WNBA star herself.
Erin Philips' Married Life: Equality On Marriage
Following several years of dating, the Australian former professional basketball player got married to Tracy Grahan in November 2017.
Sharing the glimpse of her bid day, Erin took to Instagram and shared an image with the caption "Can't describe how much this means. THANK YOU AUSTRALIA!!! #yes? #loveislove #marriageequality"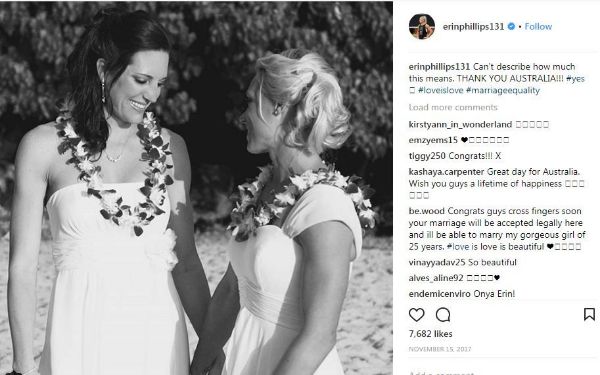 Erin Phillips' wedding with Tracy Grahan on 15 November 2017
Her wedding created media buzz as she also sparked the issue of marriage equality at the time.
The 2017-appointed Director of Player and Franchise Development for WNBA's Dallas Wings, Erin was disappointed when the Australian government allocated $170 million for the survey for the marriage equality issue in 2017.
She felt that the Australian mass had already accepted the voices of the LGBTIQ community and the leaders should lead the people voice rather than wasting the money.
Mother of Twins
In the same month of their marriage, November 2017, Erin welcomed her first twins, Brooklyn Rayne and Blake Cruz, who were carried by her wife, Tracy Grahan.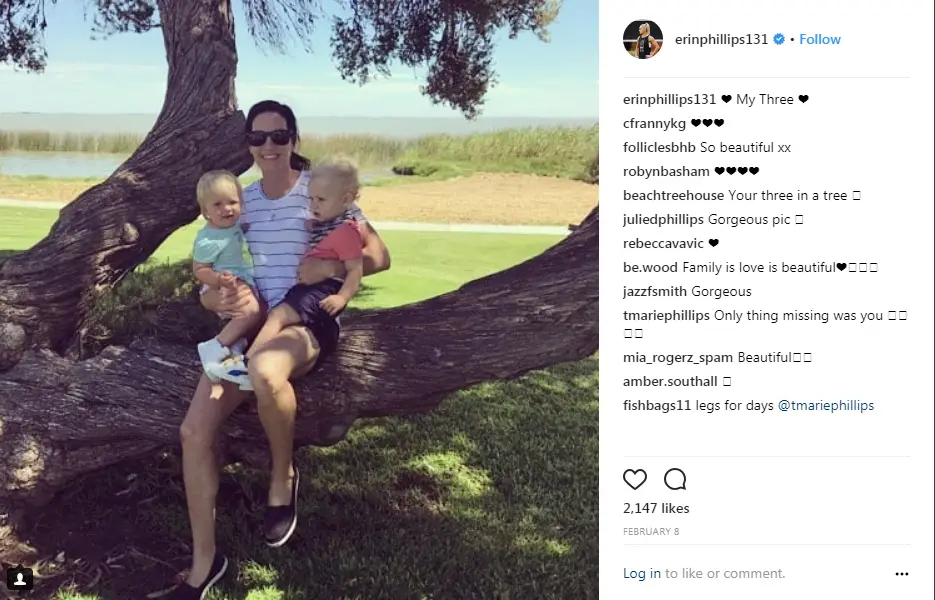 Erin Phillips posts the picture of her wife and kids in February 2018 (Photo: Erin Phillips, Instagram)
In an interview with adelaidenow.com.au on July 2017, she explained motherhood after the birth of her twins, saying,
"I used to be someone who set five-year goals and now I'm very much wanting to enjoy every day. I look forward to watching my kids grow up and hopefully one day Brooklyn and Blake will be able to play footy under the mother-daughter/mother-son rule.That'd be pretty cool."
Previously in 2017, her wife, Tracy went together with her when she won the AFLW Best and Fairest award. She credited her wife in the acceptance speech, saying,
"Tracy, we've been through some amazing things. Obviously having kids is the first. Tracy, when we were four months pregnant and I said 'can we go to Adelaide so I can play footy and risk my WNBA [career]', I was waiting for a 'are you joking?' But you said 'absolutely, I know it's your passion and your dream'. That's why every bit of this is all owed to you, and and I can't thank you enough, and I love you."
Erin and Tracy's remarkable love is praiseworthy. Don't you think?
Erin Philips In 2008 Summer Olympics In Beijing, CareerIn Football
Erin represented Australia, her native country in the 2008 Summer Olympics in Beijing.
With amazing teamwork and coordination, the Australian Women's Basketball team including Lauren Jackson and Penny Taylor won the silver medal.
Ending her career in Basketball, Erin later started her journey as an AFL player.
She was signed as a rookie for the AFL Women's season in 2017 by the Adelaide Football Club in September 2016. She currently holds the position of Co-captain of the club alongside Chelsea Randall.
She is currently an integral part of the forward line, using her ability to read the play, as she did during her decorated basketball career as a champion point guard.
Erin Philips' Family, Hobbies
Erin Philips, born on 19 May 1985 in Melbourne, Australia, will celebrate her 33rd birthday in May 2018. The decorated basketball player celebrated her 4th anniversary with wife Tracy on 1 March 2018.
Phillips comes from a football family with dad, Greg Phillips, a former Port Adelaide player. The world champion with Opals in 2006 was also close to signing as Port Adelaide's first female AFL footballer earlier. She started her career with Adelaide Lightning in 2002.
In 2018, she became the assistant coach for her former club, Dallas Wings.
While Erin is not playing basketball, she volunteers as a community youth worker.
Standing at five ft and 8 inches, Phillips boasts a well-build-up body, which was on demonstration when she graced on a photo shoot for man's magazine Alpha back in 2008.
Lets Embrace Love Over Hate
Our society can flourish with love and understanding, societal norms and values change over time, history shows.
It hasn't been long when women marched on the streets for the equal voting rights all over the world.
Traditional husband-wife relationship undoubtedly has been the underlying pillar for the survival of the humanity. But the LGBTIQ's have also been existing for centuries, and they should even get the equal rights and opportunities to flourish in the world.
Then there comes the question of marriage equality. There has been viable for and against concerns over the issue all over the world and thats usual since human beings by nature have freedom of speech and choice. Even if you are against same-sex marriage or for it, you should approach the matter with love, not hate.
We have been slowly adapting to gender-neutral terms. Remember the words air hostesses and firemen that was changed too flight attendants and firefighters.
Yet again, we shouldn't try to alienate non-LGBTIQ communities by forcing them to uses gender-neutral terms every time.
A bride and a groom at a wedding wouldn't want any other words to define them. A gay couple at their wedding would want to call each other by the word, husband.
Back to the point, love always prevail over hate. Let's try to understand each other.