News
Erin Phillips: Lesbian Partner Tracy Gahan, Everything for Her. Not Married, but Included in Family Pic
You must be living under the rock if you are still unaware of what wonders Erin Phillips has been doing as a talented Australian women basketball player in WNBA. Currently the Dallas Wings guard, Tracy is two-time WNBA champion with Indiana Fever and Phoenix Mercury in 2012 and 2014 respectively.
Erin Phillips alleged lesbian relation with Tracy Gahan has always been the highlighting topic of the Melbourne native.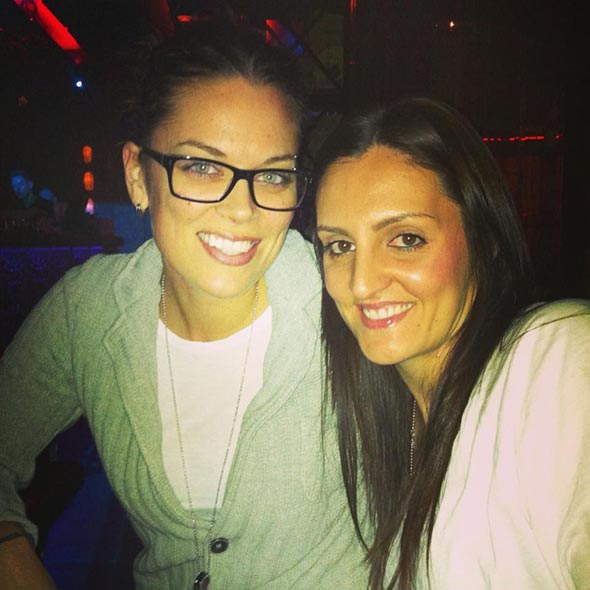 Caption: Tracy Gahan has been her boyfriend and husband in disguise although they are yet to confirm it.
Source: Imguir.com
And it had hit the new high when Gahan featured in Philip's family picture raising doubts with the question of whether the couple is married.
Erin and her Lesbian Partner -"Everything":
It has been quite some time since Erin and Tracy are being witnessed together and apparently dating. One of the Instagram posts depicts the couple together under the caption "My Best" with hashtag everything. That is ample to point out what Tracy means to Phillips; her everything.
The Family Picture!
As we can see, media is no stranger to photographs of Erin Phillips and Tracy Gahan together sharing light moments. But when it comes to including "an out-of-family girl" in a family picture, the buzz among people is inevitable. The photo consists of everyone in the family including dad and little children and is captioned "my crew" by WNBA star herself. However, the addition of Tracy Gahan adds to the essence of the picture. What is being denoted by having Tracy pose as a family member? Irrespective of what brought Tracy in there, we do have to admit her presence has set the tone right in the photo.
Who is Tracy Gahan?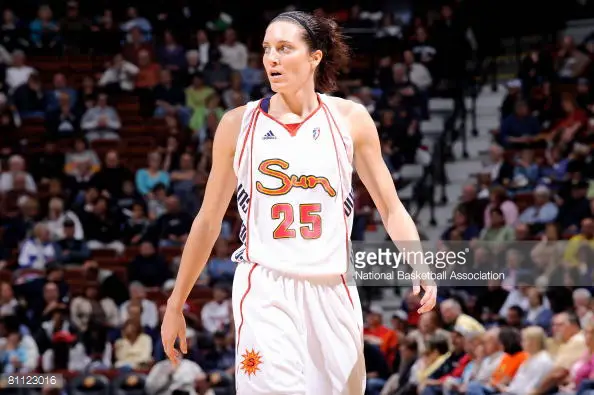 Caption: Tracy Gahan used to be a prolific basketball player at her time.
Source: gettyimages.com
You must be wondering who the lesbian partner of Erin Phillips is.
Had you followed the overseas basketball and WNBL league earlier, you would have heard about the standout Lowa State's Gahan who had an exceptional run with Australian outfit the Adelaide Lightning. Although she had 1357 points in her Lowa State Career, the retired professional never made it into WNBA except for few training camps appearances and a brief stint with NY Liberty. She is also an inductee in High School Hall of Fame. Gahan happens to be Phillips' former teammate back in WNBL with Lightning during her initial breakthrough in the career.
Even Phillips' decision to choose Dallas as her overseas base is highly influenced by Tracy, who is native of McKinney in Texas.
Erin Philips in 2016 Summer Olympics in Rio:
Erin is currently representing Australia, her native country in the 2016 Summer Olympics in Rio. With an amazing teamwork and coordination, the Australian Women's basketball team has been getting nothing but sheer triumph so far.
The match outcomes are as follows:
Australia vs. France
89 71
Australia vs. Turkey
61 56
Australia vs. Brazil
84 66
Next match is scheduled to be on Saturday, August 12 at 2:30 AM against Japan and on Saturday, August 13 at 9:00 PM against Belarus.
Erin Philips' career in Australian Football
Ending her career in Basketball, Erin has started her journey as an AFL player. She was signed as a rookie for the AFL Women's season in 2017 by the Adelaide Football Club in September 2016 and currently holds the position of Co-captain of the club alongside Chelsea Randall after her sharp rise in the football world.
The Olympic silver medalist hadn't played football for more than three years before being signed in making her recent victories even more surprising. She is currently part of the forward line, using her ability to read the play as she has done during her decorated basketball career as a champion point guard to her advantage.
Below are her rookie career's highlights:
Erin Philips' Short Bio:
Erin Philips was born on May 19, 1985, in Melbourne, Australia and currently ages 31 years old. While she is not playing basketball, she is a community youth worker. Erin started her career with Adelaide Lightning in 2002.Standing five ft 8 inches, Phillips boasts a model-like-body which was on demonstration as she graced on a Photo shoot for man's magazine Alpha back in 2008.
Phillips comes from a football family with dad Greg Phillips being a former Port Adelaide player and her, being an avid fan of the beautiful game. The world champion with Opals in 2006 was also close to signing as Port Adelaide's first female AFL footballer earlier.