You may have known about The Ice Man Martin Kaymer who used to reign as the number one in golfing fraternity a couple of years back. But how familiar are you with the handsome stud Kaymer who have won hearts of strings of beautiful women?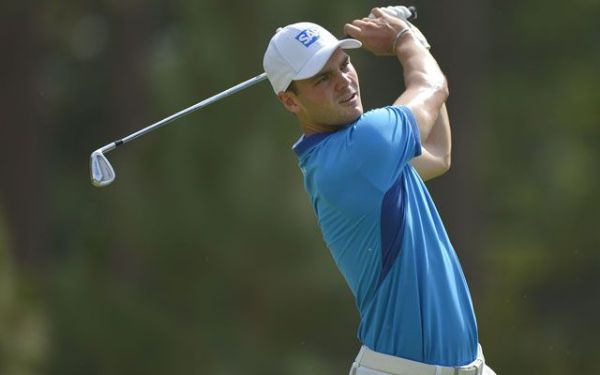 Caption: The mighty Martin Kaymer in action as he sails one into the hole.
Source: cbssports.com
Professional Golfer Martin's Dating History: Girlfriend?
The three-time PGA tour winner was at the pinnacle of the Official World Golf Ranking only for eight weeks during 2011. However, he has always been at the top of the news for his dating issues.
We can't deny the fact that this handsome hunk is a treat to the eyes of women and is regarded as one of PGA Tour's Most Eligible Bachelor.
The German professional's first known relation dates back to 2008 where he was enjoying the relationship with Jenny.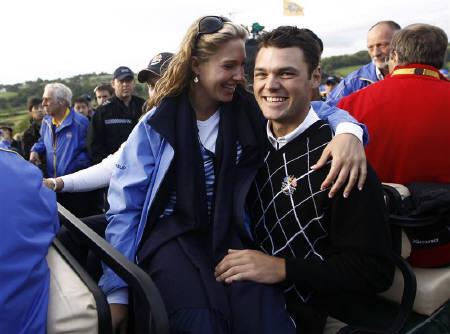 Caption: Allison Micheletti and Kaymer used to hang out pretty often and was even rumored as his wife.
Source: reutersmedia.com
After the relation came to an end, he sought the partner in Allison Micheletti. An avid professional golfer herself, Michelletti happens to be the daughter of Legendary NHL Player Joe Micheletti.
Sharing the common love for golf, the couple would be found pretty engrossed in their relationship for around a year and a half in between 2010 and 2012. Following the split, Micheletti tied the knot with Mike Modana, an NHL Player, in September 2013. As of now, she is already a mother of twins.
Rumors regarding his affairs calmed down for a while after the break-up only to be ignited and revived in mid-2015 with fresh speculations. If media reports are to be trusted, he is currently dating reputed TV host Kirsty Gallacher.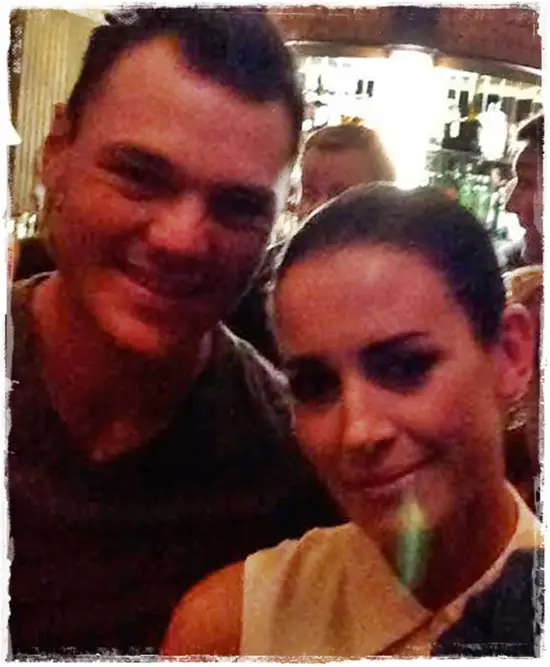 Caption: Gossips are yet to be provided the confirmation but Martin is visibly together with Gallacher.
Source: fabwags.com
This latest name to be added to the list of his girlfriend is often witnessed reading out the headlines for Sky Sports News. And she is a sheer beauty.
Apart from her golf connection as a sportscaster, she is also linked to the sport through her father Bernard and cousin Stephen Gallacher, who are renowned names in golfing as well.
The couple reportedly came together during 2014 Ryder Cup after being introduced to each other through Kirsty's cousin Stephen who happens to be Kaymer's golf mate.
Kirsty was undergoing the torrid time due to her divorce with ex-husband and rugby player Paul Sampson when Kaymer approached her with affection.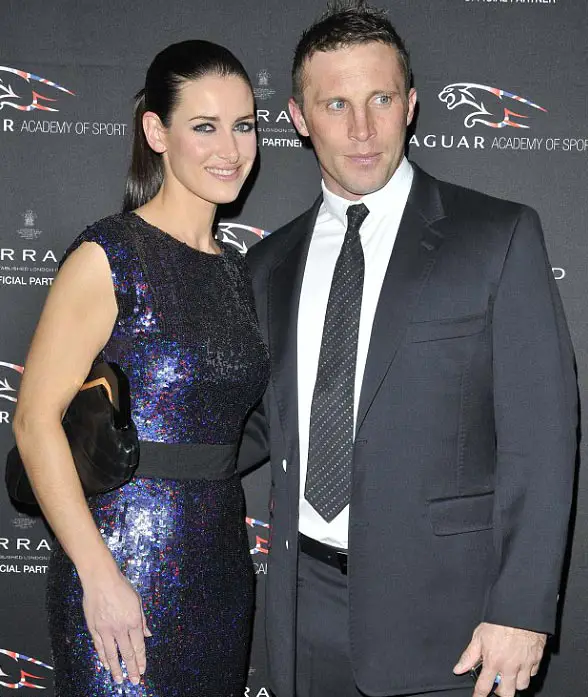 Caption: Kirsty Gallacher and her ex-husband Paul Sampson, a rugby player, poses for a photograph.
Source: dailymail.com
She is a mother of two from her first marriage that lasted 4 long years with 10 years of initial dating. The 39-year-old stunning presenter has been linked with the relatively younger Kaymer, 31, for quite a while and is often witnessed together with the star in galas and programs of all sorts.
The insider at Dailymail was quoted saying, "Martin has clearly taken a shine to her, it's fair to say that he has been doing the chasing."
They also had one hell of an awkward interview with Skysports where they could be spotted flirting on Live TV.
The flirtation and taking shine:
With both of them being at the peak of their career, speculating that they will be married anytime soon will be a foolish act.
Upset with hostile crowds!
The European Ryder Cup team of 2016 was upset with hostile crowds than the fact that the team containing players like, Rory McIlroy, Danny Willett, Martin Kaymer and Justin Rose lost the biennial event for the first time since 2008. Martin Kaymer has complained about reactions from the crowd. Martin Kaymer said after his first round at the Alfred Dunhill Links Championship on October 7, 2016:
"Ninety-five percent of the crowd were fine but there are just some idiots in the crowd and I just find it amazing that they are standing there with their children in their hands and they say things that you think, 'that's you child next to you, what role model are you?' It's a bit shocking sometimes, the comments you hear."
The sentiment from the player is tough to argue as fans from stands had some tough words for the players.
Martin Kaymer (born 28 December 1984) is a German professional golfer and winner of two major championships. He was also the No. 1 ranked golfer in the Official World Golf Ranking for eight weeks in 2011.
The Dusseldorf native has registered 22 professional wins to this date, including 3 in PGA Tour and 11 in European Tour which has fetched him majors namely U.S. Open and PGA Championship. The European Tour Golfer of the year 2010 still has a lot to add to his tally.
#Professional golfer
#major championships
#No. 1 ranked golfer
#Official World Golf Ranking
---