News
Gemma Atkinson Is Close With Her Ex-Boyfriend But Is Not Dating While Revealing About Her Current Mood Towards Relationships
Gemma Atkinson, the hot actress for whom most men would bow down, has broken up with her boyfriend but still, remains close friends with him. Well, this scenario is not something new as La Toya Jackson is also friends after the split with her ex-fiancé Jeff Philip with whom she was rumored to be married. However, the only difference between La Toya and Gemma is that Gemma revealed her thoughts and mood towards dating and relationship.
Gemma Atkinson, 32, in her career, has been on dating terms with many men and but in recent events, Gemma made the headlines after she split with her fitness trainer boyfriend, Olly Foster in July of 2016. The couple started dating in 2014.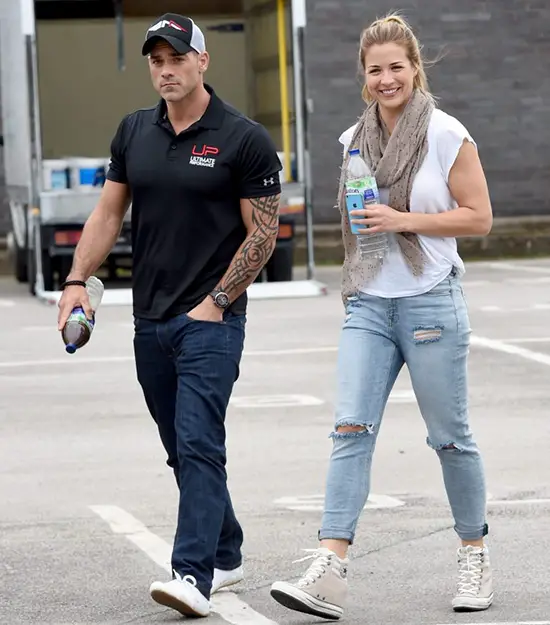 Caption: Gemma Atkinson with ex-boyfriend Olly Foster in 2016.
Photo Credit: thesun.co.uk
Keeping friendship with ex-boyfriend
After the split in July 2016, Gemma stays friends with her trainer boyfriend Olly and both have stated to be in each other's life but as friends. In an interview, Gemma said,
"Sometimes there are people in your life and it's just not working out the way you thought. We'll always be in each other's life but just as friends."
She further continued,
"We went on a road trip the other week together. Now I can't get away with ditching sessions as he's more strict with me."
Now that Gemma is out of bounds of relationships and dating affairs, she prefers to stay single for a bit longer.
Not Dating Anytime Soon:
Her split from her trainer boyfriend seems to be a friendly one as Gemma said that she is happily single and is also quite satisfied with the life she has right now, with her dogs and of course, her flourishing career.
"I'm happily single. I've got the dogs and lots going on professionally. It's nice to be on my own for a bit."
Not only that Gemma is happy at the moment, but she is also contemplating to stay single for a little longer and explained the reason as well.
"I have not even thought about dating. I will give it a few months. I'm one of those people who like their own company. I don't need anyone."
She is currently determined to avoid any relationship and who knows if she is waiting for the type of man with whom she can call her husband and have a happy family.
A Short Dating History:
Like a super hot actress, Gemma has dated quite attractive men which include famous footballers like Cristiano Ronaldo, Darren Bent, and Marcus Bent. However, apart from footballers, Gemma has also been on dating terms with Cleveland Campbell and Rhys Kinslow.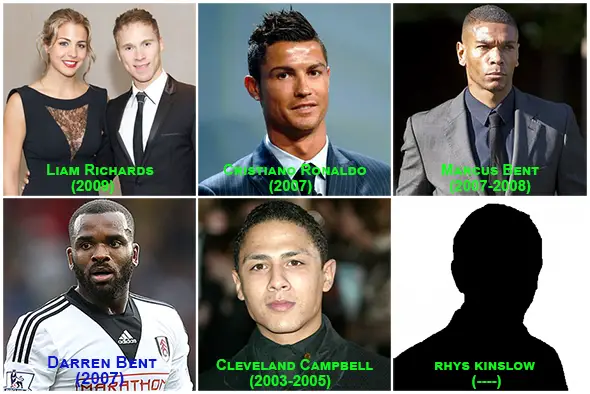 Caption: Gemma Atkinson's dating history (Rhys kinslow's info not available).
Photo Credit: liverampup.com
However, of all the men she dated, Gemma has only opened up about dating Cristiano Ronaldo, she said,
"We just went to my house and drank cups of tea and watched Only Fools and Horses. Genuinely. I don't know if he's into it now, but it was on the telly."
After dating Ronaldo, Gemma got engaged to Marcus Bent and Liam Richards consecutively, but both of the relationships did not last her. She recently split boyfriend Olly was supposed to be the one for her as she fell for him before actually meeting in person. The now ex-couple shared loads of e-mails, she said,
"The first time I saw him was when I got out of a taxi, and he was standing outside the gym. My stomach flipped."
Right now, after her split with Olly Foster, Gemma Atkinson is living her life as a single lady and currently aims to remain single.Currently, she can be seen in Emmerdale and has Cain Hill in post-production which is due for 2017.