News
Golfer Danielle Kang Birdies The Final Hole to Claim Victory on KPMG Women's PGA Championship 2017, More Details
Women Power!
Danielle Kang birdied the final hole to bag the KPMG Women's PGA Championship this past Sunday to secure and win her first LPGA title. In that process, she edged defending champion Brooke Henderson.
Speaking about the victory, she said,
''I just told myself it was my week. It was my day,''
Kang bogeyed the tricky par-3 17th while Henderson closed with two birdies to move into a close tie for the lead after coming up so close, but just short on a 30-foot eagle putt on the par-5 18th.
But the determined Kang responded with two back to back solid shots to move into the green in two & then two-putted for the upset victory as some might call.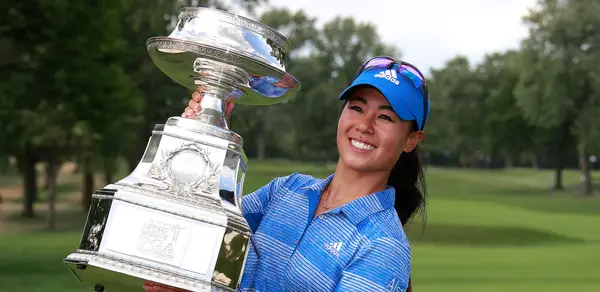 Caption: Danielle Kang bagged the KPMG Women's PGA Championship 2017.
Photo Credit: golfchannel.com
This win is surely going to please her family and her parents in an ample amount. Especially the spirit of her father K.S, who she lost to cancer in 2013.
Kang's father caddied for her at the time she won the U.S. Women's Amateurs back in 2010 and 2011, cementing her name in the world of golf. She is known to keep a journal, where she writes messages to her beloved and deceased father.
Wiping the teardrops from her eyes, she said,
"If I could wish anything, I would wish that my dad saw me won,"

. "I think that it's been a really difficult road for me the past four or five years. It's life, though, you pick yourself up and you have to keep working hard at it, and then believe in what you're doing, and not letting yourself down.
She then added,
"I just know that he's here for it. What are the odds that my first win is a major? Pretty sure he had something to do with it. It's just incredible. But I know that he was there, because I felt — I felt him with me every day, and I still do."
We too would have loved it if her father who was her hero saw her embrace such glory.
However, her mother, Grace Lee, was one of the very first people to congratulate Kang on the victory. Kang also face-timed with her brother Alex after the trophy presentation.
A Short Wiki-Like Bio of Danielle Kang.
Born in San Francisco, California, United States, on October 20, 1992, Danielle Kang is a 24-year-old American golfer, who is the reigning KPMG Women's PGA Championship champion. She is the daughter of Grace Lee and late K.S. Kang.
She was forced to withdraw out of the Yokohama Tire LPGA Classic after suffering a wrist injury brought on by golf in May 2016. Moreover, some weakness in Kang's back and poor posture resulted in her having three bulging disks in her neck that made her miss six weeks of golf.
Speaking about the horrible year, she said,
This past season was mostly survival mode more than anything,"

"My goal was to get back out on the golf course as soon as possible. These injuries should've had me sit out the rest of the season, however, my awesome team helped me get back on the course in just six weeks."
That shows how she came back from a horrible time and illness concerns to become the champion she is now. Congratulations Kang!
Stay with us for the emerging updates on Danielle King!