News
Heartfelt Condolence! Aspiring Singer Songwriter Tommy Page Dies at a tender Age of 46
Tommy Page, a talented singer-songwriter and a veteran music executive who gained massive popularity from his No. 1 single "I'll Be Your Everything," dies on March 3, Friday. He was 46.
During press time, the reason behind forty-six-years-old singer Tommy 's death was not revealed, but it is said to be a suicide on the basis of the reports collected from his friends.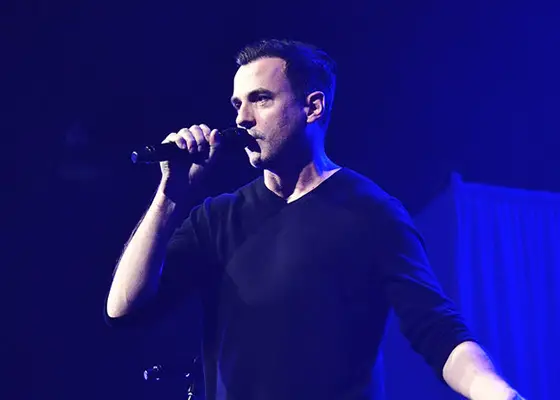 Caption: Tommy Page on Nov. 19, 2014, attending Lexus Pop Up Concert Series Powered By Pandora in Costa Mesa, Calif.
Photo Credit: billboard.com
His friend Denise Warner who is the Billboard.com Editorial Director said that Page attempted suicide on Friday in New York. Likewise, Billboard Entertainment Group President John Amato said-
"We are all mourning the loss of our friend and colleague, Tommy Page, He was a magnetic soul and a true entertainer.
Tommy was happily living with his partner Charlie. They were parenting their three children together.
Page, who began his music career as an artist at Sire Records was a vice president of music partnerships at the Voice at the time of his death. In a statement regarding Page's death, the Voice said –
"Our thoughts are with his partner, their three children, and the rest of his family and close circle of friends. Tommy will be missed."
Similarly, several members of the music industry, fans, followers and well wishers of Page have poured their condolences over social media to mourn his loss.
Someone I lovrd so much was the last person U would ever think would do this. Why why why Tommy??????

— Diane Warren (@Diane_Warren) March 4, 2017
So sad to hear about this.????#riptommypage. My deepest condolences to his family and loved ones

— Jordan Knight (@jordanknight) March 4, 2017
A kind and wonderful man who helped me a lot early on. Helped pick my first singles. He was and is so loved. RIP my friend. https://t.co/GgaGwoieuA

— josh groban (@joshgroban) March 4, 2017
A graduate of New York University's Stern School of Business, Page was popular as a vice president at Pandora, a publisher of Billboard magazine, a record company executive and an executive at The Village Voice. Likewise, he had also worked at Cumulus Media Inc as a senior vice president.
May the departed soul rest in peace and may God provide strength to his family to overcome their grief!