News
Hot Actress Maggie Grace Getting Career-Oriented After Split From Her Boyfriend Cum Fiancee!
People find themselves in a really confusing situation when they have recently gone through a break-up. Some decide to get back out there while others think best to focus elsewhere like their career. This was a similar decision made by the beautiful actress Maggie Grace.
Maggie Grace has been through a couple of relationships, but after breaking it off a serious relationship with a boyfriend that almost led to her being married, she may have decided to leave the dating scenario for a short while and just focus on her career. Who was this husband to be? Find out below.
Engagement Called Off:
Maggie Grace had lately been dating filmmaker Matthew Cooke since March of 2012. After dating for about two years in February 2014, Matthew got down on one knee and popped the question to marry him.The news was spread by Maggie herself via Instagram where she posted the picture of her wrapping arms around her fiance to be flashing the new bling on her finger while the caption read:
""The minute I heard my first love story, I started looking for you, not knowing how blind that was. Lovers do not finally meet somewhere. They are in each other all along,"
While Maggie seems to have deleted the image from her Instagram page, perhaps to forget all the memories, she forgot that this is the internet. Here are the same pictures posted by a fan on Twitter.
While all of her fans eagerly waited for her to get married news broke out in February 2015 that the couple had broken up. The actress broke the news to all her friends and supporters through an Instagram photo of a quote, "Life is a balance of Holding on and Letting Go" while the caption read, "Recently, I've been embracing balance...and being single again."
It was surprising to hear this from her as only around November 2014; the couple couldn't look any happier in photos like this one from her Instagram. Matthew is supposedly single.
Back on the Track
It seems like Maggie's on the dating business once again. Her recent pictures feature quite a handsome man with a face and a beard equal to, if not better than Matthew Cooke. Not a lot has been revealed about this person and Maggie herself hasn't confirmed their relationship either. However, she has been quite suggestive about their situation. One can view these images below
Her Dating History:
Before getting involved with Matthew Cooke, she was previously in a relationship with the actor, founder of TOMS shoes and Humanitarian Blake Mycoskie. They had been together from 2007 to 2009. Blake dated model Heather Lang after Maggie from 2010 and later got married to her on September 2012. They even have a son together called Summit.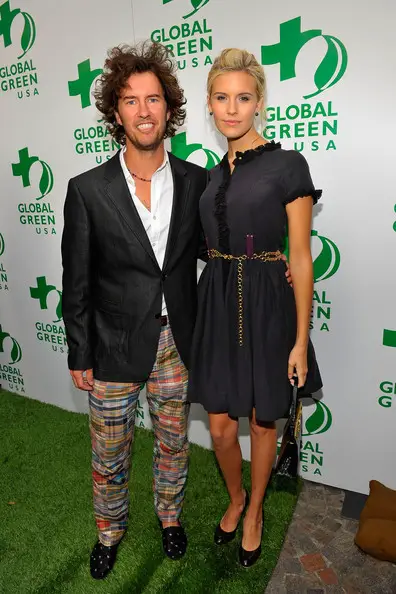 Caption: Blake Mycoskie and Maggie Grace arrive at Global Green USA's 13th Annual Millennium Awards at the Fairmont Miramar Hotel on May 30, 2009
Source: zimbio.com
Her relationship with co-star Ian Somerhalder was also greatly publicized. It lasted from April 2006 to 2007. They had met on the sets of 'Lost' where he portrayed her 'half-brother.' They took their romance off-set despite her saying to 'dailymail,' "I adore him, although I'm only 22 - far too young to even think about having a serious relationship." Below is a picture of the entire 'Lost' cast including Maggie and Ian.
After dating Maggie, Ian has dated a number of women from Megan Auld from 2007 to 2010, Nina Dobrev from 2010 to 2013 and Malese Jow in 2013. He is presently married to Nikki Reed who he started dating since 2014. Here is a picture of them together on Twitter.
So after coming out of such a serious relationship that led up to engagement, she might not be getting back in the market for a short time. She may take this time to focus on her career. She has been undertaking many projects that have resulted in her estimated net worth of approximately 8 million dollars. Some of her 2016 films include 'The Choice' and '428'.
Magie Grace's Short Bio
Margaret Grace Denig was born on September 21, 1983, in Worthington, Ohio, to parents Valinn and Fred Denig.
The American Address lived in a 200-year old Saltbox house in Central Ohio where her parents owned a Jewellery Business. Maggie attended Worthington Christian Schools from Kindergarten and briefly attended Thomas Worthington High School before dropping out when her parents went through a divorce when she and her mother moved to Los Angeles where they lived a harsh life for years before Maggie had her breakout as an actress.
Her first big role was in the 2002's Television movie Murder in Greenwich as Martha Moxley which rewarded her with a nomination for Young Artist Award for in the Best Performance in a TV Movie, Miniseries or Special – Leading Young Actress category, She's most known for her work for her role as Shannon Rutherford on the hit Tv series Lost and Kim Mills in the thriller movie Taken.