News
Imogen Thomas & Long-Time Boyfriend Splits! Cryptic Message Hints Break Up
Imogen Thomas has taken her timeout from her romance with longtime boyfriend, Adam Horsley!
Without directly confirming the pair's split, Big brother star shared a cryptic Instagram post about 'feeling hurt' on 24 April 2018. While she left the caption blank, her amassed followers and well-wishers speculated that she has ended the six-year relationship with her children's father.
The Welsh Beauty shared a mysterious message on social media that reads,
"Nothing hurts more than being disappointed by the one person who you thought would never hurt you."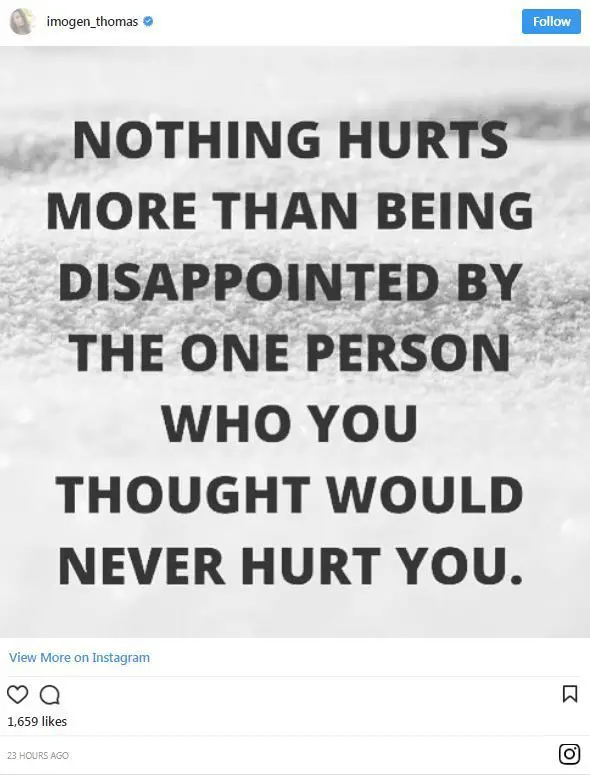 Imogen shared this message about being hurt (Photo: Imogen Thomas' Instagram)
Despite the post, the couple has not commented anything on their relationship status. As reported by The Sun, Imogen's representatives declined to comment on the emerging news about the couple's split.
After the cryptic message, Imogen took to her Instagram story with a snap of holding a bird's feather with the caption,
"Thanks Dad. Always when I need you - you're here."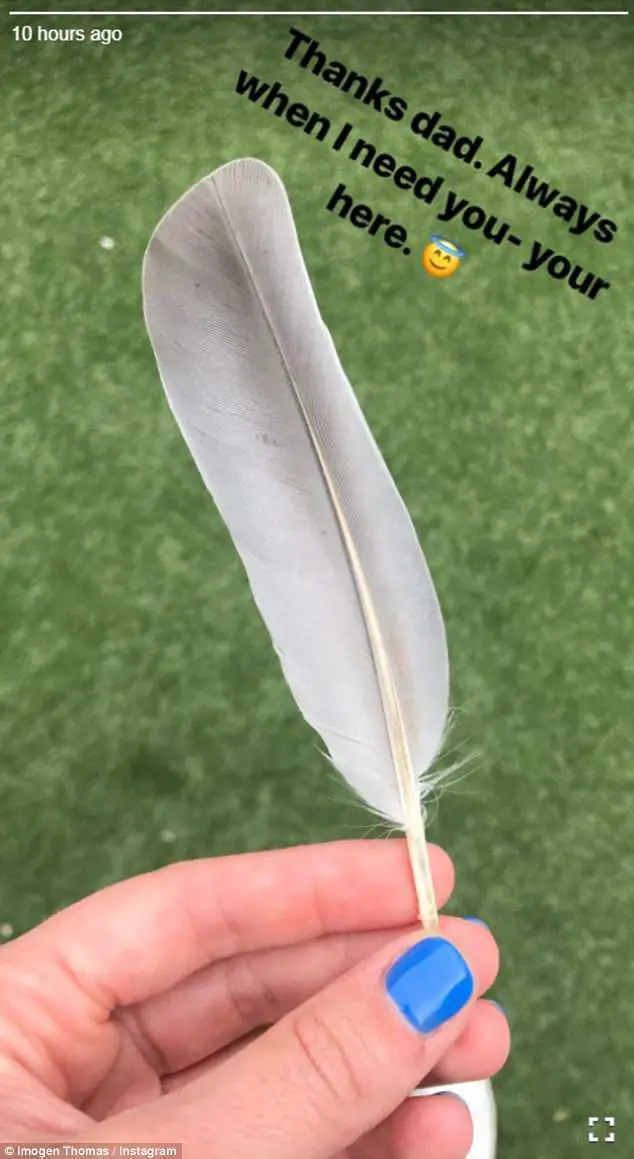 Imogen Thomas Instagram Story (Photo: Imogen Thomas' Instagram)
The 35-year-old star Imogen dated her Australian-native partner, Adam since December 2011. The couple welcomed their first daughter, Ariana Siena, in February 2013 with their second addition, Siera Aleira, in November 2015.
With the extension of family to four, the reality star revealed to DailyMail in 2017 that the unmarried couple failed to keep the spark alive in their relationship. She admitted having a kid put a strain on their romance. She confessed:
"Once you have two babies it's a really hard struggle to keep things exciting and keep things going. We are working on things. We are going to have more date nights. All you talk about is the kids in the end. I think if you work at it you will get better."
Additionally, despite the struggle, she expressed that she would love to have another brood with her beau. She said:
"I would like to have another baby. I will probably scare him away now... but not for another year. I love my girls so much."
Notably, the former Miss Wales seems to have finally ended her relationship with the father of her two daughters. Well, they might have thought of exchanging the sacred vows of husband and wife, but as of now, the marriage is out of the card.
Imogen rose to fame after entering the Big Brother house n 2006. After Imogen's appearance on the reality show, she has turned her hand to designing and has released her own swimwear collection Chasing Summer.