News
Jameela Jamil Still Shines Bright Even After Dealing A Series Of Problems Like Break-Up With Boyfriend And Cancer Battle
Some people are not just successful in their field but are an inspiration to many individuals as well. Even after many failures and series of problems, they still manage to mark their position in the field.
Same goes for the Thirty-year-old TV Presenter Jameela Jamil, who managed to shine brightly in her career, despite a series of problems in her life, including a break-up with her boyfriend and a vicious battle with cancer.
Break up with her long-time boyfriend
In the year 2013, Jameela was spotted enjoying a romantic afternoon with a mystery man in the park in Primrose Hill. The seriousness of the relationship was evident as the pair couldn't take their eyes and lips off of each other.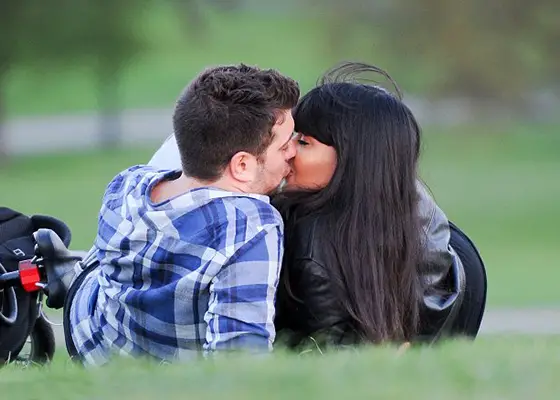 Caption: Jameela Jamil and her alleged boyfriend kissing in Primrose Hill.
Photo Credit: Dailymail
But during an interview with The Sun Newspaper in 2015, Jameela revealed how she separated with her boyfriend whom she described as her "true love."
She provided no more information about her love but stated that she separated with good terms and her separation was amicable. Regarding the break-up and plans of another relationship, she said-
"We parted with all the love in the world."
"I'm going travelling all over the place, so I don't have time for a boyfriend. It's sort of like Eat, Pray, Love but more like Eat, Eat, Love. I want to go while I've no responsibilities."
Was she mentioning the mystery man from the Primrose Hill as her "true love" or was there someone else whom she was dating? It remains a mystery.
Moreover, Jameela revealed about falling in love with a married man, while discussing about her friend who also happened to go through the same. In her Cosmo column, she wrote-
"I've almost been there myself,"
"A few years ago I fell in love with a man before realising he was married. First he told me they were separates. Then he told me that they weren't separated - but that they hated each other and slept in different beds."
"He said she was sleeping with her ex and was only using him for his money. My heart went out to this poor man. He was being bled dry by his evil wife who had clearly tricked him into marriage."
However, Jameela refused to sleep with him when he was still someone else's husband. According to her, he is happily married to his wife along with their children.
Battled to overcome ill health:
Jameela already had a reminder about life's unpredictability when she discovered that she had a lump on her breast. Born partially deaf, she was now battling cancer along with the damage in the spine because of a car accident.
Recalling the fear of cancer, she said-
"Three women in my family, close relatives, have had breast cancer, and two have died from it, and still I never thought it could happen to me. I didn't even regularly check my breasts."
After battling her health issues for two years, Jameela is now in excellent health, but her hearing is affected while traveling through airplanes. Moreover, she has severe shellfish and peanut allergy. And talking about drugs, she prefers to stay away from them which is sure to have positive consequences in her career ahead.