News
Jasmine Yarbrough, 34, Engaged -To-Get-Married! Unveiling Wedding Details
They're Engaged to Get Married!
Mara and Mine designer Jasmine Yarbrough is engaged to The Channel 9 Today co-presenter, Karl Stefanovic on 2017. Jasmine's fiancé confirmed their engagement news in his interview with TheFIX in February 2018.
In the same interview, he also revealed the couple's plan of getting married soon in 2018. He affirmed:
"When Jasmine came into my life, I had no thoughts of new love or the future, but we are happy and grateful we found each other. We are yet to work out when we will get married, but probably later this year. We are both very happy."
Karl's brother, Pete Stefanovic is believed to be the best man for his marriage ceremony, as Karl was his best man at his wedding with Sylvia Jeffreys back in April 2017.
The Brisbane-born designer Jasmine was spotted with her engagement ring at Harper's Bazaar Australia's 20th-anniversary edition party on February 2018, which was Jasmine's first formal appearance after the engagement.
The event took place at Matt Moran's Smoke rooftop bar in Barangaroo, Sydney.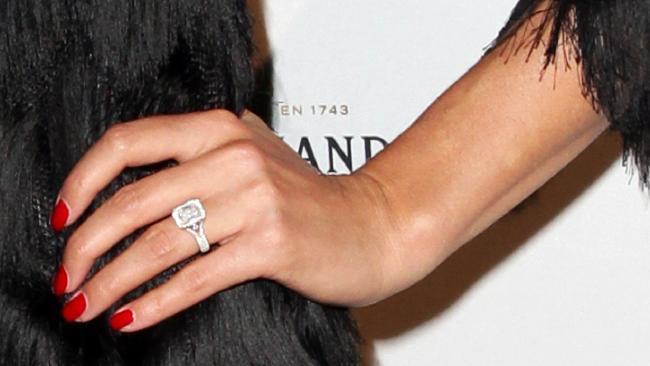 Jasmine Yarbrough's engagement ring at Harper's Bazaar 20th Anniversary Celebration, Smoke Rooftop Bar, Barangaroo (Photo: news.com.au)
The couple was rumored to be engaged since their first red carpet appearance together in October 2017. Besides, the couple was also caught in the rumors like "Yarbrough was pregnant" and "her engagement ring cost more than $100,000."
Addressing those rumors, Jasmine's fiance also revealed that the rumors are not true. He stated,
"Jas isn't pregnant. The ring was made by Nic Cerrone and didn't cost $120,000. Those figures are ridiculous. And there is no media deal. Don't believe everything you read, unless it's here."
The Queensland-raised couple Jasmine and Karl first met on lavish Sydney boat party in December 2017 and started seeing each other since Christmas of 2017.
In October 2017, Karl gave an interview to The Daily Telegraph, where he gushed about his new love, saying:
"There is a lot of love in my life. She's (Yarbrough) a very strong and passionate person.She has her own world, her own business and her own direction. And I am happy to support her in any way I can."
The duo maintained a long-distance relationship till October 2017, until the time Jasmine returned to Australia. During their dating period, Karl Stefanovic was also spotted with Jasmine's parents; Bob Yarbrough and Cheryl Yarbrough.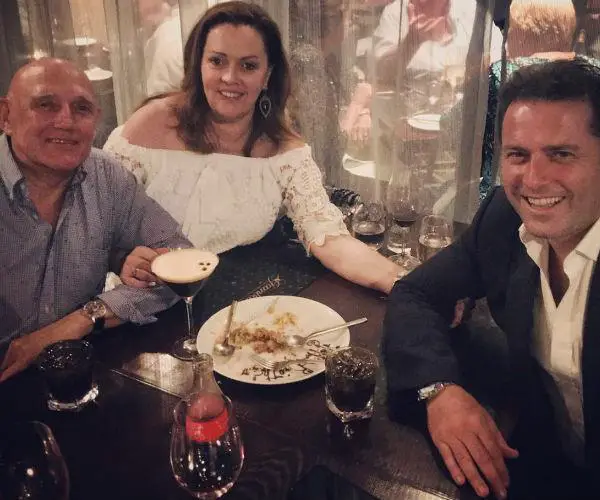 Karl Stefanovic along with Jasmine's parents; Bob Yarbrough and Cheryl Yarbrough (Cheryl Yarbrough's Instagram)
Karl proposed Jasmine later in January 2018 during the couple's vacation to Fiji.
Jasmine and Karl's relationship first came to light just after five months split between Karl and his ex-wife, Cassandra Thorburn, with whom he was married for 21 years and shares three children; Jackson, River, and Ava. Jasmine's fiance Karl was separated from Thorburn in September 2016.
Talking to Fairfax Media, Karl's ex-wife talked about Jasmine and Karl's marriage in February 2018. She stated,
"I am just focused on helping those affected by the ever-changing landscape of my ex-husband's life, to navigate it. His engagement doesn't register with me on any other level."
Although the couple is yet to reveal the exact date of their wedding, we bestow our Congratulations to the newly engaged couple and hope they reveal the date soon.
Stay with us for the emerging updates on the wedding of Jasmine Yarbrough and Karl Stefanovic!