News
Kate Upton And Her Fiance Justin Verlande Open Up About Their Plans Before Getting Married!
Kate Upton, an American model as well as actress and Justin Verlander, professional baseball pitcher have not started planning their wedding, but they do already know what they'll be doing before they share a holy oath, party hard!
The former Sports Illustrated model, Kate Upton announced her engagement last year to the Detroit Tigers baseball pitcher, Justin Verlander. Both star-studded couples began dating four years ago and got engaged in 2016.
The former model debuted her engagement ring publicly at the 2016 Met Gala. Moreover, the couple recently bought a $5.25 million home together. Both of them have not revealed their wedding date.
When asked about their wedding plans, the gorgeous Kate Upton told E! News at the 2017 Sundance Film Festival in Park City, Utah on 21st January 2017. Upton said:
"We are getting married. That's about as much as we know.We don't even know where yet."
Her fiance Verlander said:
"We've got some ideas.My schedule is about to be ridiculously busy so we still have plenty of time,"
The happily engaged couple took part in a Q&A session for their Golf Digest web series The Getaway, where Kate's to be husband Justin teased Kate on her driving and the other hand, Kate talked about her first ever golf lesson, which was taught by Arnold Palmer.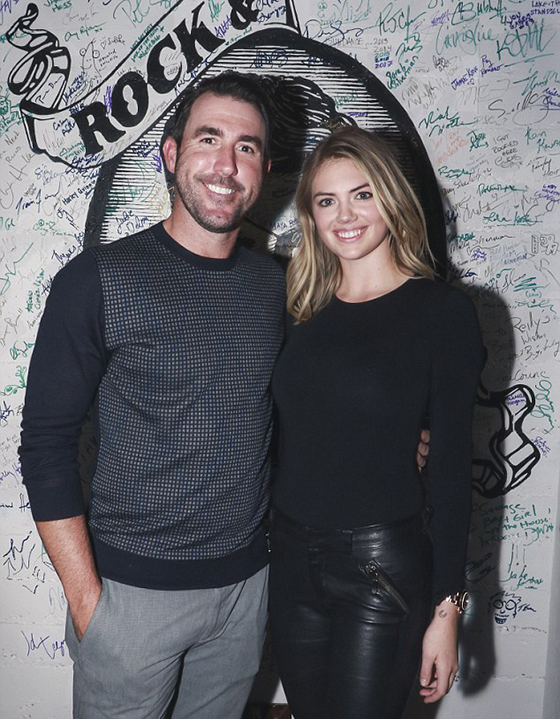 Caption: Kate Upton and Justin Verlander in front of the autograph wall at The Vulture Sundance Spot at Rock & Reilly's on January 22, 2017.
Photo credit: dailymail.co.uk
The couple couldn't look much happier as they posed together in front of the autograph wall at The Vulture Sundance Spot at Rock & Reilly's. Kate dressed in a black sweater which coordinated with her leather pants. Meanwhile, her beau was seen in a navy and gray sweater and matching gray trousers.
The first season of The Getaway is already aired where the newly engaged couple on an unforgettable road trip alongside the California coast. Both of them explored various places in one of the world's most beautiful stretches of road in a dream car, the All New 2017 BMW M760i xDrive.
Caption: Kate Upton and Justin Verlander on the first episode on "The Getaway" on January 18, 2017.