News
Keke Wyatt Welcomes A Baby Boy, Adding One More to Her Family with 8 Children!
Baby Bliss!
Keke Wyatt announced that she welcomed a baby boy via Instagram on October 29, 2017, and the newborn would have eight siblings to enjoy the time.
Although she shared a picture with her baby, she didn't reveal her face, so her fans have to wait until she shares one. Singer Keke's rep shared to ABC News that she gave birth to a healthy baby boy on Friday, October 27, and has named him Kendall Miguel Ford.
Keke, who announced her pregnancy with the ninth child in April, had shared a picture lying on the hospital bed with a caption, "Long day" back on October 26.
In an interview back in June 2016, Keke shared the secret of raising eight kids while keeping the marriage with her husband, Michael Ford spicy,
My secret to raising all these babies is keeping everybody content, which is making sure everybody has their own mommy/baby time, daddy/baby time, mommy/daddy/baby time. Everybody has their own time for them. And just doing what I'm supposed to do basically — make sure they have everything they need. Then keeping my marriage spicy and fun, honey, all this booty this and ba dunk dunk I got in the back and Sally and Cindys on my chest. Honey, it's not hard to do. You see how many kids I have. Working with all that's going on it's not bad, it's easy actually.
However, Keke's relationship with her husband of seven years hit a rocky bottom and recently, Keke and her husband Micheal Ford created headlines with the reports of their divorce.
Keke confessed that her husband, Michael asked for the divorce while she was eight months pregnant with their child via Instagram in September 2017.
In the Instagram video, she spoke on their divorce as,
"Wanna know something America. When you eight months pregnant, you got a child sick —in and out of the hospital and your husband got the nerve to tell you that he wants a divorce, because he says that you're an emotional wreck."
She added,
"He says from the very beginning you never trusted me and all that kinda stuff like. Telling other people, other women, that we getting a divorce... I am so done with Michael Jamar. Y'all can have him and roast his ass, I don't care."
Following the video, where she talked about their divorce, Keke has maintained silence over their divorce and has not even spoken a word on reconciliation.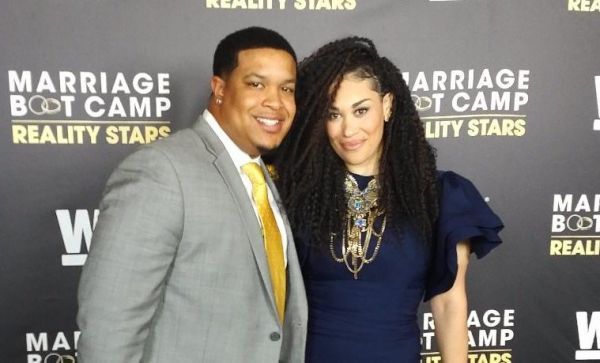 Caption: Keke and her husband, Michael Ford has been a married couple since 2010.
Photo Credit: eurweb.com
Keke's husband, Michael spoke on asking for a divorce with Keke in September 2017, where Michael shared that he would continue to do what he has been doing as a father, but he won't be Keke's husband.
"For over seven years I have been Keke's husband, backbone, friend, confidant, and support system. I have loved, raised, supported, and cared for every child in our family (biological or not), including our son who is currently battling leukemia. I will continue to be that person and do all of these things, but I will not be her husband."
Michael further stated the reason for him wanting a divorce as,
"I can no longer allow our children to live in a toxic environment and, because I love Keke, I can no longer accept toxic behavior. A home should be a refuge of peace from the inequity and harshness of the world. Keke is much stronger than she gives herself credit for and she is a great mother. There is a healing that needs to take place and I have faith that it will happen."
Michael concluded,
"Now, as our family deals with these realities I humbly ask that you please keep us lifted in prayer, and when you comment please keep our children in mind," he said.
The thirty-five-year-old, Keke shares five children with her husband, Michael Fords. Additionally, Keke is a mother of three children from her previous marriage with Rahmat Morton and also has a child from her other former relationship.
Keke got married to her ex-husband, Rahmat on 2000, but the relationship could not survive long and ended in divorce in 2009.
Caption: Keke Wyatt's family picture with her children.
Photo Credit: Celebretiesreport.com
Talking about the parents of talented R&B singer, Keke is a daughter of artistic parents; her father, Keever Wyatt II is a vocalist as well as an organist, while her mother, Lorna Wyatt is a vocalist.