News
Pregnant Kelli Giddish & Husband Lawrence Faulborn are Welcoming 2nd Baby!
Law & Order: SUV actress Kelli Giddish is pregnant with baby number 2!
Renowned TV Actress Kelli Giddish announced that she's expecting her second child with her husband Lawrence Faulborn.
The revelation came during the red carpet event organized in New York to commemorate the season 20 premiere of Law & Order: SUV. on 20th September 2018, where the 38-year-old actress showcased her baby bump as she posed for cameras, dressed in a flowy brown dress.
Similar:- Sam Role & Fiance Welcome Baby; Post Pregnant Bliss Of New Parents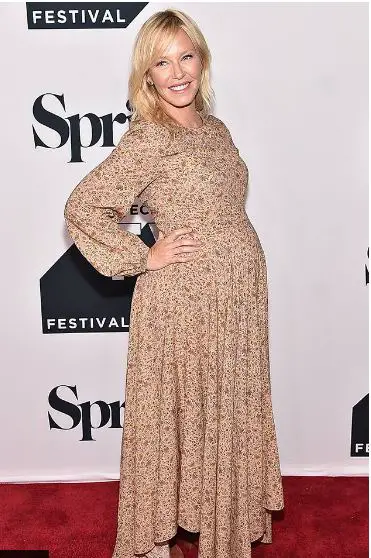 Kellis flaunts her baby bump at the season 20 premiere of Law & Order: SUV (Photo:- Eonline.com)
In addition to revealing the baby bump at the event, the Law & Order: SUV actress divulged that her pregnancy is bound to make its way to the show.
But this won't be the first time that Law & Order: SUV has made her pregnancy an integral part of the show's storyline.
Back in 2015, the produces did the same when Kelli was pregnant with her first baby. Speaking on the matter, she said:
"I looked up when I first got pregnant what other TV shows did and…I guess on The X-Files, she went away. She got abducted by aliens. So I was like, 'That can't happen on SVU. Can't pitch that idea."
The season 20 of Law & Order: SUV is scheduled to premiere on NBC on 27 September 2018 and it still remains unclear as to how the show will integrate her pregnancy in its storyline, but rumor has it that the show's newest addition and former Scandal star, George Newburn will be Kelli's love interest.
You May Also Like:- Benedict Cumberbatch & Wife Sophie Hunter Expecting 3rd 'Batch' Of Baby
Giddish and her husband, Lawrence got married in the summer of 2015 in a beach wedding ceremony surrounded by close family and friends. The couple welcomed their now 2-year-old son, Ludo Faulborn, shortly after getting married in 2015.