News
Lost Child! Sons of Anarchy's Donal Logue Pleads Help On Twitter To Find His Missing Son
The Sons of Anarchy's star Donal Logue has pleaded his fans and followers to help him in finding his sixteen-years-old son Jade Logue aka Arlo, who went missing in Brooklyn, N.Y. on Monday.
The Canadian actor appealed his followers to help him locate his teenage son through Twitter on Tuesday, June 27, by explaining that Jade disappeared while he was outside the Barclays Center arena.
The Gotham star, known for his role as Detective Harvey Bullock, shared the picture of his son and wrote-
"Missing - yesterday at 2PM Barclays Center/Fort Greene Brooklyn: my child, Jade Logue. 6'2" 180 lime green hoodie dark green military parka."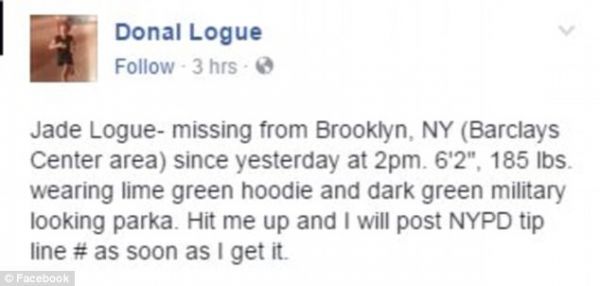 Caption: Donal Logue pleads his fans to help him locate his sixteen-years-old son Jade.
Photo Credit: Dailymail
Regarding Jade Logue's missing case, there are varieties of responses from the New York Police Department officials. According to E!News, there is no any official complaint filed on Jade Logue's missing case. Conversely, Gossip Cop states-
"Gossip Cop reach out to the NYPD, who confirmed that an Arlo Logue was reported missing on Monday at the exact time and location indicated in the actor's tweet. We've learned that Arlo and Jade are the same person."
Likewise, The Huffington Post reports-
"The NYPD told HuffPost they can't confirm or deny a report has been filed on a potential missing person except to that person's family."
Donal Logue's social media posts pleading help in finding his lost child are now deleted. However, the fifty-one-years-old actor hasn't revealed whether he has located his son or not.
Stay connected with us to find out the latest updates on Donal Logue's son Jade Logue's missing case.
Logue's love for his sons is clearly evident through his social medias, where he frequently flaunts them. On 19 September 2014, Logue shared a picture with his two sons Arlo and Finn in honor of Arlo's fifteenth birthday.
Donal Logue, who is also known for his appearance in Gotham, Grounded for Life, The Tao of Steve and Law & Order, is a father of two sons, Jade Logue and Finn Logue with his ex-wife Kasey Walker.