It is not unusual when celebrities file for divorce, but it is a big thing when the marital relationship of 20 years is called off. Same is the case with American Singer and songwriter Israel Houghton. So what's the fuzz?
Houghton couple took the headlines when they called off their marriage in 2016. But what's the reason behind it?
The Real Reason Behind The Divorce
Grammy-winning songwriter, producer and an estranged husband Israel Houghton posted he has failed and confessed to his sin of Infidelity with Meleasa Houghton.
"Several years ago I failed and sinned in my marriage. ... Although we tried, the challenges in our relationship have proven too much to overcome. We have always handled our family and ministry with grace and generosity toward others, discretion, and privacy,"
Moreover, Israel Houghton had posted about his divorce with Meleasa and apologized to his fans, families as well as friends as he confessed his cheat on his wife of 20 years, Meleasa Houghton.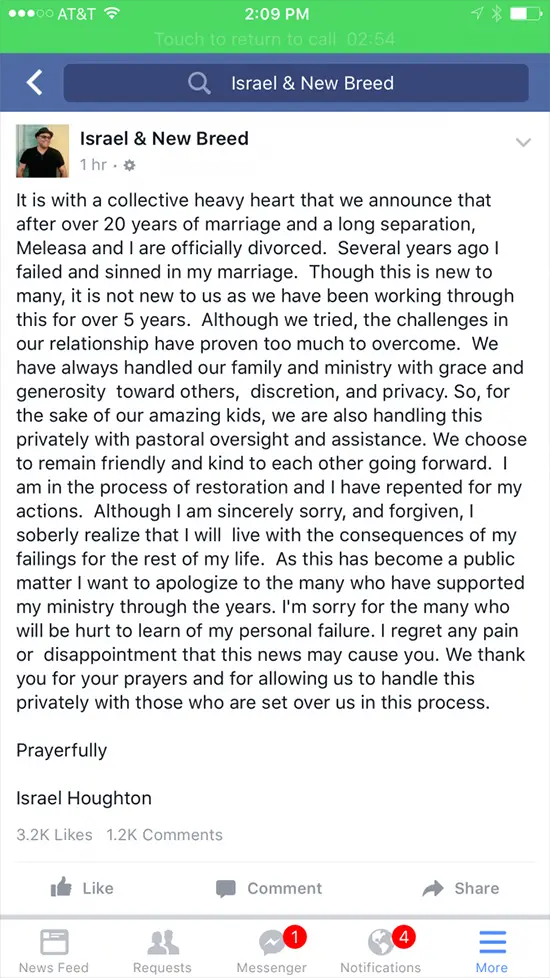 Caption: Israel Houghton posts about his divorce and confession about marriage.
Photo credit: joy105.com
So as the speculation continues, what was the main reason behind the divorce? Many of them believed the main reason behind the split is Israel's affair with Adrienne Bailon, co-host of "The Real."
However, Israel was in no mood to take that blow as he revealed his then girlfriend had nothing to do with his split from Meleasa.
"My marriage had been over for quite some time before going public with my divorce announcement. It seems to be simple math that I had not even met Adrienne during the time my marriage was falling apart. Adrienne is a woman of integrity & character… Most of all she is a true friend, and she should not be blamed for my past indiscretions."
Israel Houghton shares three children with Meleasa Houghton: Mariah, Israel II, and Milan Lily.
Starting off A New Journey
Israel Houghton and Adrienne Bailon were spotted dating which confirmed their relationship. Bailon's boyfriend turned husband Houghton, who is active on social media answered how the relationship between new love birds started.
I met Adrienne Bailon a bit over 2 years ago, we worked together & became friends. Our circles connected & we remained good friends. From a friendship, as two single adults we have very recently begun to explore a dating relationship.
It was not a long time ago the couple officially became Mr. and Mrs.Houghton following their romantic relationship.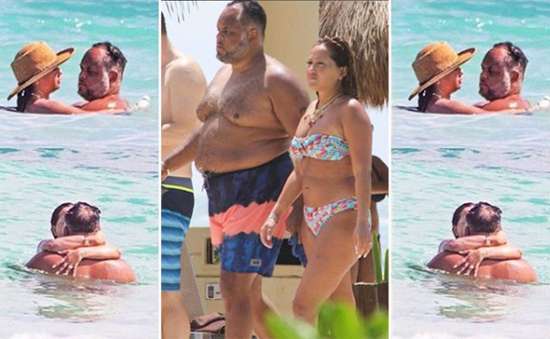 Caption: Israel Houghton and his ex-wife Meleasa Houghton on February 22, 2016, on vacation before their divorce.
Photo credit: bellanaija.com
Moreover, Meleasa Houghton is away from the limelight and isn't engaged in any relationships.
To fail Your wife is to fail God, Meleasa receives Letter of encouragement
After it had been revealed that Israel had gotten engaged with Adrienne Bailon, OAP Shaniqua Jon Snow sent a letter to Meleasa encouraging her and condemning the act of infidelity by men. The post and account has since been deleted, but the post read as follows,
Twenty years of one's life just gone done the drain. I simply just don't get it. How men just don't want to grow up. How they feel younger women and butterflies in the tummy should be the next thing to acquire as soon as they become rich or richer.

You think Adrienne would be all 'i am so in love with my bf' if #Israelhoughton wasn't rich and couldn't afford expensive getaways? Everyone is congratulating #adriennebailon but I just feel so much pity for #meleasahoughton. Where does she start from? Like she just wasted 20 years of her life. She always took a back seat, let the spotlight remain on #israelhoughton. She was always behind him in those pictures, prolly never felt good enough, wanted to cover up as much as possible as a Minister's wife. 'Oh you are a Minister's wife, you should cover up as much as possible, no – not much make up' etc. Anyone notices how Adrienne doesn't cover up much – Minister's fiancee or not, and Israel is so blind to see it. What does he know? He's so in love… He could fly her to the moon if he could. Shamelessly displaying all his love to his new fiancée on SM not minding how hurt his wife may be seeing all of their clothless vacations and PDA.

When will men grow up?

When will they understand that God takes vows and marriages seriously?

When will they put as half as they put in new relationships into their marriages?

Old wine tastes better than new wine. Forget the new wine bottle, forget the shape, forget the waiter that serves it, forget how it makes you feel. Invest in your marriages, make it work. To fail your wife is to fail God. Take your marriages seriously. Date your wives. Take them on romantic getaways. Make them express themselves as they want to. Help them chase their own dreams. And to #meleasahoughton chase your dreams, don't give up on them. Surround yourself with good friends and family. Laugh, love and heal. It may take a while but God's got you. He will never leave you nor forsake you. Don't feel less in any way. You are such an incredible and beautiful woman, never doubt that.

My heart is with you, now and always, XOXO
The OAP also condemned men for not giving time and effort into their marriage and how fickle they can be when it comes to Marriages and relationship. The letter then proceeds to motivate Meleasa and assures that they and God himself is behind Meleasa and she has much more to be happy for.
Being a worship leader, songwriter, Grammy Award-winning singer and a musician, Israel Houghton has an accumulated net worth of $8 million.There might be a probability about Meleasa's current net worth after divorce could be half of her ex-husband i.e. $4 million.
#Israel Houghton
#Israel Houghton's ex-wife
---