It is not unusual when celebrities file for divorce, but it is a big thing when the marital relationship of 20 years is called off. Same is the case with American Singer and songwriter Israel Houghton. So what's the fuzz?
Houghton couple took the headlines when they called off their marriage in 2016. But what's the reason behind it?
The Real Reason Behind The Divorce
Grammy-winning songwriter, producer and an estranged husband Israel Houghton posted he has failed and sinned his marriage with Meleasa Houghton.
"Several years ago I failed and sinned in my marriage. ... Although we tried, the challenges in our relationship have proven too much to overcome. We have always handled our family and ministry with grace and generosity toward others, discretion, and privacy,"
Moreover, Israel Houghton had posted about his divorce with Meleasa and apologized to his fans, families as well as friends as he confessed his cheat on his wife of 20 years, Meleasa Houghton.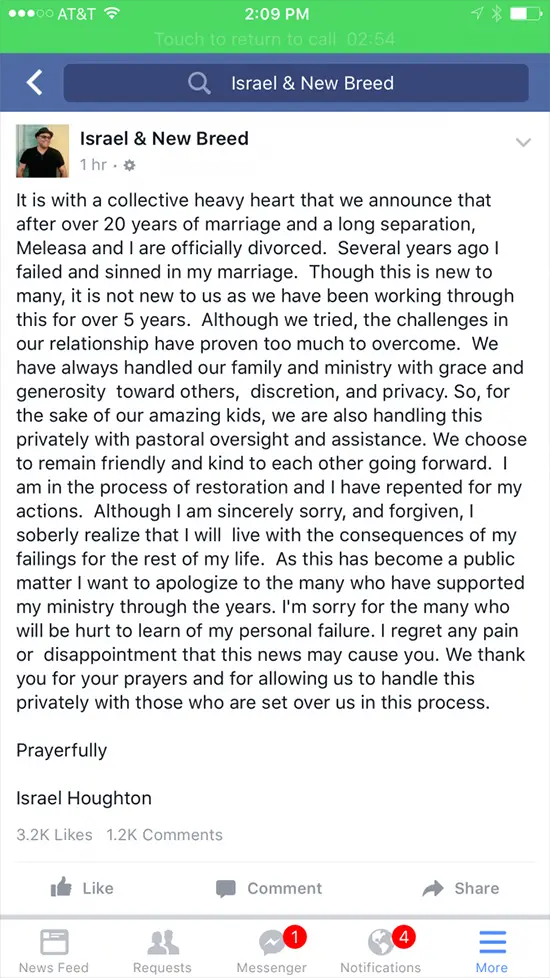 Caption: Israel Houghton posts about his divorce and confession about marriage.
Photo credit: joy105.com
So as the speculation continues, what was the main reason behind the divorce? Many of them believed the main reason behind the split is Israel's affair with Adrienne Bailon, co-host of "The Real."
However, Israel was in no mood to take that blow as he revealed his then girlfriend had nothing to do with his split from Meleasa.
"My marriage had been over for quite some time before going public with my divorce announcement. It seems to be simple math that I had not even met Adrienne during the time my marriage was falling apart. Adrienne is a woman of integrity & character… Most of all she is a true friend, and she should not be blamed for my past indiscretions."
Israel Houghton shares three children with Meleasa Houghton: Mariah, Israel II, and Milan Lily.
Starting off A New Journey
Israel Houghton and Adrienne Bailon were spotted dating which confirmed their relationship. Bailon's boyfriend turned husband Houghton, who is active on social media answered how the relationship between new love birds started.
I met Adrienne Bailon a bit over 2 years ago, we worked together & became friends. Our circles connected & we remained good friends. From a friendship, as two single adults we have very recently begun to explore a dating relationship.
It was not a long time ago the couple officially became Mr. and Mrs.Houghton following their romantic relationship.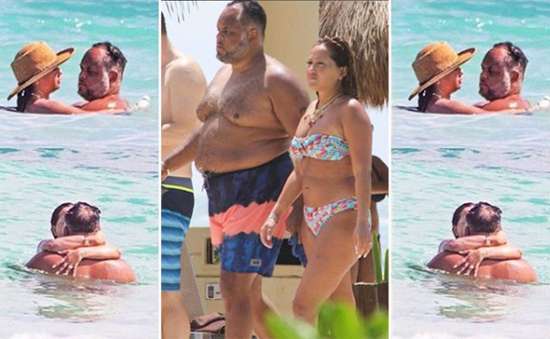 Caption: Israel Houghton and his ex-wife Meleasa Houghton on February 22, 2016, on vacation before their divorce.
Photo credit: bellanaija.com
Moreover, Meleasa Houghton is away from the limelight and isn't engaged in any relationships.
Being a worship leader, songwriter, Grammy Award-winning singer and a musician, Israel Houghton has an accumulated net worth of $8 million.There might be a probability about Melesea's current net worth after divorce could be half of her ex-husband i.e. $4 million.
#songwriter
#Israel Houghton
---