News
Mike Colter Finally Responded To The Criticism For Getting Married And Having A White Wife
Since individuals tie the knot, there shouldn't arise any problem because of the race, and no matter how tolerant our society is and how matured our thoughts are, there still exist challenges and criticisms when interracial marriage exist.
Marvel's "Luke Cage" star Mike Colter also has faced such criticism for getting married to a white wife, Iva Colter. However, he hasn't stood calm but rather has hit back to the criticism.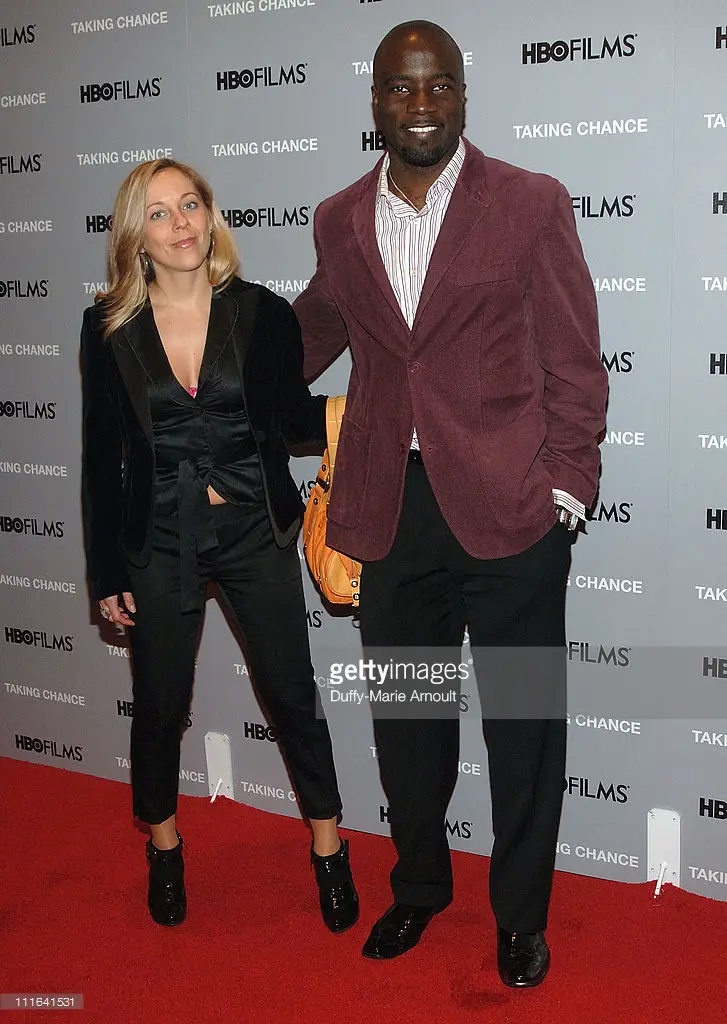 Caption: Actor Mike Colter and wife Iva Colter attend the premiere of 'Taking Chance' on February 11, 2009, in New York City.
Photo credit: Daily Entertainment News
It occurred when a photo of Mike and his wife Iva was shown on "The Wendy Williams Show." According to Madame Noir, some of the audience were not happy and stopped cheering.
Caption: Mike Colton on "The Wendy Williams Show." on September 27, 2016.
Similarly, at the TV One poll which was titled "Luke Cage's Got A White Wife — Mad Or Nah?", 21% of the people responded, "Not gonna lie — I'm a little hurt."
In an interview on the radio show The Breakfast Club, Mike was asked about Wendy Williams episode where he responded to the criticism. He explained-
"I love my [African-American] sisters. People always go, 'Man that's his type.' If somebody caught a sista walking around with a 6'7″ brother, is that her type? Next week you see her walking with a short guy or Spanish guy — do we have to have a type? I'm a human being,"
"I look at people for character and what's inside. Physically — that's one thing — but you gotta be on the same page. I met my wife when I was struggling in grad school. She stuck with me for 16 years. It's a long ways! She was with me and she's held me up many times, and I've held her up before."
"People don't understand [that] when it comes to being with somebody long term, it's way more than skin color that's gonna make it work. Love is love."
Caption: Mike Colter finally responding to the criticism on his talk on The Breakfast Club.
How can people still be restricted to their relationship because of the race even in 2016?
Mike married his long-term girlfriend Iva whom he met during his college days. Iva is now a Netflix executive. In a recent interview with elle.com, Mike discussed his feminist side where he also spoke about his wife. He said-
"Yeah. I respond to women who have their stuff together, who are in charge, who don't need men to do things for them."
he further added;
"I want a woman to have her own thing, you know? My wife is very smart, she's got a doctorate degree, she's got her own career going, she doesn't need me to take care of her. I respond to powerful women. I'm not intimidated by that, I like that, it's not something I shy away from, so I don't want women who are looking for me to take care of them. To me, that's a turn-off. I respond to strong, powerful, independent women."
Mike and his wife Iva has a baby daughter together who is almost two year's of age, as Mike himself gushed about his daughter in the show with Wendy Williams. Mike seems to be very concerned about the privacy of his personal life especially regarding his daughter as no picture of his daughter is flashed in the media.
However, Forty-years-old-actor has not maintained privacy in his professional life. The leading black superhero from Terence Crutcher and The Defenders, Mike Colter has appeared in a number of movies. And with a good looks, well-toned body and natural acting skills, he has established himself in the industry. Mike has been able to accumulate the net worth of $2 million.
Mike has not only been praised for his acting skills, but also for his physique. There are rarely such interviews where he isn't asked about his body and workouts. While playing the title character in Netflix series Luke Cage, Mike gained 35 pounds of muscle to play the role. He discussed about his body and exercise in detail in an interview with Mensjournal.