News
Monica Crowley: Boyfriend Bill Siegel But Married to Alan Colmes. Is it True? Husband?
Monica Crowley, known American Conservative columnist and political commentator has her fair share of rumors flying around just like any other famous personality. However, cutting through all those rumors, we have tried to put forth the history of her love life. Let's see who she has dated in the past as well as her prospects of marriage.
Monica's Admirer and Dating Life:
It is rumored that Producer/Director Bill Siegel was her boyfriend for quite some time.
The New York Social Diary has published a photograph of Bill Siegel and Monica Crowley, attending one of their friends' cocktail party together.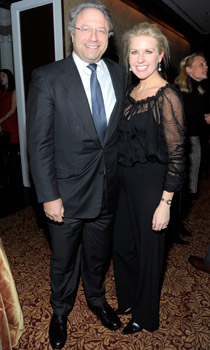 Caption: Bill Siegel and Monica Crowley, attending one of their friends' cocktail party together.
Source: The new york social diary
Similarly, A 'The Washington Post' article posted on 16th April 2007 had mentioned –
Housed inside the Asia Society building on the Upper East Side, the favorite events have lured a following including conservative pundit Monica Crowley and her boyfriend, the venture capitalist Bill Siegel.
Clearly stating Bill Siegel, as her boyfriend. However, photos or further information regarding the relationship between Monica and venture capitalist, Bill has not been revealed. Interestingly, Monica was spotted a few times with the director and producer Bill Siegel further reinforcing the rumors about their affair.
Are All These Rumors True? Is she Married?
Reports have stated that she is still unmarried. Furthermore, Monica is reluctant to speak about her personal life. The current status of her relationship with Bill Siegel is still unknown.
Speaking of her marriage, here's a juicy information. Monica's sister; Jocelyn, who is an associate professor at Rutgers University is married to Alan Comes. Perhaps confusion due to the sisters' names and similar looks led to the rumors about her marriage with Alan Colmes. According to a source, Alan Colmes' wife Jocelyn's middle name is Crowley and the stories regarding the Marriage or Divorce of Alan Colmes, and Monica were swiftly put down.
So as far as the public media's knowledge goes, Monica is still unmarried and has no children.
Furthermore, Monica has addressed Alan as her brother-in-law in one of her interviews in the Radio Talk Show on Fox News, dated 7th March 2013, which naturally clarifies her relation with Alan.
Caption: Real Talk Interview with Monica Crowley
Caption: Alan Colmes beside Monica's sister Jocelyn Crowley.
Source: liverampup.com
Alan and Jocelyn's marriage was furthermore confirmed when they got on Fox and Friends which can be seen in the video below.
Caption: Alan Colmes alongside Jocelyn Crowley on Fox and friends.
Monica is an elegant, multi-talented personality, who understands her profession of a Political commentator/Pundit very well. She is associated with a handful of organizations including the National Security Council in Donald Trump administration, newsNewsand The Washington Times, giving her no time in finding a good husband. This may be one of the reasons; she is still single. We can only hope she finds someone worthy to spend the rest of her lifetime with.
Monica Crowley's Offending actions
She has had her share of "accidental failures" if you will. Examples include her efforts to make people believe Obama was preaching Islam and relating it to Neil Armstrong's death. Most notably, she posted a picture of Berlin Wall on her Twitter on December 2016 and implied that forced differentiation using human-made structures works (referencing Donald Trump's plans to wall off Mexico and surrounding nations with Walls). This, however, was quite offensive as here actions were completely ignoring its dark history which enraged a large part of the public and created an outrage of social media as well.
Monica Crowley's Short-Bio:
An American Conservative Columnist, Monica Crowley born on September 19, 1968, is also a political commentator, talk radio personality, and an author. She is a graduate of Colgate University with a Bachelor's degree in Political Science and holds a Ph.D. in International Relations from Columbia University.
She started working as a journalist in 1996 when she joined Fox News Channel, where she was assigned as foreign affairs and political analyst. She is also the online opinion editor for The Washington Times and regular columnist.
It was recently announced that Monica would be appointed to the position of senior director of strategic communications for the National Security Council in the Donald Trump administration.