News
Once Nearly Married; Rapper Bow Wow Shares A Tumbling Relationship with Girlfriend
Love is a beautiful feeling. But when it enters the stage of a triangle, it starts getting problematic in every way. A similar case occurred with the famous rapper Bow Wow.
The triangular love story of Shad Moss, also known as "Bow Wow" consists of on and off relationship with the two girls, Joie Chavis, the mother of his daughter, Shai and Erica Mena, the model with a slightly tempered attitude.
Bow Wow's Puzzling Relationship:
Joie Chavis was the first known love interest of Bow Wow. Joie and Bow Wow started dating in March 2010 and soon had a daughter, Shai Moss on April 27, 2011. But that relation did not last long, and they broke up in 2013. Then they dated different partners simultaneously before moving back together in 2016.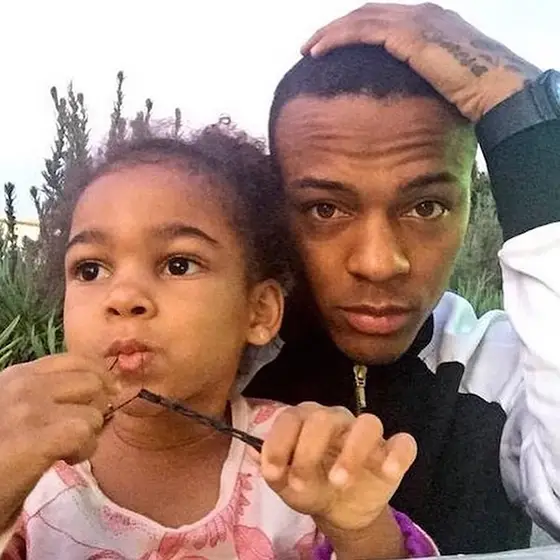 Caption: Shai Moss and Bow Wow together having a father-daughter time together.
Picture Credit: hiphopwired.com
During their break-up, Joie dated Bu Thai, 34, in April 2016 and Bow Wow dated an American model, Erica Mena, who was allegedly the reason for their breakup.
Joie posted pictures with her new boyfriend, Bu, showing off her new their cuteness on the web, to which Bow Wow retaliated with a bashful tweet, regarding his baby mama's post.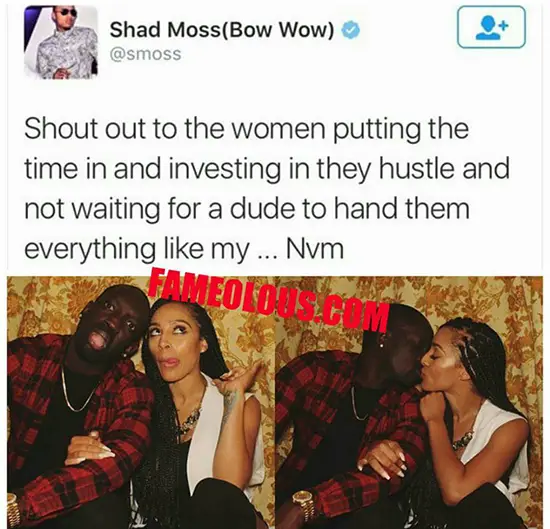 Caption: Joie and Akon's brother Bu Thiam along with Bow Wow tweet.
Photo credit: fameolous.com
Engagement that didn't end well:
Bow Wow first met the model, Erica Mena, on the set of his 2010 movie; "Lottery Ticket" although she was not involved in the film. Bow Wow soon got intimate with Erica Mena, and they started dating in early 2014.
They kept their relationship private, but on the red carpet of the 2014 BET Hip-Hop Awards, when Erica was asked if Bow Wow was her boyfriend, she replied:
"Uhh..he's actually my fiancé."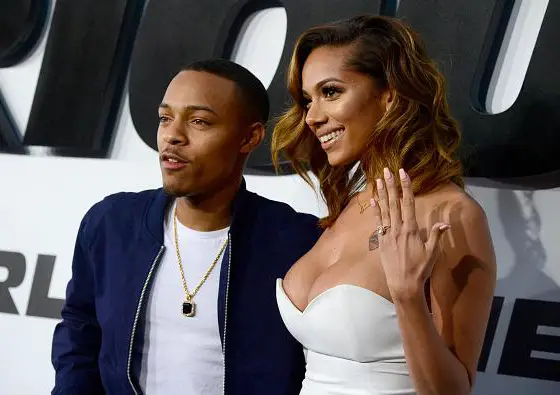 Caption: Erica and Bow Wow together in the red carpet as Erica showing the ring to the public in December 2016.
Picture Credit: ibtimes.com
Shocking the media by their engagement soon after separating from his ex-girlfriend, Bow Wow gained many media attention and was all over the tabloids for his engagement news with Erica.
But things did not go well with the newly engaged couple, and soon there were rumors that the couple had called it quits. Erica accused Bow Wow of being "an Abuser" as well as having side affairs with his ex- girlfriend once again during their relationship. Stating in an interview after her breakup she said;
"I've been quiet about it because we were engaged, but obviously he was in his feelings after my Snapchat post…I could have gone public about our breakup a month ago. He does this to make headlines. Just leave me alone, I moved on; why are you still in your feelings?"
Furthermore, Erica Mena claims she was virtually stalked by Joie to leave him. Even to go as far as to have an all-out Twitter war with one another about, who should be the one to date Bow Wow but also made fun of his financial issues.
Caption: A video where Bow Wow talks about Erica and his daughter in June 23rd, 2016.
But Bow Wow claims that he broke it off with Erica just to end the ongoing dispute, and keep Shai away from all troubles.
An acrimonious battle between ex-girlfriends.

Caption: Erica's tweet against Joie in May 2016.
Photo Credit: bossip.com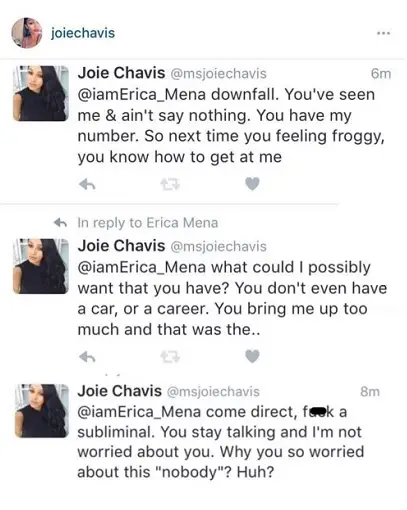 Caption: Joie also tweeted on the same day against Erica in May.
Photo credit: bossip.com
Joie kept up with the torturous mental messages and Erica, known for her quick-witted mouth, continuingly poured out more details on her time together with Bow Wow as a girlfriend and fiancé targeting his former ex- girlfriend to be jealous of their relationship.
The perspective of Erica after Joie and bow wow's reunion:
What blew Erica's lid was Bow Wow breaking off with her and then spending his Thanksgiving with Joie Chavis and his Instagram post on 30th of November where they are cuddling together.
But when Erica was ready to move on from Bow Wow, she gives another hand full say on their time together, where she said;
"When it comes to Shad, this is the man I at one point really considered marrying. He is the one I decided to say yes to, but once the mask came off, I realized I had made a bad choice…It's sad, because we had a real friendship and we could have had a good life after the fact that our relationship was over. But at the end of the day, we've been separated for some time and I'm ready to move on."
Caption: Erica's view on their relationship together, posted on 31st May 2016.
Currently, Bow Wow is together with his baby mama Joie Chavis and is trying to work it out with minimal media exposure. They have been dating since they got back together in Thanksgiving while working out their difference. Hope Bow Wow makes the right choice about his wife and gets married soon.