News
Scott Thompson (Carrot Top) Top And Steroid Abuse On Plastic Surgery Disasters
Show Business is all about the looks. The Celebrities always want to take it to the next level when it comes to looking their best. Some try to achieve it naturally while others take the shorter, easier route. Yes, I am talking about plastic surgeries and steroid use, but in haste, many people take it way too far like the top comedian, Scott Thompson A.K.A. Carrot top.
You might have noticed the difference because it is entirely different. Learn all about his plastic surgery and enhancements. Learn all about it below and also discuss other aspects of his increase controversy.
Plastic Surgery and Body Enhancements:
The 51-year-old who specializes in pop acts is a world-famous comedian. His peculiar long, curly and red hair has earned him the stage name of Carrot Top. His name comes under some of the greatest comics of this age. He has been in this career for more than 30 years, but the only thing about him that makes it to the headlines seems to be the allegations about his plastic surgery and steroid abuse after his unrecognizable change in less than 8 years.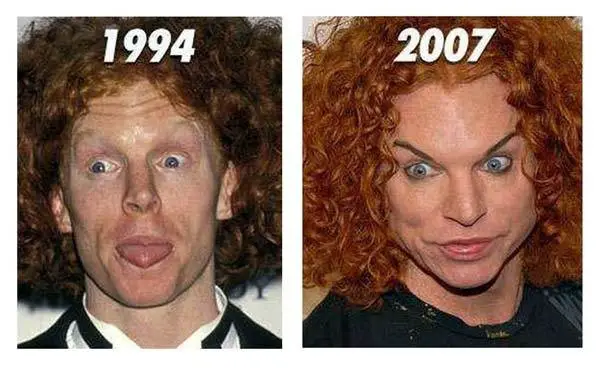 Caption: Carrot top's before and after picture
Source: fishki.net
Carrot Top used to be a scrawny kid back in 1997, but his body has buffed up to more than twice his size. Many people who usually see him fully clothed in his acts are hugely surprised when they come face to face with him in anything less than a half shirt and shorts. Another thing that people find surprising is the before-after pictures of him that show how his facial structure has completely changed.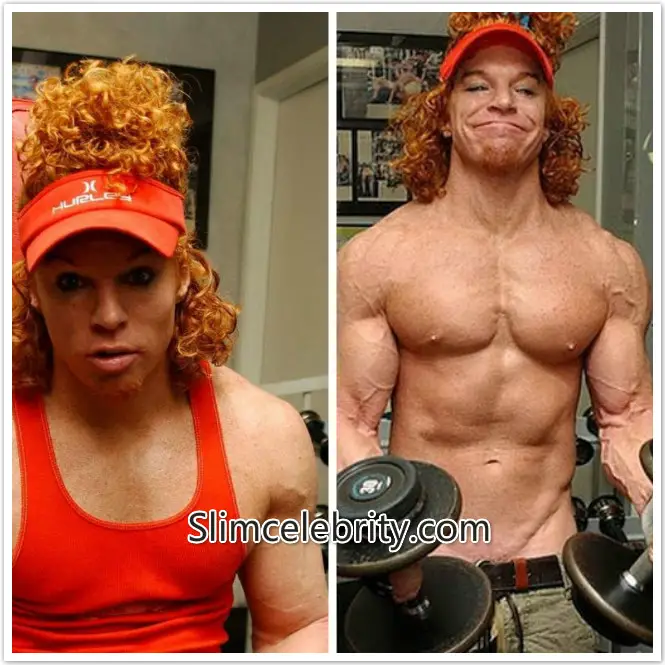 Source: slimcelebrity.com
Many people have right reasons to believe that Carrot Top has gone through some seriously bad plastic surgeries damaging his face more and more. They also believe that he received his body by "Juicing" up to various steroids.
You're a shoe in for Best Plastic Surgery and Best Steroid Use. RT @RealCarrotTop Time for the 2015 Best of Las Vegas. Vote, Vote, Vote!

— Lee Mays (@OriginalLeeMays) January 23, 2015
Some people also think that steroids alone couldn't have bulked him enough to such a size, and they suspect that he could be using Human Growth Hormone (HGH) that unlike steroids that just expand and tighten the muscles, extends the entire skeletal system. Just look at a few of his unbelievable physical changes.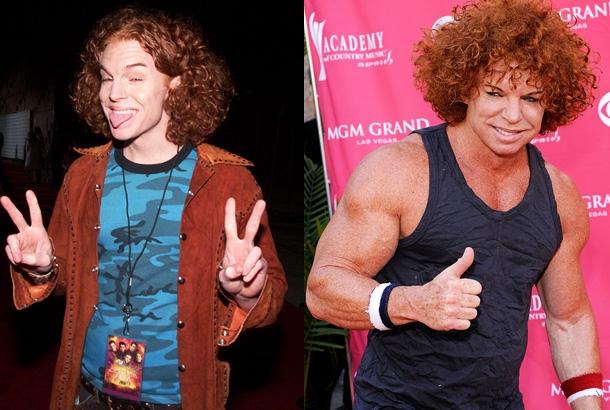 Caption: Carrot top's then-now difference in physique
Source: emgn.com
Denial of all Accusations:
But Thompson has been scowling such accusations. In his defense, he says that since high school he has had the tendency to work out. Even after he became a comedian, he regularly worked out.
Gradually, he started doing shows in Las Vegas and other parts of the world, so he was either on the road or in a hotel. Since he had nothing to do he would start working out or go to the Gym. He remembers how he had these dumbbells that he carried around everywhere he went.
On top of that after he signed the contract with Luxor Hotel and finally was able to settle down he could entirely focus on his fitness so from then he started working out longer and ate a healthy high-protein diet.
There have been many fingers raised at him about the plastic surgeries as well. He recently said on an episode of 'Oprah: Where Are They Now?', "People think I've had plastic surgery — no, it just takes a lot of makeup to make me look good" People have also called him a homosexual for his overuse of cosmetic products.
Carrot Top has faced hundreds of such allegations from different people, but he seems to take it lightly. He has been gunned down in interviews, targeted in Social Medias and roasted at these real incidents but the orange-haired comedian does not lose his cool and blocks everything calmly. Moreover he sometimes himself is found pulling his leg.
Reducing to Less Buff:
He believes that in his line of work you have to look the best and that's what he does (despite the majority's belief that he has become ugly). He was recently seen in different physique having lost a lot of muscles cause of which he looked pretty good.
He thinks that he hasn't changed at least from the inside. But it appears as if now Carrot Top is starting to regret his decisions to what he has a stone to his body. TMZ caught up with him in 2012 whose video is below where he was spotted less buff than he usually is.