News
Sexy Actress Madchen Amick Has Been Cast as Alice Cooper in CW's news TV show, 'Riverdale'
Twin Peaks' waitress Mädchen Amick, 45, has been cast as Betty's mom Alice Cooper in Riverdale.
Riverdale, which is a subversive take on Archie and his friends, is a CW pilot from producer Greg Berlanti based on the Archie Comics' characters. It explores the surrealism of small-town life.
TOO HAPPY FOR WORDS. Can't even handle all the excitement on my feed right now. #Riverdale is officially happening -- brace yourselves!

— Camila Mendes (@CamilaMendes) May 12, 2016
There is no doubt that Amick is a talented actress. She has been presenting herself in both films and on Tv shows with astounding acting skills. From the year 2013-2014, she appeared in the lifetime supernatural drama series Witches of East End. Amick is also known for playing the role of a mother whose son is ailing in American Horror Story: Hotel.
Amick will be portraying Alice, who is an editor of the local paper and is described as a perfectionist. Alice usually has a depiction of strength because she places high expectations on Betty, her daughter.
We are eagerly waiting to see her on the Riverdale series. Being cast as Alice in Riverdale is a brand new opportunity and an achievement in itself for Amick.
Nevertheless, Amick's captivating appearance with hot and sexy physique is expected to go well with the character she is portraying in Riverdale. Born with enduring beauty, Amick is a talented actress, a trained singer, and a down-to-earth lady.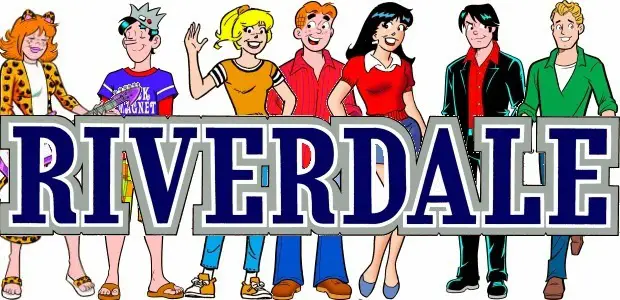 Caption: Comic Frontline
Source: america.pink
Talking about her personal life, she is married to David Alexis. Her husband is a personal trainer by profession. They have two grown-up children: a son, Sylvester Time, and a daughter, Mina Tobias.
"When I first came to Hollywood and was going 20 calls a day, David was living on the other side of the street from me"

"Luckily, I'm married to a personal trainer [David Alexis], so he keeps me in good shape. We've been together for 27 years and when I met him, he was a musician. But we have two kids and they got into track and football and he got pulled in that direction. He used to be a track athlete and now he's a really amazing coach – he's changed a lot of kids' lives around Los Angeles. You have to be confident being naked on set – and you have to trust they're hiding anything that needs to be hidden. You don't want any nasty camera angles, so it pays to keep in with the cameraman"
Guess, what, both of their children are into music. Here is Sylvester a.k.a Sly Betz's Time Flies track on Soundcloud. On the other hand, Mina is an aspiring singer/songwriter residing in LA.
Despite being an on-demand showbiz actress, Amick has kept her personal life private. She has been able to accumulate a net worth of $3 million so far. We are quite hopeful that she will go a long way with her new series.
(A phenomenal actress of all times, Madchen Amick has a list of remarkable movies and television credits under her name. Known for portraying the role of Shelly Johnson in the series Twin Peaks and its prequel Twin Peaks: Fire Walk with Me. Mädchen Amick is celebrated as an acclaimed actress. Active in the industry since1989, Amick has appeared in a dozen of films.)