News
Tiera Skovbye Is Engaged! Producer Boyfriend Turns Into Husband-To-Be
Popular for portraying the character of Polly Cooper in the series Riverdale, Tiera Skovbye is now engaged to her producer boyfriend, Jameson Parker.
Tiera, who is soon going to be a Parker, revealed the good news via Instagram. She shared an image with her husband-to-be, where both of them are seen flaunting their engagement ring.
Twenty-two-years old Tiera began the caption of the post saying that this weekend was something out of a dream, as the love of her life surprised her by asking her to marry him.
She revealed that the moment was wonderful when both of them spent time with their family. Furthermore, she said that she would be getting married soon. Her caption reads-
"This weekend was something out of a dream. The love of my life surprised the crap out of me and asked me to marry him in his childhood bedroom (not planned, I'm really hard to surprise) . We got to spend the rest of the weekend hanging out on the lake with both of our families and it was absolutely wonderful. I'm over the ???? happy. #gettinghitched #heputaringonit #imgonnabeaparker #evenlambsgetmarried"
Tiera, who seems to be very excited regarding her wedding, shared many pictures of the duo right after they got engaged. In one of the pictures that she has shared (which is now removed), we can see Tiera receiving a kiss from her fiancé.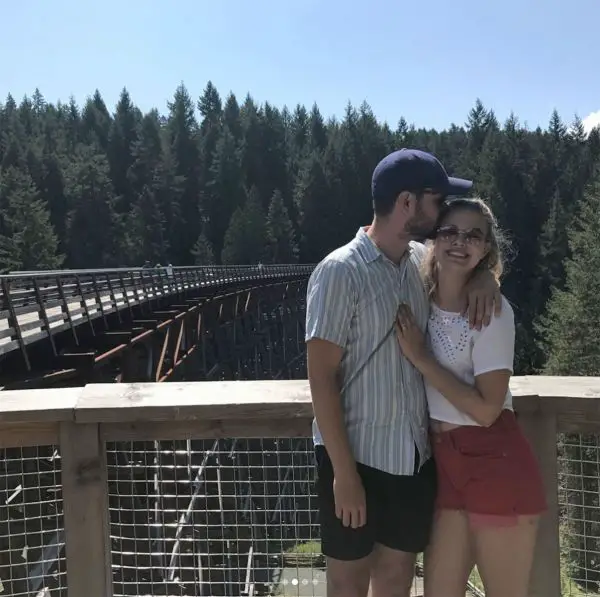 Caption: Tiera Skovbye looking fine and content while receiving a kiss from her fiancé, Jameson Parker
Photo Credit: PEOPLE
Parker too shared the image on Instagram, where the pair both held up their ring fingers. While sharing the image, Parker revealed that he proposed his best friend Tiera in front of their family at the lake where he grew up. He even stated that he can't wait to get married to the girl of his dreams.
The news about the engagement comes two years after they started dating. Well, it's really a big weekend for Tiera, as she didn't only get engaged to her man, but her CW show, Riverdale also won for the Choice Drama TV show at the 2017 Teen Choice Awards last night.
Stay with us for the emerging updates on Tiera Skovbye!