News
Vanessa Grimaldi With New Canadian Boyfriend Just After Split With Ex-Fiancé
The Bachelors season 21 star Vanessa Grimaldi has moved on with her new boyfriend just eight months after calling quits with her ex-boyfriend. Vanessa revealed about her current dating status on 24 April during her appearance on Dean Unglert's Help! I Suck At Dating.
The reality television personality confessed her new love through the podcast where she quoted:
"Right now I am dating someone,"
Vanessa was shy opening about her new man and stayed lip-tight about her Canadian beau. Turns out her new lover is a"friend" she knew before the show and is not related to the Bachelor-world at all!
Even though Vanessa preferred staying quiet about her boyfriend, a source at E! News revealed that he is involved in the medical field with a degree in neuroscience and has also served in the army. The source stated,
"Vanessa needed a normal, down to earth person that isn't caught up in the limelight. He's really that person. He has a degree in neuroscience, focusing in the medical field and has also served in the army. He has a super close-knit family with just all around good values."
The insider also opened about the close relationship that the couple shares. Through the insider's statement, it has come to light that the pair enjoys doing normal things together, traveling and laughing together over silly things. The insider stated,
"They're both light hearted, fun loving, incredibly down to each people that enjoy doing normal things like spending time with family and friends, traveling and just laughing together over silly things. They are so similar and truly bring the best out of each other."
Moreover, a source's report to ET added some details to their growing relationship. It has come to light that the kind-hearted couple has even met each other's family and enjoys spending time with them often. The source affirmed,
"They're the perfect match for each other because they have very similar values. They both come from close-knit families and they're both very philanthropic. They've met each other's families and enjoy spending time with them often."
Likewise, Vannesa also admitted that she appreciated all of her new lover's qualities and felt much better person while being with him.
Even though Vannesa seemed unsure where her recent relationship leads, she seems to be sure of the kind of man she wishes to spend her life with. Opening up about her dream man in the podcast, Vanessa stated,
"I always wanted to find someone … who's gonna be a great father, someone who's gonna be a great husband, someone who's family-oriented. I wanted all those things, but the people that I was dating either had some of it but they didn't have all of it."
Adding to it, Vanessa, who would care less about the man's Instagram followers, seemed to have a clear picture of her dream man in her head.
Previously, Vanessa was involved with Nick Viall, whom she met on the sets of The Bachelors season 21. The pair got engaged during the finale of the show, in March of 2017.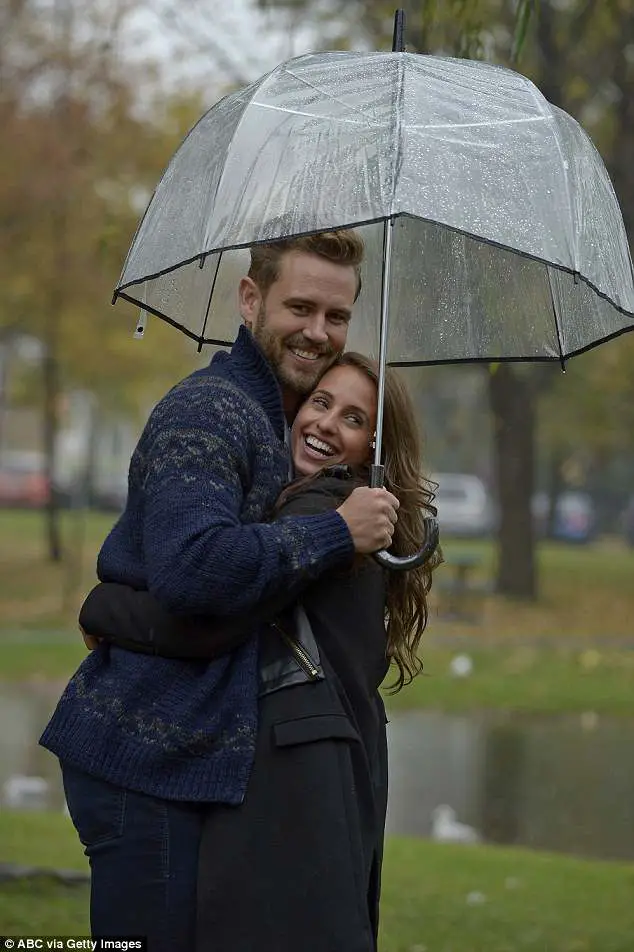 Vanessa Grimaldi with ex-fiance Nick Viall (Photo: dailymail.co.uk)
But their relationship could not last long. The pair called quits on their engagement on the August the same year. Vannesa split with her fiance after being together for five months.
Apart from the broken relationship, Vanessa has now moved on with her life. Meanwhile, Nick was linked with January Jones, the Mad Men star back in January, but the actress denied that they were in a relationship later in February.