Sports
It's a Deal! Dion Waiters Reaches Agreement with Miami Heat on a 4-Year Contract Worth $52 Million
He is not going anywhere!
The Miami Heat have re-signed free agent Dion Waiters to a four-year deal worth $52 million, which means that he is not leaving the Heat.
The agreement is something that works now for both parties for the long run future, and Waiters also gets the payout which he's been craving, and in the meanwhile, the Heat maintains flexibility, as they have not sealed the services of the guard to a multiyear contract.
The shooting guard will now be in South Beach until the end of the 2020-21 season.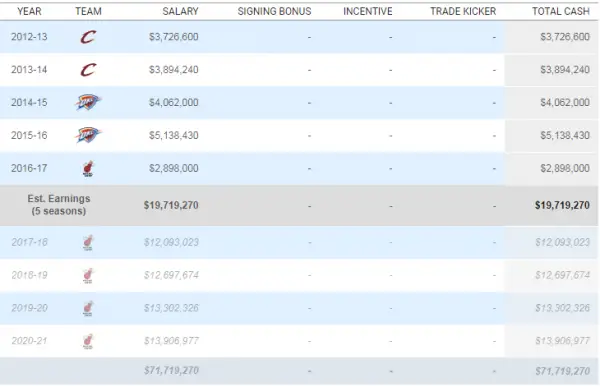 Caption: Dion Waiters contract with the Miami Heat.
Photo Credit: spotrac.com
Waiters, who was the fourth overall pick of the 2012 draft for Cleveland Cavaliers, will now earn an annual average salary of 13 million USD.
Dion first made a name for himself by impressing the people at the Syracuse University, where he had some dominant college stats to show.

Caption: College Stats of Dion Waiters.
Photo Credit: sports-reference.com
Not only are his college stats good, but his overall NBA career stats also show his professional prowess.

Caption: Overall career stats of Dion Waiters.
Photo Credit: ESPN
However, he has always been injury prone, and that is not an odd thing in the life of a professional athlete.
He famously suffered an ankle injury against the Timberwolves, which made his return somewhat uncertain.
But he came back stronger, and he has been good since his comeback, and it is something that the Heat fans will get to see more in the days to come.
Caption: Dion Waiters Full Highlights vs. Warriors 2017.01.23. 33 point clutch!
We would like to wish Dion the best of luck for his new phase in his NBA & Heat career!