Sports
Awesome Basket Player Kenny Smith: Once Divorced, Now Happy with Wife Gwendolyn and Kids
Kenny Smith, the former professional basketball player, shares a somewhat relatable story with Aviva Drescher. Both of them are not linked with each other personally but their personal life is somewhat the same as Aviva was at first divorced and later married another man and found her life partner and Kenny Smith also seems to have moved on for good. Let's know more.
Kenny Smith married Gwendolyn Osborne, who is a model, recording actress and actress famous for modeling on The Price is Right on September 2, 2006. The couple exchanged their vows at their mountain-top estate in Stevenson Ranch, California, in front of 250 of their close friends and family.
The couple first met at a charity event in 2004, and after two years of extensive dating, the couple got married and after about being married for about a decade, there is not a single chance of divorce as they are still on a strong bond.
On March 26, 2008, the couple welcomed their first child together; a baby boy and named him Malloy Adrian Smith and later, on September 29, 2012, the couples welcomed their second child; a daughter this time and called her London Olivia.
Caption: From left to right, KJ Smith, Monique, Gwendolyn Osborne, London Olivia, Malloy, Kenny Smith and Kayla Brianna.
Source: liverampup.com
The couples have five kids altogether. We know you must be wondering that they only had two children together. That is because Kenny Smith and his wife Gwendolyn both have children from their previous relationships.
Kenny Smith has a son, KJ Smith, and a Daughter Kayla Brianna from his previous marriage to Dawn Reavis, @Sold_by_Dawn, and Gwendolyn has a daughter named Monique from her ex-boyfriend [1996], and all three of them are now grownups. Kenny, however, hasn't felt like revealing when he divorced Dawn and the reason behind it.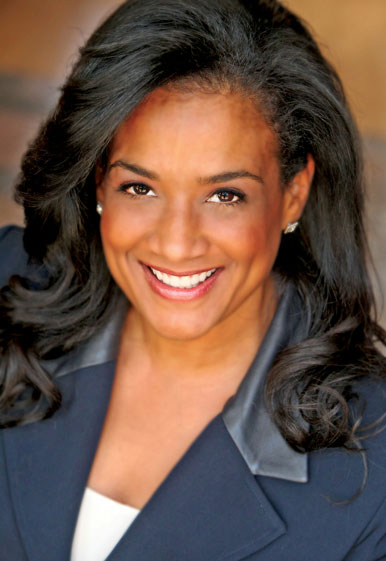 Caption: Kenny's ex-wife, Dawn Reavis
Source: plus.google.com
His Children
Now let's talk about their grown up kids and let's start with Kenny Smith's. He has recently turned 20 and was wished by his mother through her Twitter account.
In his case, the proverb can be used 'like father like son' as Kenny's son Kenny Smith Jr (KJ) is currently playing for Thousand Oaks, CA as a point guard and is already on his way to becoming a pro basketball in near future.
His daughter Kayla Brianna, however, took a different path and is currently into music. Although her decision left Kenny a little bit afraid, he still supports her and she already has many solo videos on her Youtube channel which currently has over 3 thousand subs.
Caption: Kayla Brianna - What's Going On
Gwendolyn's daughter Monique is not noticeably engaged in any particular profession or entertainment field but she has a pretty impressive Instagram account with over 3 thousand followers.
The remaining kids are just in their kindergarten and school and days and both kids have enough time to grow up. With a large family of seven, Kenny Smith also had his own reality show produced by TBS called 'The Smiths' which aired on April 3, 2015, and ended on May 8, 2015.
Kenny Smith is currently acting as an NBA studio analyst for TNT Sports where he joins with Charles Barkley and Ernie Johnson every week during the NBA season.
With that in line, Kenny Smith is also the main studio analyst for the NCAA Men's Basketball Tournament on CBS and Turner. With his NBA career and his current jobs as an analyst, Kenny has successfully accumulated a net worth of $10 million dollars, however, he remains ignorant to revealing his salary.