Sports
Fred Couple's Splendid Net Worth But Shattered Married Life: Both Wives Died
With 63 titles won and bank account so full, golfer Fred Couples is regarded as one of the richest pro-golfers ever. But his personal life is far less stable than his professional.
Caption: A video compilation of Fred Couples' Golf Swings. He is given the nickname of "Boom Boom" for his large swings.
Net Worth and Salary?
With a net worth of a whopping $150 million, which Fred earned from winning different titles, including the 1992 Master's Tournament, Senior Players Championship, and Senior British Open, he is one of the richest golfers in the world. The former world number one golfer, Fred's first victory as a professional golfer came at the Kemper Open in 1983.
With money comes luxury and Fred certainly has earned his. Couples owns some lavish mansions like the one in Brentwood which he sold for $6 million and another $3.475 million house in Newport Beach. He also owned a Palm Beach mansion, but it was given to his former wife Deborah as a divorce settlement.
Apart from being a pro-golfer, Couples is also a co-designer of golf courses along with his partner, Gene D. Bates.
Fred Couples' Shattered Married Life:
Now let's move on to a sad part of Couples' life, i.e. his failed married life.
Couples first got married to his high-school sweetheart, Deborah Couples, in 1981. After 11 years of marriage, the couple finally called it quits in 1992 and their divorce finalized later in 1993. The reason behind the divorce is said to be Deborah's obsession over living a lavish life according to Deborah.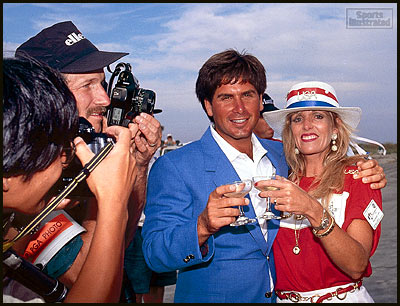 Caption: Fred Couples and ex-wife Deborah Couples celebrate with drinks.
Photo Credit: playerwives.com
Five years after divorcing with Deborah, Fred got married again, in 1998, this time with a woman named Thais Baker. But just like his first marriage, his second marriage also ended abruptly. They never actually got a legal divorce but were separated in 2009.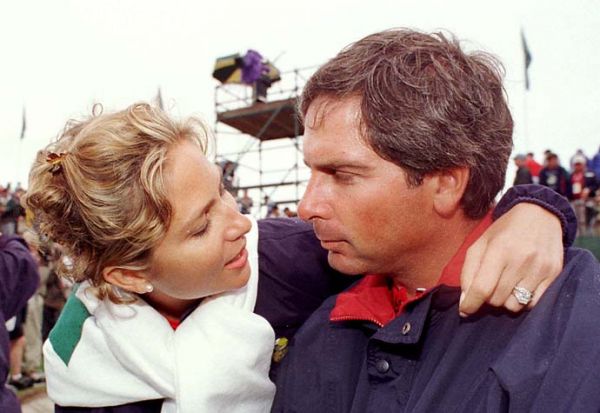 Caption: Thais Baker consoles then-husband Fred Couple.
Photo Credit: GOLF.com
He doesn't have any children with any of his ex-wives.
The sad thing about his married life is not just separation but also the death of both his ex-wives.
His first wife, Deborah committed suicide on May 26, 2001, jumping off from the roof of the Kresge Chapel, 70 feet above the ground.
His second wife though had a medical condition behind her demise. She was diagnosed with breast cancer which eventually took her life in 2009.
Apart from his two failed marriages, he was in two public relationships too. He dated Nadine Moze in 2014. Before that, Midge Trammell used to be his girlfriend.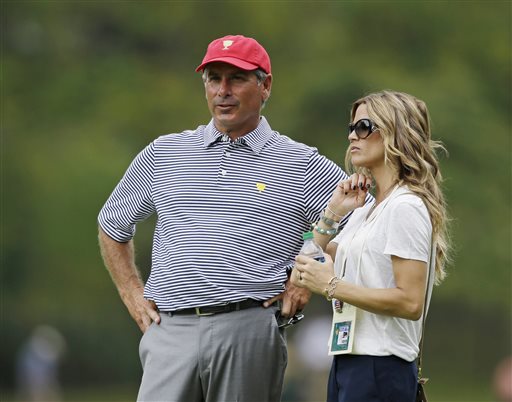 Caption: Fred Couples with his girlfriend Nadine Moze during the 2013 Presidents Cup.
Source: bellenews.com
According to sources, Nadine is originally from Brookfield, Wisconsin and currently lives in Hermosa Beach, California. She is presumably working as a hair stylist working at The Loft Salon in Downtown Manhattan Beach, CA.
Fred Couple, Peerless At The Age of 57
A year after his hiatus, Fred Couple is back, and he has yet again shown why he is respected as one of the greatest Veterans in Professional Golf. After his year long break due to Chronic Back pains, he's back on the top. He took part in Augusta National last April and raised quite a lot of heads with amazing plays.
He started with just three shots off the lead after posting a 2-under-par score and continued ramping up scores.
"I really know the course very well, I feel like my age is still OK, because I can drive it far enough. I'm not long like I used to be on this kind of course, but it still plays where I can reach a lot of these greens with shorter clubs to make the ball stop around the hole." Says Couple who hit six birdies, the last of them at No. 18 to close his round with a flourish.
Caption: Fred Couples still kicking strong and hitting hard at Augusta National, April 2017
Similarly, he has been doing great so far at the Masters, and he's amongst the top on the leaderboards.
We suggest Golf Fans keep track of Fred as he shows why Old is truly gold.
Fred Couples, real name Frederick Steven Couples, was born on October 3, 1959. Professionally, he is a golfer who has 63 championship titles. He is a former World No. 1 golfer who has won 15 PGA Tournaments till date.