Sports
Mix Ethnicity Skylar Diggins: Recently Engaged with Longtime Boyfriend, Makes Her Fans Sad!!!
Fans share a sturdy bond with the celebrities they love. They go to all extent in order to please their heartthrobs, have a photograph snapped along with them or get touched by them. Fan's emotions hinge on what is going on in the life of these celebrated figures.
However, this case of American basketball player Skylar Diggins is rather an unusual one. The world is "mourning" her engagement.
Yeah! You read it right.
The announcement of her being engaged is supposed to generate Congratulations and merry reception. On the contrary, the twitter feeds are filled with anguish, disappointment and anxiety over the occasion.
The engagement:
At the Mary Tomas Gallery in Dallas attended by Professional Photographer Gavin Lueking, Smith got down on his knees and put forward adorable propose with a ring. Skylar readily accepted as expected breaking million hearts dreaming of this sizzling beau as their partner.
If only this news had the particular fan's name in place of "Daniel Smith", the things would have been completely different.
The Fiance:
Daniel Smith used to be a wide receiver in the football team of Clay High School and Notre Dame. In case you are wondering, he is that possessive boyfriend who was featuring in headlines for his online brawl with reputed rapper Drake.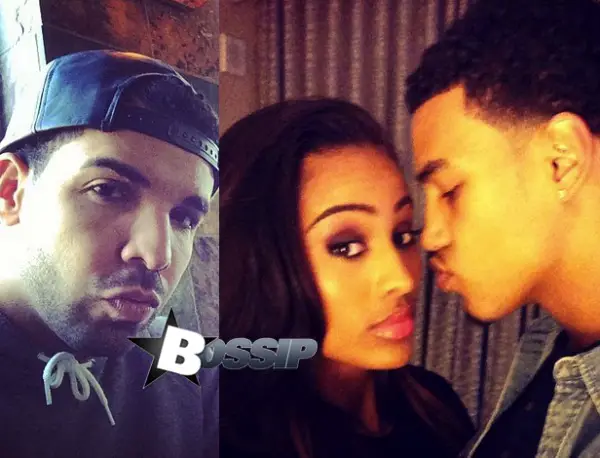 Caption: Daniel Smith and Drake are often getting into dispute for Diggins
Source: WordPress.com
Daniel Smith happens to be her longtime boyfriend from the mutual college, Notre Dame. They had been dating all this long until Smith finally decided to hijack the beauty before anyone could lure her away, in June of 2016.
And the fans have gone banana with the news:
Skylar Diggins got engaged. I bet it don't work. I hope it don't work ????

— Cuffs The Legend (@CuffsTheLegend) June 21, 2016
Just heard the worst news. Skylar Diggins is engaged.????????????

— Letreal (@Letreal_SBUFS25) June 22, 2016
Skylar Diggins got engaged, just when I thought this week couldn't get any worse.

— J-Rich (@Richey_Rich__) June 20, 2016
"On and off the court" of Skylar Diggins:
The Indiana native is the daughter of Tige Diggins and Renne Scott who are of black ethnicity. During her years at the Washington High School, she was already cementing her spot in basketball radar after accumulating the record points in every category that includes 620 rebounds, 601 assists, 475 steals and 161 blocks. She kept the momentum going while playing for Notre Dame in her collegiate career by compiling record 2,357 points that consist of career records on multiple statistical heads. Her excellence had no easing whether it was in the sophomore or senior year as the Nancy Lieberman Award winner helped in Dame's dominance in NCAA.
Her professional breakthrough came with Tulsa Sock, who picked her 3rd overall in the 2013 WNBA Draft. Coming into the fourth season, the success shows no sign of halting as she has already attained the superstar status with the second highest points (20.1) per game in 2014. She may have faltered little last year with torn ACL, but she is back with the bang in the current season.
"I've been getting into the rhythm and getting into the game," Diggins looked pleased about how the new season is going, "My teammates have been finding me. The last game we were playing desperate, down 17, and just wanted to make it a game. We're just playing together. We're finally all on the court. All 12 of us are available to play. We're slowly starting to gel coming off of a six-game skid. Now on a three-game winning streak, two coming against a championship-caliber team."
Oozing with sex appeal and charm, Diggins owes her fame to the sheer beauty she posses. She featured in the Sports Illustrated Swimsuit issue of 2014 along with Vogue's.
She is also reported for her link with pioneering hip-hop figure Jay-Z. She is represented by the Roc Nation, which is owned by the pop star. The tales of her beauty includes the rappers Lil Wayne and Drake stalking her. Lil Wayne was frequently embedded Diggin's name in his lyrics addressing her as wifey while Drake too seems pretty obsessed with the lady. Diggins recently had a book published about her childhood- The Middle School Rules.
"It means the possibilities are endless," Diggins says. "It means there's no mold for me. It means I can blaze my own trail. It means that I can knock down barriers. It means certain things are possible, and if I work at a certain level, they become probable."- Diggin
The twenty-five-year-old has the guts to take the accomplishments all the way.