Sports
Rudy Gay Accords To Two-Year Contract Agreement With Spurs! What is His Current Stats?
The Great Rudini; Rudy Carlton Gay Jr, is now done with Sacramento Kings and recently got associated with San Antonio Spurs with a two-year contract in a deal of more than $17 million.
While he was about to join the Oklahoma City Thunder this week as a potential suitor; the gap between the two parties' signing amount resulted in Rudy opting Spurs as a possible second option to All-Star's Kawhi Leonard.
The San Antonio Spurs made an announcement on 6th July, Thursday, about getting Rudy Gay signed; who owes a position of small forward in a team. A reporter of NBA, Adrian Wojnarowski also reported the news via a tweet.
Free agent forward Rudy Gay has agreed to a two year deal with the Spurs, league sourcs tell ESPN.

— Adrian Wojnarowski (@wojespn) July 7, 2017
Rudy Gay has now, signed an agreement of two years for a huge deal worth $17,232,300 with an annual salary of $8,616,150. For the year, 2017-18, he is going to have a base salary of $8,406,000.
Career Highlights Of Rudy Gay:
Rudy Gay started his college basketball career playing for the University of Connecticut and was later listed as the eighth player by the Houston Rockets in the 2006 NBA draft.
It was just the beginning of his professional basketball career, while today, he has come a long way in this field with a great career stats.
The year 2017 proves to be the year for impactful sign-and-trade deals; with the Gordon Hayward trade being the highlight of this year.
Rudy Gay also had his spot in the rumors, for being linked up with Oklahoma City Thunder. However, he has sealed the deal with the 'Spurs' for next two years.
The trading of Rudy got hyped, and it's probably due to his excellent career stats. So, why not have a look at his outstanding stats with his regular season averages.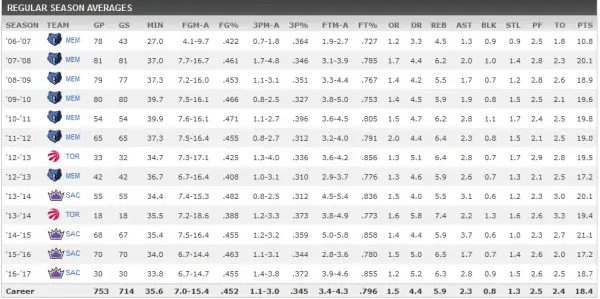 Caption: Regular season stats of Rudy Gay according to ESPN.
Stats Credit: Espn.com
You can also have a glimpse at this short video, compiled with some of the great shots of this fantastic player,
Caption: Rudy Gay's Career highlights.
However, the career stats of Rudy Gay seems to be affected in some points, due to the injuries he had to face a few months ago. At the end of the last season, this NBA veteran suffered a complete tear of his left Achilles tendon on January 18, when he was playing against the Indian Pacers.
He thus joined the initial rehabilitation stage and later cleared the tests; proving that he was ready to go back in the field. He also posted a clip on Instagram during his stay in the rehab which he captioned-
"Attacking Rehab"
As Rudy is back in the game defeating the injury, plus having signed the deal with 'Spurs' for two more years; we hope to treat our eyes, with the great matches from him in the days to come.
Stay with us for emerging updates on Rudy Gay!