Corona Virus
Which WWE Events Are Affected By The Coronavirus?
The outspread of the novel coronavirus COVID-19 pandemic has led to the cancellation of major sports events such as the Arnold Classic, NCAA, MLB, NHL, NBA, and MLS. And now, it has raised multiple queries for WWE fans. 
Will the WrestleMania 36 be postponed or be canceled?
Well! Though many sports events have postponed their planned games, WWE has decided to stubbornly soldier forward in airing its biggest show of the year, WrestleMania 36, scheduled to take place on 5 April 2020 at Raymond James Stadium in Tampa, Florida. 
Wrestlemania is about three weeks long, and through WrestleMania's Twitter account, they declared that the event will still be scheduled to go on as planned. However, they also mentioned that they wanted to give it a try and see what was going to happen and will hold an emergency meeting to discuss what they can do at a particular point in time.
Other than Wrestlemania 36, which is less than a month away, the Coronavirus outbreak has affected a few other WWE Events. WWE had taken safety measures against the current outbreak of coronavirus for the event 'NXT' held on 11 March 2020. Although the 'NXT' was broadcast, the show was held in the Performance Center with the only limited fans in attendance.
Likewise, WWE has also announced that "Friday Night SmackDown" will be aired live as regularly scheduled on 13 March 2020 but will be emanating from WWE's facility in Orlando, Florida, with only essential personnel in attendance. The event was initially scheduled in Detroit, Michigan. Still, due to the outbreak of corona, the team applied the precautions to protect the health and wellness of fans, performers, and employees. 
Similarly, WWE has announced that the episode of "Monday Night Raw" scheduled on 16 March 2020 has been shifted to the WWE Performance Center in Orlando, Florida. The event was originally scheduled at PPG Paints Arena in Pittsburgh.
WWE Superstars Reaction To CoronaVirus
Many of the WWE personalities like Braun Strowman, Sasha Banks, and Sheamus have at least one thing to say about the outbreak of the CoronaVirus.
Braun Strowman took to Twitter and wrote that people weren't taking the virus seriously.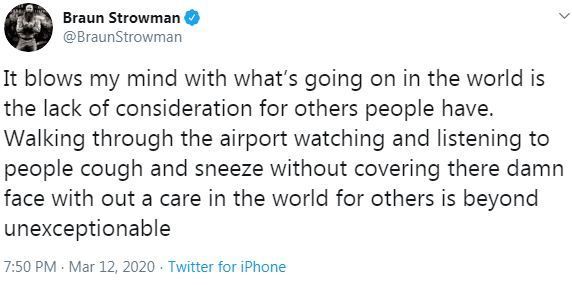 (Photo: Braun Strowman's Twitter)
Likewise, Sheamus, who visited Dublin City, Ireland, also cut his trip short and returned to Stateside.