News
Alicia Cargile, Young Age Live-in Girlfriend of Kristen Stewart, Seen Dating Publicly
The Twilight series star, Kristen Steward, was publicly seen with her live-in girlfriend Alicia Cargile in Los Feliz on Saturday morning grabbing some breakfast, coffee, and juice.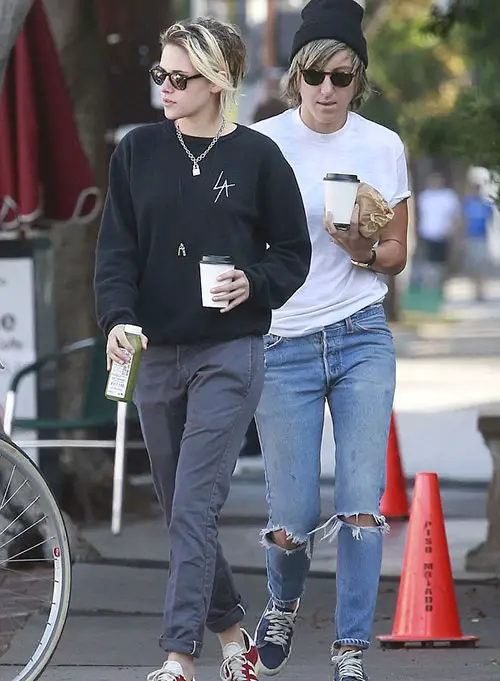 Caption: Steward and Alicia were grabbing breakfast on Saturday morning, 20th of August, 2016.
Source: dailymail.co.uk
The 26-year-old actress, Kristen, and her former assistant were 'twinning' in similarly with outings similar to each other; Kristen was wearing Black T-shirt whereas Alicia wearing White.
It's been past three years since the César Award winner; she began her live-in relationship with Alicia, and she's  also opened up about her relationship.
Let's go back to her Twilight days. Kristen Steward had been in a five-year relationship with her co-star and then-boyfriend Robert Pattinson. But it seems she'd had enough of boys and men. Well, According to vogue.co.uk,  she admitted:
"People wanted me and Rob to be together so badly that our relationship was made into a product. It wasn't real life anymore. And that was gross to me. It's not that I want to hide who I am or hide anything I'm doing in my life. It's that I don't want to become a part of a story for entertainment value."
And now Steward has been dating a visual-effects producer named Alicia Cargile for past three years. Scrolling through pictures of her and Alicia on her private Instagram account, she said-
 "Look how cute she is. I love her so much."
Only recently she's been open to a conversation about her romantic life, let it be of her sexuality. She said-
"I would never talk about any of my relationships before, but once I started dating girls it seemed like there was an opportunity to represent something really positive.  I still want to protect my personal life, but I don't want to seem like I'm protecting the idea, so that does sort of feel like I owe something to people."
Equals star, Kristen has also recently explained to dailymail.co.uk about couple breaking and patching up.
'We've broken up a couple of times and gotten back together, and this time, I was like, "Finally, I can feel again!"
Kristen Stewart and Alicia Cargile are not "engaged," despite false rumors claiming that the couple is planning an engagement and wedding.