Model-turned-reality star Diamond Strawberry's brush with stardom comes in the form of her single-season appearance on VH1's Love & Hip Hop: New York in 2014, joining the cast as Cisco Rosado's love interest.
Her breakup with the-boyfriend got played out on the said reality show, which made for a great TV and therefore, garnered widespread attention. Somehow, many of the fans credit her daughter behind the ugly split.
Almost five years on, has she cashed it on her post-reality star fame and amassed millions in net worth? Or did she reconcile with her baby daddy to raise her only child on a complete family?
Delve into Diamond's biography to find out and learn essential details including her birthday and age!
Diamond Strawberry's Bio Plus Net Worth & Family
Going by her lineage, Diamond was a star in the making before she knew it! For all the world knows, she could have very well inherited the "troublemaker" genes from her father.
Bio You Might Like:- Kayla Sessler Bio: Age, Boyfriend, Pregnant
Born in 1988 in Los Angeles, California to legendary baseball player Daryl Strawberry & his wife, Lisa Watkins, the Love & Hip Hop Alum - who celebrates her birthday on 28th June every year - grew up in relative luxury; all thanks to her father's illustrious playing career.
A World Series champion and 8-time MLB Star slugger, Daryl's career got marred by arrests and period of addictions during and after his time at MLB, before eventually turning to faith for help. Sadly, it wasn't enough to save his marriage to Diamond's mom from crumbling. 
Despite the family tragedy, she appears to be in great terms with her father. Likewise, her mother, Lisa is equally important to her. But for a while, there was a tension between the two after Lisa suggested that she should get an abortion.
Over time, the mom-daughter duo eventually reconciled as Diamond went on to have a daughter, MyLisa, age 11. Her bio tells that her experience of being pregnant as a teenager inspired her to co-found a nonprofit called A Safe Place Youth Center.
Philanthropic work aside, Diamond, age 30, boasts a reported net worth of $200 thousand. There's no denying that a chunk of her wealth is a direct result of her 2014 appearance on Love & Hip Hop franchise.
Breaks Up With Boyfriend Over Daughter; Reconciles With Baby Daddy?
Her foray into the show-biz scene couldn't have more bombastic!
After spending the majority of her adolescent life in the West Coast, Diamond moved to New York in 2014 on her then-boyfriend of two years Cisco's plea. At the time, the mother of one claimed that the veteran Love & Hip Hop star had promised to revamp her dying modeling career.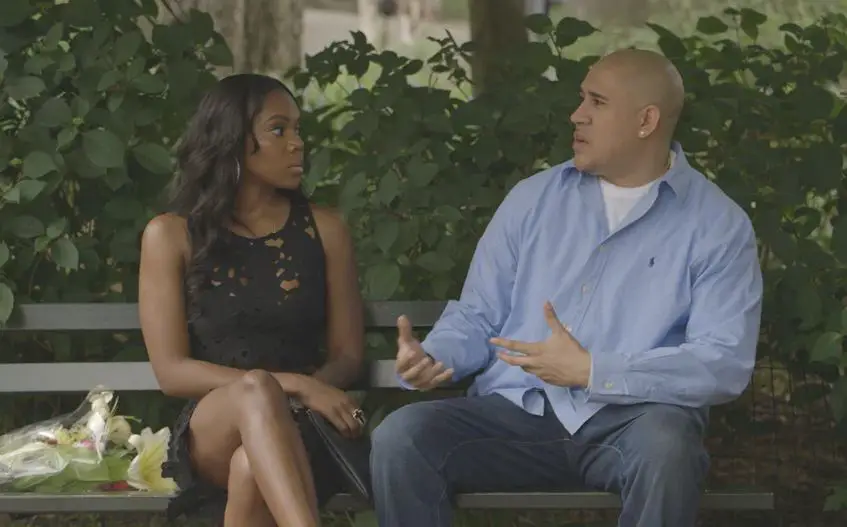 Diamond Strawberry talking to her then-boyfriend Cisco Rosado circa 2014 (Photo:- bustle.com)
Together, they joined the cast & crew of the beloved reality series. But the former pair's single-stay season proved troublesome. While Diamond accused her then-boyfriend of cheating on her, Cisco accused her of lying about her daughter's existence -- a claim she continues to deny even today.
Romantically Linked To Diamond:- Rich Dollaz Wiki: His Dating Affair with Girlfriend and 4 Kids; They Don't Match Up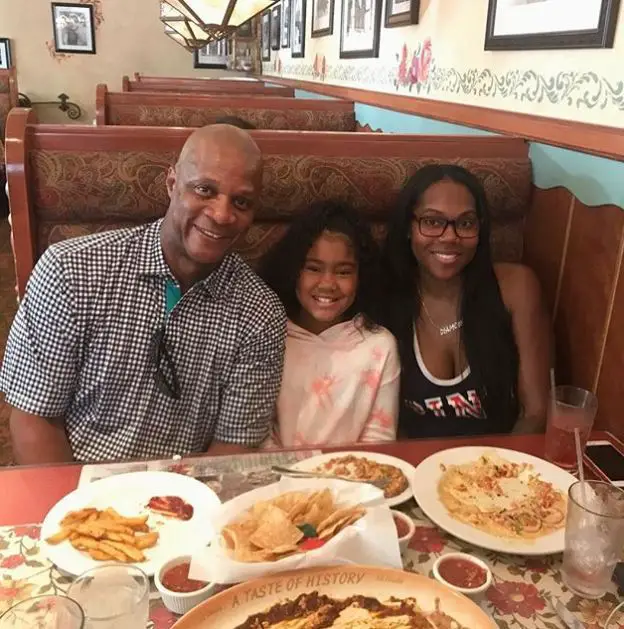 Diamond Strawberry along with her father and daughter smiles for a family photo as they enjoy dinner in 2018 (Photo:- Diamond Strawberry's Instagram)
Since her exit, the fans have wondered if she has indeed reconciled with her daughter's father. Nothing could be further from the truth because she appears to be single and far away from the arms of her baby daddy.
As it appears, the only father figure present in MyLisa's life is her granddad.