Entertainment
Does F. Lee Bailey Have Any Kids From A Series Of Spouse? The Attorney Has No Luck With A Married Life?
Marriage is beautiful yet a delicate bond. One gets to enjoy every single dynamics of marriage if blessed with an affectionate relationship and understanding attributes with their spouse. However, if the case is completely opposite, then the person drifts apart from their partners and end up in a rut.
It is something which F. Lee Bailey can strongly relate to, as he is known to have salvaged several of his clients from criminal charges but has failed to rescue his marriages from disarray, and that is why people term him unlucky when it comes to his married life.
He has had several ladies in his life to call his wife but does he have any kids with any of them?
Well, this has been a matter for everyone to wonder, and that's the topic we'll be discussing today. So keep reading!
F. Lee Bailey; Married Several Times But Has Kids And Family of His Own?
F. Lee Bailey has had quite the list of wives in his life. He first tied the marital knot with his first wife Florence Gott during 1960 when Bailey was in his twenties. But the marriage was short lived, and the two ended up calling their marriage off and getting divorced a year after in 1961.
He then moved on and got married to Froma Portney in 1972. Their togetherness lasted even shorter than the marriage between Bailey and Gott, as Bailey and Portney got divorced in the same year they tied the knot; leading Bailey to face his second marriage to crumble.
The master lawyer then found new hope in the form of Lynda Hart and the two got married back in August of 1972. The marriage between them lasted for a good period before the test of time led their marriage to crumble too, and eventually, the two got divorced back in 1980.
Bailey then took his time off from married life and focused on his career, but ultimately love found him again. He met his new love in the form of Patricia Shiers. Patricia and Bailey swiftly entered a marital bond without any delay back in June 1985.
It seemed that the relationship between them was the one, which was going to provide Bailey with the stability he had been looking for, as the two were going along smoothly in their marriage.
However, fate had an even harsh plan for their relationship; Bailey lost his fourth wife Patricia to pancreatic cancer in 1999.
While Patricia was struggling with her health and was on the brink of demise, Bailey was forced to miss a court hearing in Orlando such that he could be by his wife's side in a hospital bed in Vero Beach Cancer Center.
Reports suggested that Richard Lubin, a Palm Beach Attorney appeared before US Magistrate James Glazebrook and then asked him to postpone Bailey's hearing.
The statement published in front of the Magistrate read,
"Her vital organs have shut down. He is in no condition to assist me or testify. There is absolutely no doubt in my mind that Mr. Bailey needs to be with his wife over the next few days."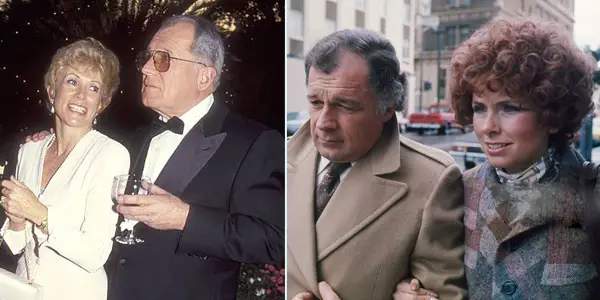 Caption: F. Lee Bailey has been unlucky regarding marriage; seen here with his late wife, Patricia Shiers (L) and ex-wife, Lynda Hart(R).
Photo Credit: liverampup.com
This is why people call him ill fated when it comes to his marriages and his love relationships.
F. Lee has not revealed having anyone in his life in a romantic fashion ever since. Maybe, he just can not take it anymore. Or perhaps, he could have someone in his life, who he is not willing to come out in a romantic relationship with in front of the public.
But the curiosity people have in their minds is the information about his kids.
People often wonder if he has any kids in his life to support him through his later stages of life. And the answer to that is a 'YES,' as he does have three kids in his life, namely, Scott F. Bailey, Brian Bailey, and Bendrix L. Bailey.
However, Bailey has not disclosed any details of the identity of the mother or mothers of these kids, and that is something which has been a mystery for all of the public thus far.
Moreover, he also has a godchild, who is one of Robert Shapiro's children.
A Short Wiki of F. Lee Bailey: Is He Dead Or Still Alive?
F. Lee Bailey was born on 10th June 1933, in Waltham, Massachusetts, United States, and is an 84-year-old veteran attorney who has attended several of his clients like Albert DeSalvo (The Boston Strangler), Sam Sheppard, Dr. Carl Coppolino, Capt. Ernest Medina, Patricia Hearst, O.J. Simpson.
His success as an attorney and an actor has helped him enjoy a healthy financial status in his life. Bailey currently boasts a staggering net worth of $5 million.
Bailey has lived a long life already, and he is in his mid-80s now which is why people assume that he could be dead already. But hang on, he is still alive and kicking; he has recently helped O.J. Simpson with his case, and that proves that his age does not determine the magnitude of his skills as a criminal lawyer.
Stay with us for future updates on F. Lee Bailey!