Sports
Randy Moss Turmoil Wife, Kids, High School, Brother & Net Worth
Randy Moss is a retired footballer who was inducted into the Pro Football Hall of Fame in 2018. He is one of the best wide receivers in the NFL's history and has established himself as a formidable player on the field.
Despite retiring in 2012, he is still a respected figure in the NFL and is currently a sports analyst.
Brother's Death
Eric Moss, Randy's half brother, and a former NFL lineman passed away at the age of 44 on 9th March 2019. Randy took to Instagram to mourn his brother's death and shared a photo with him.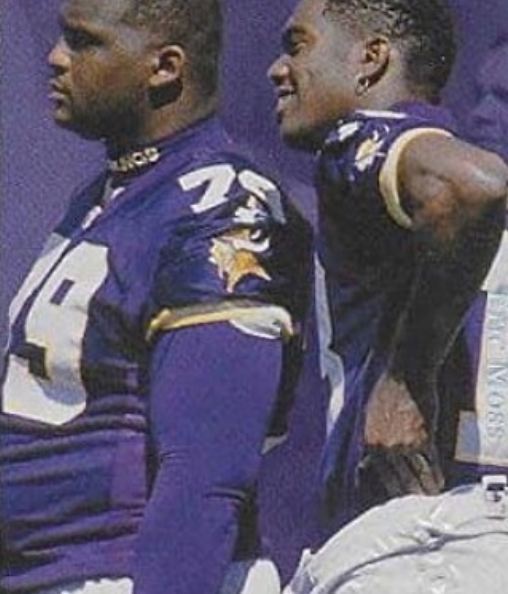 Randy Moss with half brother Eric Moss in 1998 (Photo: Randy Moss's Instagram)
The caption for the photo read, "RIP gentle giant! ERIC DEVON MOSS."
Eric played for Minnesota Vikings in 1997 and 1998. Randy was drafted into the same team in 1998 but the two never got the chance to take the field together as Eric spent the 1998 season on Injured Reserve.
Another NFL Legends:- Find Out Why Fox Sports Fired Cris Carter | Plus, His Personal Life Details
Wife & Children
Randy is married to Lydia Moss. Though the two do not have any children together, the couple has raised four kids from the NFL star's previous relationship.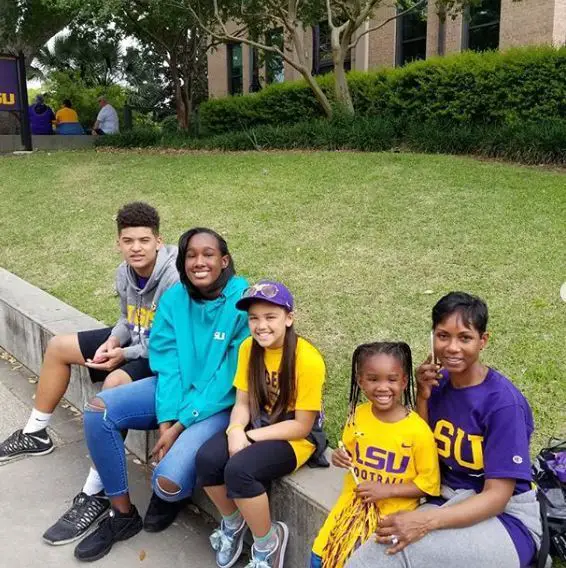 Lydia Moss with Randy Moss' children (Photo: Randy Moss' Instagram)
Thaddeus Moss, Randy's oldest son is following in his father's footsteps and pursuing a career in the NFL. He transferred to Louisiana State University (LSU) in 2018 and is looking to better his opportunities for the future NFL draft.
Randy also picked Thaddeus to introduce him to the Pro Football Hall of Fame ceremony in 2018.
The hall of Famer's daughter, Sydney Moss was a basketball player at the NCAA Division III Thomas More College. She is currently the assistant women's basketball coach at St. Thomas University (STU).
Not much is known about his son Montigo Moss and daughter Senali Moss.
Ex-Girlfriend
Randy's previous relationship with Libby Offutt is quite notorious. The pair had their first child during high school.
The duo faced many obstacles back then because of a negative outlook towards interracial relationships. Randy had at one point, got into a racially motivated fight because of the taunting he received for the relationship. He was arrested for it and had his scholarship at the University of Notre Dame revoked.
Though the relationship wasn't a healthy one, they went on to have three more children. In 1996, Randy and Libby were arrested for domestic violence. The two got into a heated argument that grew into a fight. Libby later claimed that Randy had thrown hot water at her.
The two eventually went their separate ways but were involved in a back and forth exchange on the internet in 2016. The hall of Famer took to his Twitter to criticize his ex-girlfriend. He claimed that Libby had spent $4 million on drugs and was refusing to get help for her addiction.
Celebrity With Drug Problem:- Micky Flanagan Wife & Son | A Family Influenced By Drug Filled Past
She, in turn, retorted that she had been clean for many years and the claim was nothing but a ploy to not allow her to see her children. She went on to reveal that she had driven four hours on Christmas to visit her children, only to be stopped by Randy and his wife.
Net Worth
Randy had a very successful career in the NFL. Despite being criticized for his off-field behavior, no one can deny his accomplishments in the game.
He played in 14 seasons in total and has established himself as a legend in the game. According to celebritynetworth.com, has a net worth of $25 million.