Entertainment
Taylor Bennett, Chance The Rapper's Brother A Gay Man? Here's The Truth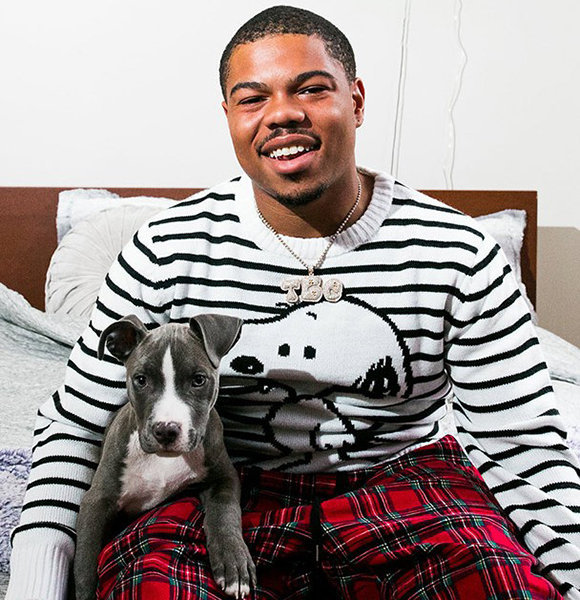 It takes a whole lot of hardihood to come out on your sexuality, although the world has grown more tolerant of LGBTQ sexual orientations. People have their reasons for releasing the cat out of the bag, but perhaps, it is to do with securing a rightful place under the sun. Or maybe it is about being honest about who you are.
Taylor Bennett, an American hip hop recording artist is one such person, who came out of the closet in 2017. But, what drove Taylor Bennett to come out on his sexual identity and what exactly is his sexual orientation? 
Read on here to find that out!
Shedding Lights on Taylor Bennett's Sexuality
Before his 21st birthday on 19 January 2017, Taylor Bennett tweeted to his fans, letting them know that he recognizes himself as a bisexual man. With a series of tweets, Taylor put it out there that his intention of coming out was inspired by the idea to help others, who struggle with the same issue.
Coming Out Gay:- Billy Eichner Talks Coming Out As Gay Experience In An Interview; Has A Boyfriend Or Looking Forward To Dating?
He also expressed that he had always been, and will continue to be supportive of the gay community.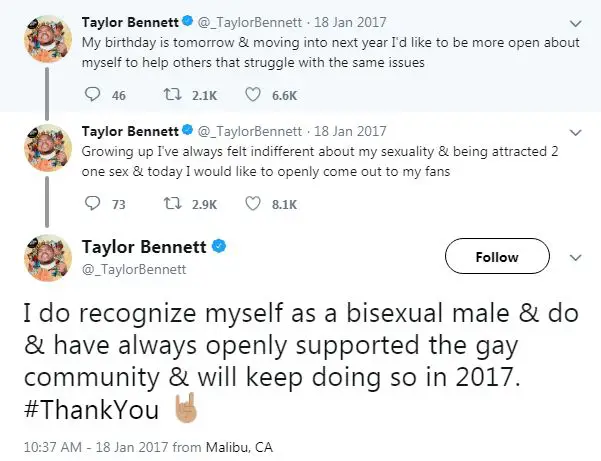 Taylor Bennett comes out of the closet as bisexual on 18 January 2017 (Photo: Taylor Bennett's Twitter)
That's the way to lead by an example, right?
With Girlfriend & Baby
Although Taylor came out openly to address his sexuality, Taylor still maintains a romantic relationship with his female partner, Mayla Koore. 
His girlfriend became pregnant with the couple's first child in early 2018. Taylor became a father when his partner delivered a healthy baby boy named Charlie in November 2018.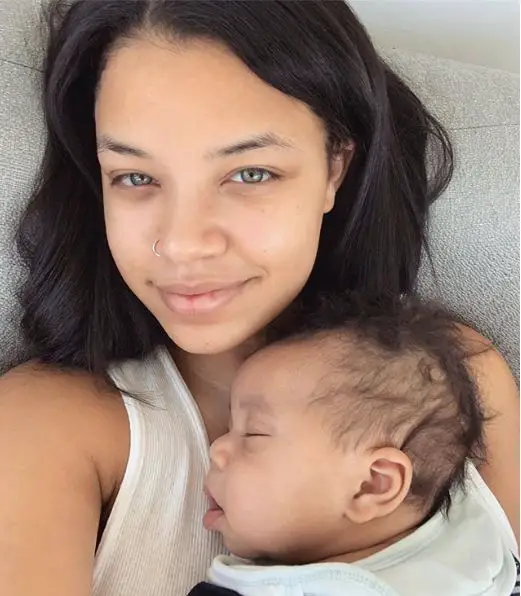 Taylor Bennett's partner Mayla Koore and son Charlie in January 2019 (Photo: Mayla Koore's Instagram)
Soon after the birth of his son, Taylor faced criticism as many suspected the authenticity of his bi-sexuality. In response, the artist hit back claiming that bisexuality is getting passionate with not one but both genders.
Meanwhile, Taylor's brother Chance the Rapper also leads a healthy marriage with his wife of years, Kirsten Corley. The couple, who welcomed their daughter Kensli in September 2015, got engaged in July 2018 and later married in December 2018. Chance and his wife are on the verge of having a second child as Kirsten announced her pregnancy on 14 March 2019.
Taylor Bennett Wiki 
Taylor Bennett, who has his share of fame as a recording artist, is the younger brother of the three Grammy-winning rap star, Chance the Rapper.
Born on 19 January 1996 to Ken Williams-Bennett, who worked for the Mayor of Chicago, and Lisa Bennett, who worked for the attorney general, in a Chicago neighborhood, he studied in Urban Prep High School. 
Taylor Bennett is a rap star in his rights and is out of his famous brother's shadows with whom he worked together on "Broad Shoulders" and "Gimme A Call." Chance always preferred that his younger brother found his sun before collaborating with him.
Moreover, Taylor has found success is amply clear from the fact that he has tour dates lined up in several places from 26 Feb right through to April with ticket prices ranging from US$35 to US$222 per person per show. 
Another YouTuber's Bio:- Amiri King Bio, Age, Wife, Girlfriend, Net Worth
Like his older brother, Taylor is also into philanthropy supporting Kids Off The Block, a nonprofit organization working to end violent crimes in his native Chicago, with the entire proceeds of his sold-out show. He also supports the cause, the SaveChicago campaign with his brother. 
Think we're missing something? Do let us know in the comment section below!