Entertainment
Tom Sandoval; A Strongly Rumored Gay Man Is Dating His Girlfriend and It Seems To Be That Way - Forever!
While many celebrities are being speculated to be a gay just for them not revealing about their relationship status, there is someone who has been giving the media, content on his own.
Vanderpump Rules star and musician, Tom Sandoval, despite being in a committed relationship, has been fueling the rumors of him being a gay through his own statement and actions. 
But, what did he do to be called a gay so often? Keep reading to find that out!
Tom Sandoval has a role behind people calling him gay!
Tom Sandoval and Tom Schwartz worked together on Vanderpump Rules reality TV series. They became close friends, and they seem to have a lot of fun together.
But there is something more to their friendship that has ignited the gay rumors for them. Some of their intentional on-screen actions speak for themselves.
Back in February 2017, the close friends Sandoval and Schwartz shared a kiss as a funny skit on WWHL with Andy Cohen show. The audience felt it was uncomfortable to watch.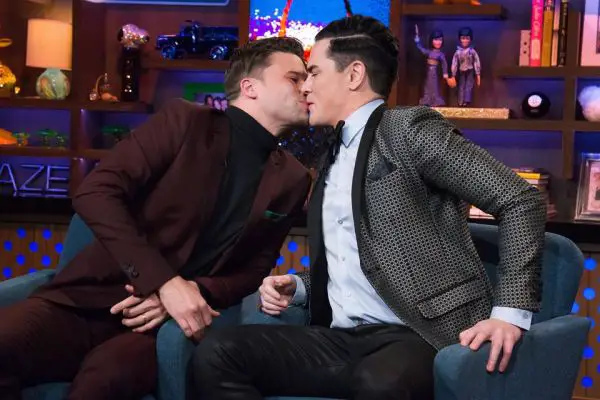 Caption: Tom Sandoval (right) and Tom Schwartz (left) share a kiss in Watch What Happens Live Andy Cohen show in February 2017. 
Photo Source: allabouttrh.com
Moreover, they shared another on-screen kiss!
During an episode of Vanderpump Rules, they kissed each other on the lips after Schwartz spins the bottle and it lands on Sandoval.
Even though Schwartz hesitates at first, he goes in for the kiss, and it is quite a long one! 
Caption: Tom Sandoval and Tom Schwartz kiss each other after the bottle that Schwartz was spinning lands on Sandoval. (Published on May 2017) 
Although it was just a funny on-screen dare, they kept the gay inquiries on the rise.
During another interview with WWHL, Sandoval was asked 'if you wanna go gay with one other male cast member on Vanderpump, who would you go gay with?" to which he answered,
"If I have to say, it's definitely Schwartz." 
So, it looks pretty clear and obvious that they intended to receive those rumors.
However, back in an interview with TheDailyDish podcast in February 2017, they responded to the false speculations about their sexuality, Sandoval revealed,
" People say that about everyone. They say that about Ryan Seacrest, they say it about me, that say it about [Schwartz]. People like to speculate all kinds of different things" . 
 Further, Schwartz said,
" It's fun to speculate. "
  On July 11, Schwartz posted a funny meme of Sandoval, wishing him a happy birthday. They usually make fun of each other on social media! 
Again on February 15, 2017, Schwartz posted a photo with Sandoval as he shares a funny caption mentioning Sandoval as his Valentine. 
When the one to be surrounded by rumor is the same person to be fueling it; what more can the viewers do, than to speculate them to be gay?
However, there is the another aspect of the story, as both Sandoval and Schwartz are in romantic relationships with beautiful ladies.
Sandoval's Relationship with Ariana Madix!
Sandoval is currently in an adorable relationship with Ariana Madix. They fell in love on the set of Vanderpump Rules. They have been dating for three years now, and they are nothing but sweet pies to each other.
They were in a relationship before Sandoval's gay rumors and still have a healthy relationship. Back in September 2016, Tom revealed to BravoTv about their secret to lasting love,
"People say that our relationship is goals, #goals sometimes, and people ask us about what does it take to have a great relationship. And I think one thing that sets me and Ariana's relationship apart from definitely, like, my past is we definitely have a lot of respect for each other and who we are as people and our intelligence,"
They often display their relationship on social media as well. On June 26, Sandoval wished his girlfriend Ariana Happy Birthday with a sweet caption! 
How amazing my Life has become with you in it, is beyond words... You are my Love, You are my World, You are my Queen! 
Happy Birthday Ariana! 
Even though they are busy, they make time for each other and always post adorable pictures. On March 28, they captured a moment of their vacation together. 
The couple has some plans together for the future, which consists of buying a house and possibly adopting a child. That is probably the next level of their relationship, right?
Tom and Ariana currently live together in an apartment. On March 2017, Ariana revealed TheDailyDish that they wish to buy a house soon,
"I've been wanting to buy a house for so long that I think that when I'm finally a homeowner, I will feel a sense of relief, in a way. I get so inspired when I see other people's houses or when I think of my home growing up and all the things that we did to improve the home and all the things that you can do. Like, anytime that I go to a friend's house and we go into a backyard and we look out there, like, wow, I would do this and I would do this and I would do this. I just have so many ideas, and I just think that it would be such a great creative outlet."
However, Vanderpump fans may get disheartened that the couple does not seem to be exchanging vows right away, but instead, they are adding more time to their marriage.
In March 2017, Ariana revealed they have other huge plans besides the wedding,
"But, honestly, I love him. I want to be with him and we have a lot of future plans together. They don't necessarily involve walking down an aisle and saying vows, but we really want to buy a house together. That's something that we've been really saving our money for, and we really want to travel the world together and that's something that's really important to both of us. And hopefully it all happens."
Following the interview, she added that she prefers to adopt a kid in the future and that Tom might be interested in it as well.
" I would maybe consider adopting later on in life. There's something about child birth, man, I can't get into it. I can't get the enthusiasm that I've seen from other people. I think Tom's more open to it. I think Tom grew up wanting kids, but I've asked him recently and I don't know if it's as important to him as it was before. And I think maybe the idea of adopting when we're much older might be something he's into. Who knows?"
Before Sandoval and Ariana were in a relationship, Sandoval was dating Kristen Doutes, who is another actress on the show Vanderpump Rules. But their relationship was moving on a rocky road and eventually, Sandoval cheated on her with Ariana.
Kristen also hooked up with Jax and James from the same show. On February 2014, Kristen revealed many details about their breakup on Bravotv, which included Ariana as well. 
Short Wiki-Like Bio of Tom Sandoval 
Tom Sandoval is a reality star and a musician born on July 7, 1983, in St. Louis, Missouri and stands at the height of 5' 11''. Sandoval is best known for being on the reality TV show Vanderpump Rules (2013).
Before he rose to fame with VPR, Tom starred in a film 'Playing with Fame' as Miles Butler after filmmaker David Decoteau discovered him.
He also has appeared in other movies; like Behind Your Eyes (2011), Puppet Master: Axis of Evils (2010).
Think we're missing something? Do let us know in the comment section below!