LifeStyle
Make Your Anniversary Special: Top Ten Ideas for Celebrating Your Wedding Anniversary: Make Your Life's Every Single Moment Memorable
"One should believe in marriage as in the immortality of the soul." -Honore de Balzac
We love to celebrate all the important and happy moments our life. But sometimes we let some special memory of our life to pass away without celebrating it to the fullest. Here, I am talking about wedding anniversaries. Not everyone but many of us struggle to get a perfect life-partner and to lead a happily married life, but when it comes to celebrating our anniversary, we don't know how can we make this special day more special. We should rightly cherish the memories of our wedding day later in our life. Celebrating anniversary necessarily does not mean that we have to spend lots of money on it. You can too celebrate your anniversary without spending much. There are many things you can do for your anniversary to make it more special. Some of the ideas that can help you celebrate your anniversary are mentioned in this article.
Caption: Wedding Anniversary Ideas
How Can You Celebrate Your Anniversary in a particular way?
1) Plan a special dinner with your partner: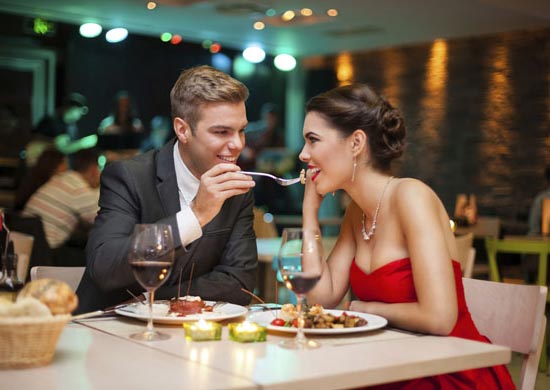 Photo Credit: dgreetings.com
Going for a dinner with your partner in your anniversary can make both of yours day very special. You can even plan for a candle-light dinner where you can spend some private time with your partner and talk to each other in a more intimate and romantic way.
2) Exchange gifts with each other: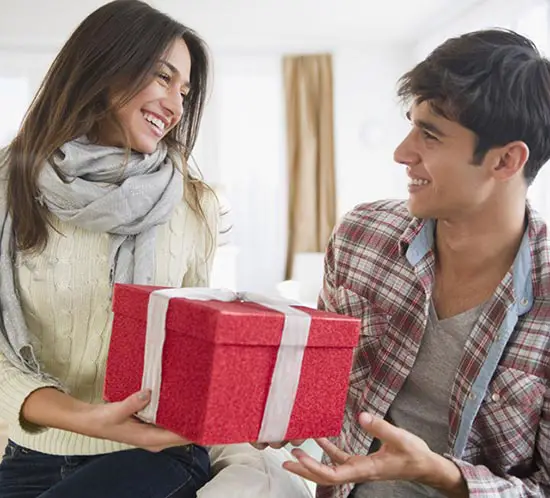 Photo Credit: amazonaws.com
Whether your gift is small or big in size or whether it's costly or cheap in price it doesn't matter at all. The thing that matters the most is the love that your gift shows towards your partner. You can choose a special gift for your partner, and both of you can exchange the gifts together and celebrate your anniversary. This small effort can give lots of happiness to both of you for your anniversary.
3) Write letters to each other: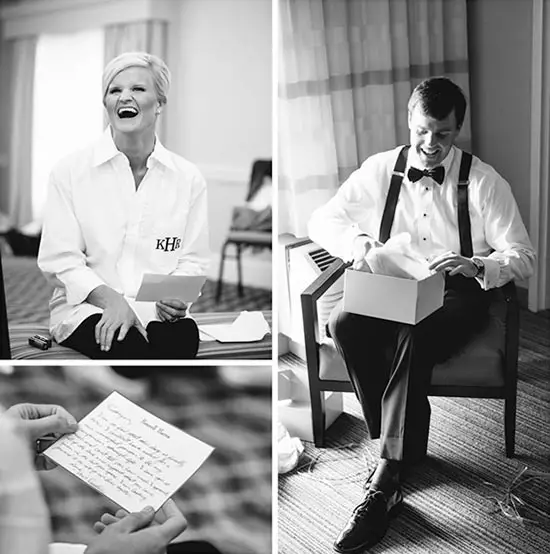 Photo Credit: charlestonevent.com
In your anniversary you and your partner can even exchange letters where both of you can write about your love for each other, how you still feel for each other etc. You can even write a lovely poem for your spouse in this letter. The letter can express hidden feelings which you might want to tell your partner in a special way and were not able to show it in the past. Writing letters to each other and sharing it with each other can make both of your partner and your day special.
4) Go somewhere where you both can relax: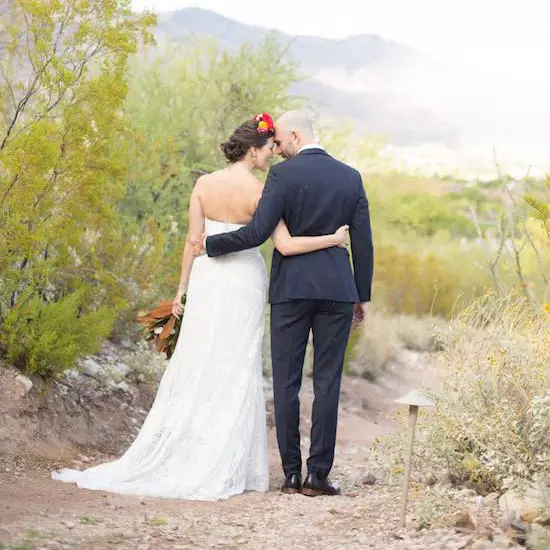 Photo Credit: weddbook.com
In your anniversary you and your spouse can go for a drive, for a movie, for breakfast, for a coffee, for a dance party or wherever you both can enjoy you can go there. The primary motive of going somewhere is to spend some time together with your partner and celebrate your anniversary in more relaxing and entertaining way.
5) Throw a party: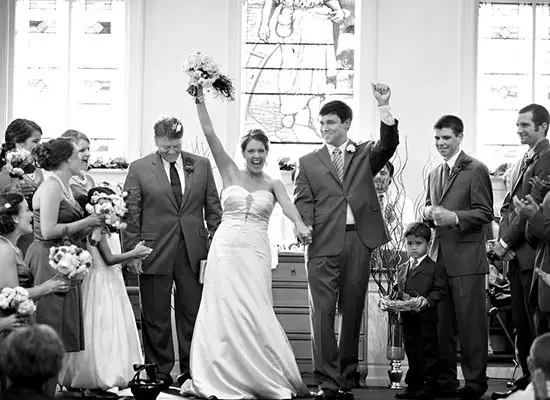 Photo Credit: heartlovealways.com
In your anniversary you can throw a party somewhere outside or in your home. If you and your partner want other people to celebrate along with you guys, then this idea of celebrating anniversary would be a great one. If you don't want to spend lots of money, then you can even arrange a small party in your home. You and your partner even can dance with each other in the party and make this day a memorable one.
6) Just cook some special dish in your home itself: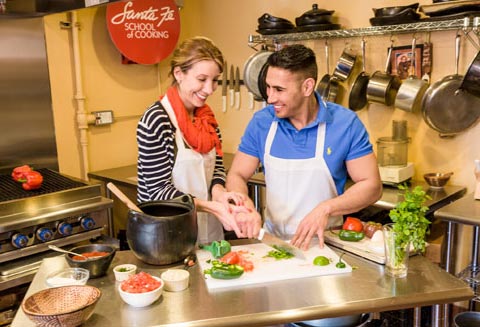 Photo Credit: santafeschoolofcooking.com
If you do not want to go somewhere outside to rejoice your anniversary, then you can prepare some special dish for your spouse in your home. You and your partner both can indulge in making some special dishes for each other and make each other happy on this special day. (For e.g. -Both of you can prepare a lovely cake or anything else that both of you wish to prepare.)
7) Watch your wedding videotape: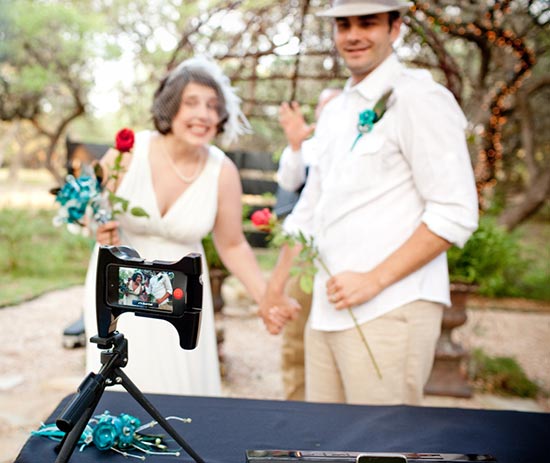 Photo Credit: offbeatbride.com
We can watch our wedding video to recall our memories back and to live our day of marriage again. Watching your wedding videotape can make you and your partner filled with full of love and emotions once again, and both of you can relive your past life and enjoy your memories. This can be a great way to celebrate your anniversary with your partner.
8) Talk with your spouse: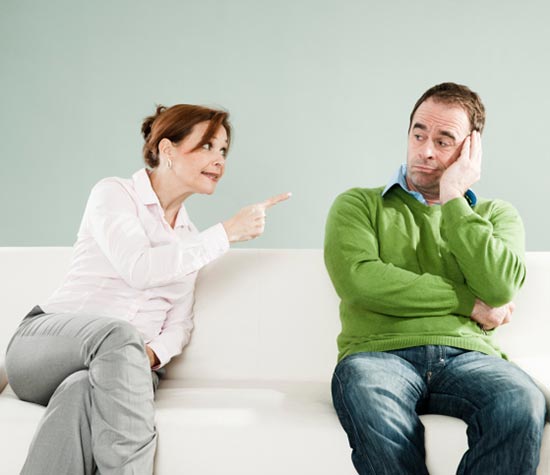 Photo Credit: huffingtonpost.com
In any relationship communication is a very essential to express each other's feelings and emotions. In your wedding anniversary too you and your partner can have an excellent talk with each other. Both of you can sit together and chatter with each other and of course you both can express your love for each other.
9) Be together and spend some time alone with each other: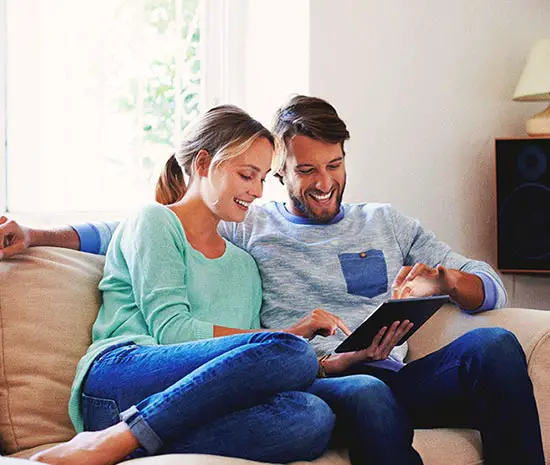 Photo Credit:cloudinary.com
In a whole year, you might get busy in your work but your anniversary is such a special day where you and your partner can take out some time from your daily schedule and spend a private time with each other. In your anniversary you and your partner can just be together and spent some time alone with each other. Sometimes being together with each other is more valuable than any celebration.
10) Decorate your bedroom:
Photo Credit: mygreatdecore.com
Both of you and your partner can decorate the bedroom together with flowers and candles, and you can even decorate your bed where both of you and your partner cuddle and sleep together. You can put some beautiful lighting in your bedroom to create a lovely environment. All these decorations can create a mood, and this can make you and your partner feel awesome in your anniversary.
Importance of celebrating wedding anniversary
Caption:Wedding Anniversary Gift Ideas for Parents
We all expect lots of things from our marriage, and when we are happily living in our married life, we tend not to properly celebrate our marriage anniversary. Marriage anniversary comes just once a year, and in this day we can regard our thankfulness and express our unconditional to our partner. This day is important as in this day we can live our memories and create a new memory for our future days. Happy married life is a blessing of God, and by celebrating its anniversary, we can thank our parents, our God, our partner and everyone who have been a part of our successful married life. In a wedding anniversary, we can make our partner and ourselves feel so special and blessed by celebrating it. Marriage anniversary reminds us our partner's love for us and all the memories we have created together. There are lots more importance of this day in a life of a happily married couple and celebrating it is just a way of expressing the happiness of being in a blissful and happy married life. Let it be a small celebration but make an effort to celebrate your wedding anniversary as we live once and we should always make best out of it.
A wedding anniversary is a special day which comes once a year in a married couple's life and this occasion the couple gets chance to revive and relive the past moments and memories of their wedding. There are lots of ways to celebrate a marriage- anniversary, and we should never miss a chance to celebrate it.