News
Was The Presidential Election 2016 The Most Expensive Election In America? View Full Report
Agree with it or not, we all were counting on the total expenditure that the nominees made during the election cycle. We have to spend money then, and then only we will be getting something out of it. All the nominees did that for sure, after all, they were running in a race for becoming the President of America 2016 with no doubt, it's by far the most eye-catching event in the world.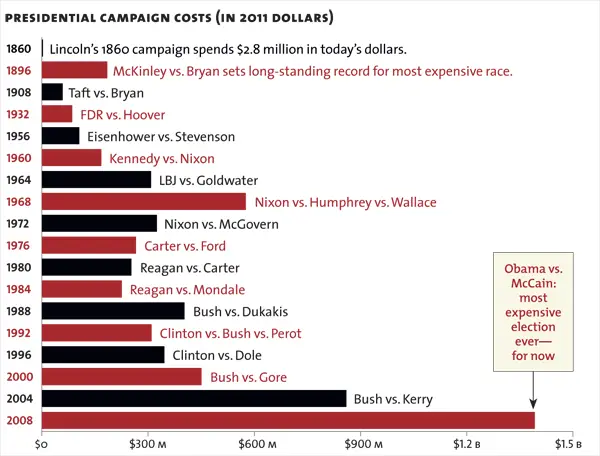 Caption: Bar graph is showing presidential campaign cost.
Source: motherjones.com
Talking about the graphic presentation of the cash piles for the Whitehouse relay, Lincoln started it spending $2.8m in today's dollar. First, the graph was quite fluctuating which reached its peak on 1968 on which the expenditure reached up to $600m. It seems like tend has been followed from there. On 2008, new expenditure was made by Former President Bush who was approximately 900m.
After Bush, it was then time for the new event for the presidential election on 2008. That had set a real trademark in US history. Barack  Obama spent $730m. If we do mathematics, then it will be something like 230 times than that of lincoln's expenditure on today's dollar.
 Nominees are spending billions of dollars to get to Whitehouse. This has become so lavish. Is Whitehouse that expensive?
The trend of the spending the dollars is now followed in 2016 too. The prediction of the election was started from the beginning itself. It was estimated that the expenditure of the election could be in between $2-5m. And yes, the prediction was somehow right. The expenditure for the election ended up approximately in $5m.
All the nominees from the start tried every possible way to beat each other. They raise funds, got involved in media, hired lots of people, gave them satisfying salaries it was a hell lot of expense.
We all are well known for the fact that the more you spent the most the far you will go in the race. Which means you spent more money every year for the presidential election and 2016's election was no more exception.