News
She's Pregnant! Talan Torriero's Wife Danielle is Pregnant with their Baby No.1 Three Years After their Wedding
Laguna Beach star, Talan Torriero is expecting his first child with wife Danielle Torriero. Talan made an official announcement of pregnancy via an Instagram video of the ultrasound on April 11, 2017.
Moreover, Talan also revealed that the 'Baby Torriero' is due in mid-October 2017 and soon to be father's excitement is evident in the post as the countdown of 13 weeks has begun.
Danielle was the first to share the news, where she shared her excitement on her baby's arrival on mid-October using various emojis in the caption.
According to various wiki sites, Talan Torriero met wife Danielle Torriero eight years ago on March 25. And evidently, while wishing Danielle on her birthday, Talan also shared the same through an Instagram post, where they are spotted sitting comfortably on the grass.
Further, Talan Torriero has been head over heels in love with his beautiful wife for many years now and have celebrated many Valentines Day together. Still keeping the romance alive in their relationship, Talan Torriero wished his gorgeous wife on the occasion of Valentine's Day on February 14, 2017.
Talan got married to his wife Danielle on June 2014 wedding vows with each other in the presence of family and friends, and soon this paradise will have an additional member, baby Torriero, who is sure to spread even more happiness in their life.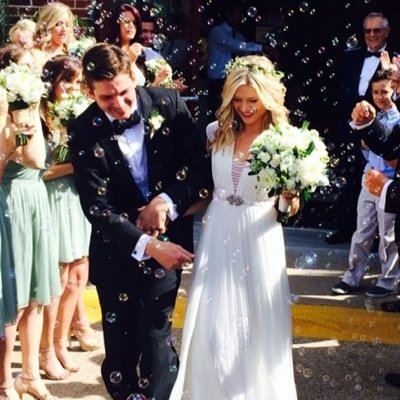 Caption: Wedding Ceremony of Talan Torriero and Danielle Torriero on June 2014.
Photo Credit: Twitter
Congratulations to Soon To Be Dad and Mom Talan and Danielle!