News
Matthew Robertson, Ex-Wife Davina McCall Settles For Quick Divorce - Sacrifice For Best Deal!
Matthew Robertson, Ex-Wife Davina McCall Settles For Quick Divorce - Sacrifice For Best Deal!
News
Matthew Robertson will be earning himself £2.5 million after a quick divorce with his wife Davina McCall, the famous television presenter. His ex-wife agreed to settle for a "quickie" as a sacrifice for her singlehood after being married for 17 years on 22 April 2018. The former pair tied the nuptial knot back in June 2000 and renewed their wedding vows in 2015.
Matthew's ex-wife Davina is willing to part with £2.5million for Matthew to avoid any lengthy dispute over every penny. The pair has decided to half the money gained after selling thier 37-acre family mansion in East Sussex they bought for £3.2 million. 
Davina, who seems desperate for being single and a clean break-up, will be handing £1million to Matthew for her early escape to singlehood. A source at The Sun cleared more on her sacrifice for the best deal, stating,
"Davina can't wait to begin her new life. She is desperate to get a clean break and is not interested in going to war with Matthew and squabbling over every penny."
The source added,
"In order to start afresh and be her best self, she's willing to sacrifice getting the best deal."
The couple's split news surfaced in November 2017 after Matthew's ex-wife shared a motivational quote hinting a break up on her Instagram. The post read, 
"Every morning we get a chance to be different. A chance to change. A chance to be better. Your past is your past. Leave it there. Get on with the future part."
Davina added,  
"I really know about this one. I have made so many mistakes in my life. But there is always a new day."
The couple was also last photographed together at an anniversary party for Kelly Hoppen, an interior designer in November 2017.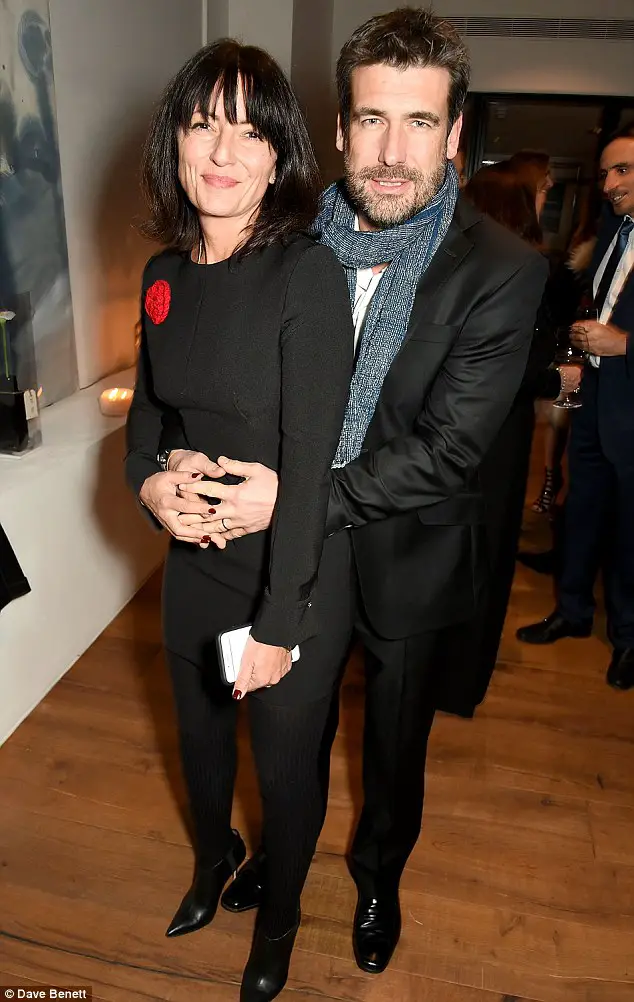 Matthew Robertson with wife Davina McCall at Kelly Hoppen's party in London (Photo: dailymail.co.uk)
Both Matthew and Davina looked happy with each other at the event, but the cryptic post raised split rumors, and Davina later affirmed the couple's split after 17 years of marriage to The Sun. 
Revealing the split news to the magazine, Davina, who shares three children with Matthew, stated, 
"I am very sad to say Matthew and I have separated. Our amazing children are our number one priority."
Just two days after their split announcement, Davina was spotted house-hunting with a woman holding a brochure, most probably in search of a new residence.