News
Sarah-Jayne Ljungstrom Broadcasts Birth of her Baby Girl through Facebook Live!
A woman welcomes a baby girl by broadcasting her labor to more than 200,000 strangers on Facebook Live.
This brave mom is Sarah-Jayne Ljungstrom, 35, from Richmond, south west London who posted five live videos over twenty-four hours documenting the labor. The series of videos started with her first hospital trip which includes the live contraction. However, she posted a video with her newborn baby Evelina after she returned home. The first live video was posted at 10 pm on December 21 from the hospital.
Caption:  Glimpses of Sarah's labor broadcast through Facebook Live. 
Source: dailymail.co.uk
She posted the videos on the Facebook page "Channel Mum" where Ms. Ljungstrom says she would look back to the video whenever she thinks about having another baby.
Ms. Ljungstrom, who is a director at an advertising agency, said-
"I was always looking for help and advice especially about the big things like labour and feeding that I was anxious about."
"Stories from other real mums I could relate to helped me so much. So I decided to share my own to show a real everyday labour that other mums and pregnant woman could follow and see how it went. Birth isn't really like the movies so showing a normal everyday labour story was nice."
At the final video, Ms. Ljungstrom displayed her baby Evelina in her arms. The video has more than 200,000 views.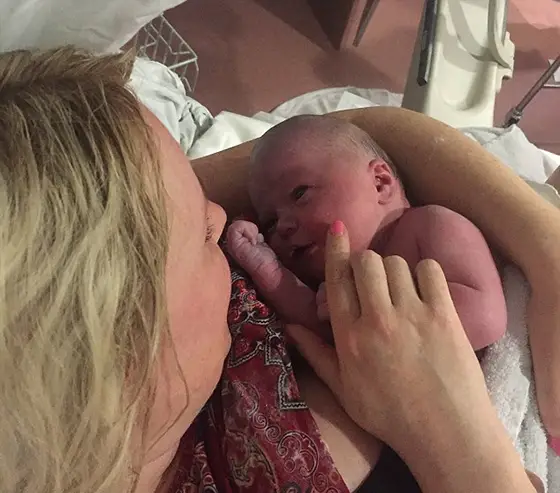 Caption: Ms. Ljungstrom holding her baby daughter Evelina in her arms.
Source: dailymail.co.uk
After the post, the mother of three Sarah Jayne expressed,
"I think our social networks are amazing support networks - especially in the online motherhood world.So I just felt I was chatting to a bunch of mums who all had my back and were giving me words of encouragement."
"Emotionally it made me feel braver and more hopeful as I had the encouragement of women I knew had been there and done it. I got some great advice and read all of it."
"It felt like I had a whole village of women with me in spirit."
Evelina is the third child of Sarah-Jayne Ljungstrom and her husband, Henrik Ljungstrom. They have two sons Freddie, 6, and Finn Barnaby Bo, 3.