News
Tracey Jewel,34, To Split With Husband! New Drama In Town
The Australian reality television series Married at First Sight star Tracey Jewel, who ages 34, currently looks to be fed up with her controversial husband Dean Wells, as she hints on ending the relationship with him at the next commitment ceremony.
Tracey got furious and lashed out at her husband after Dean confessed that he got instantly attracted to his co-star, Justin Bride's Carly Bowyer during a boozy 'boys' night' on Tuesday.
He even boasted that he sometimes feels a 'vibe' from Carly as well and even indicated that they have chemistry. 
'I would say Carly. Judging solely on looks. I don't know her that well as a person. At times I felt a bit of a vibe.
Tracey, who was less than impressed at his disclosure, said that she doesn't want Carly to be talked that way on the show's Today Extra on Thursday.
'I love Carly and Carly doesn't deserve that,'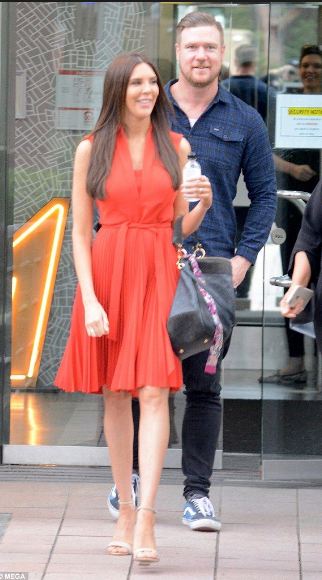 Tracey Jewel with husband Dean Wells (Photo: pinimg.com)
Moreover, speaking of the affairs Dean previously had with the former contestant and bikini model, Davina Rankin, Tracey said that her marriage is just going from bad to worst due to the behaviour of her husband. She quoted:
'It just goes from bad to worse. Is it Carly, is it Davina? We entered this as a marriage and it's unacceptable - it's unacceptable for the other boys to be doing it as well. I do feel disrespected. Especially with the whole Davina thing behind us, wanting to swap me out again. It was completely unnecessary and disrespectful.' 
Tracey also brought up the outrageous doing of Dean during the show's 'boys' night.' During the night, he had offered his wife to the other contestants. Dean's words were:
'What about Tracey, guys? She's hot. Could someone just say they want to bang Tracey? Please!
Saying that Dean's behaviour shocked her and the drama never stops when Dean is around, Tracey quoted:
It really shocked me. I was like "Are you kidding me? Are we dealing with this again?" Even more drama. The drama just doesn't stop when Dean's around. 
She even added that she is still confused on what happened at the Boy's Night due to the varying perspective of people, and added that she is trying to reach out on a decision. 
'Obviously I was just going off what Dean was telling me, he sat there and denied it the whole dinner party. I wasn't at boys' night - there's Charlene's version, Patrick's version, Dean's version.''It just becomes Chinese whispers and I just have to try to make the right decision for myself which is really hard to do with so many opinions flying around that dinner party.'
Finally, Tracey warned that she could opt to split with her husband during the Sunday's Commitment ceremony saying that she has reached her 'limit.'
'It's turning into my character flaw being as forgiving as I am, and there's certainly a limit as to how much I can put up with,'
The news regarding the divorce of Tracey and Dean seemed more real after Dean was spotted giving company to a new blonde mystery woman in the early hours of 2nd March.
The two reportedly met at Steyne Hotel in the Sydney suburb of Manly before heading to their local apartment. One of the eyewitnesses to the incident told the OK Magazine that the Tracey and Dean were no longer together.
'It's common knowledge that Tracey and Dean are no longer together,
Tracey, who has an eight-year-old daughter named Grace from Perth, married Dean on the first day of February. Both the couple seemed to be working hard to build up a good family in the early week of their marriage, but now it looks like everything has gone in vain. 
Stay with us for the emerging updates on the developing story!