Entertainment
With Prolific NBA Records, Quinn Cook Stuns Us With His Staggering Salary and Net Worth!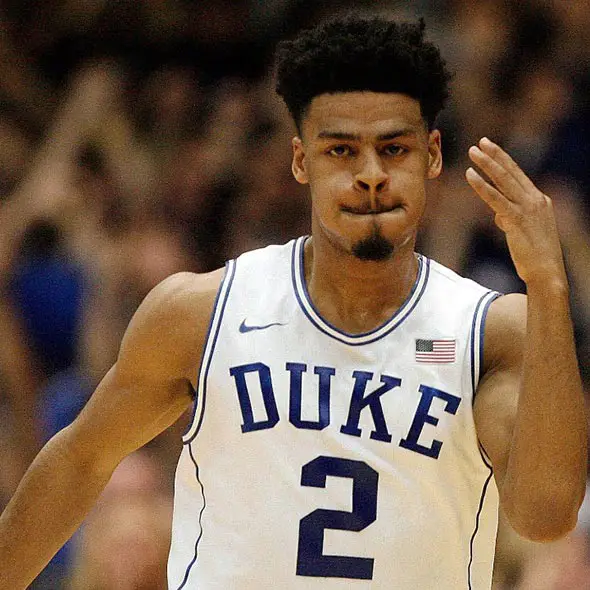 With Prolific NBA Records, Quinn Cook Stuns Us With His Staggering Salary and Net Worth!
Entertainment
Once a vital part of the 2015 NCAA title-winning side of Duke University alongside MOP Tyus Jones, Quinn Cook's basketball journey didn't go as he had thought it would, then onwards. Not picked by any team in the 2015 NBA Draft, Duke former captain Quinn shoved aside his disappointment to show his determination of getting drafted in the NBA. 
And the very next moment, he was already into it to prove his worth.
Considered now as one of the most talented basketball players, Quinn has certainly proven himself to be worth the expensive contract price. Despite the fame and money, Quinn is still the mama's boy who loves showering his mother with gifts and even keeps fond memories of his deceased father.
Humble Beginnings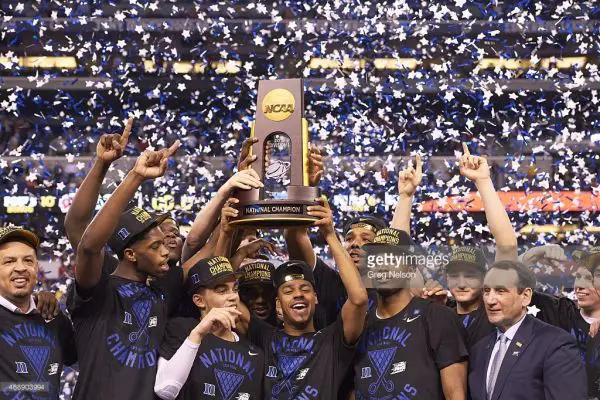 Captain Quinn Cook Winning the 2015 NCAA Championship with Duke University (Photo: gettyimages.com)
Quinn Alexander Cook (Twitter: @QCook323; Instagram: @qcook323) was born on March 23, 1993, in Washington DC. He started his basketball career in high school, playing for DeMatha Catholic High School in Maryland.
He played for 3 years in DeMatha before moving to Oak Hill Academy in Virginia. In his senior year there, he averaged 19.1 points and 10.9 assists per game which led his team to a 31-4 record.
See Also:- Rosalyn Gold-Onwude Married & Husband | Multiple Dating, Found Soulmate?
Quinn Cook "Duke Bound" Oak Hill Academy (Video: tymeekjustice.com)
Coming out of high school, Quinn Cook was ranked as the #38 player by Rivals magazine. He was offered contracts by North Carolina, UCLA, and Villanova, but he decided to choose Duke University as his next destination stating,
"The reason I chose Duke is because of Coach K."
College Career
Quinn Cook was recruited to a class of Duke's 2011 that would go on to bag the second best position in the recruiting rankings published by ESPNU. Making his debut on October 14, 2011, during his time at Duke University he played 143 matches averaging 10.9 points per game.
His average stats was an incredible 16.0 points per game in his final season as he helped the team clinch the NCAA Championship in 2015.
You May Also Like:- Vasyl Lomachenko Suffered Loss In A Fight! Something That Later Made His Records Super Solid
He also provided a Duke University Jersey to President Obama last September.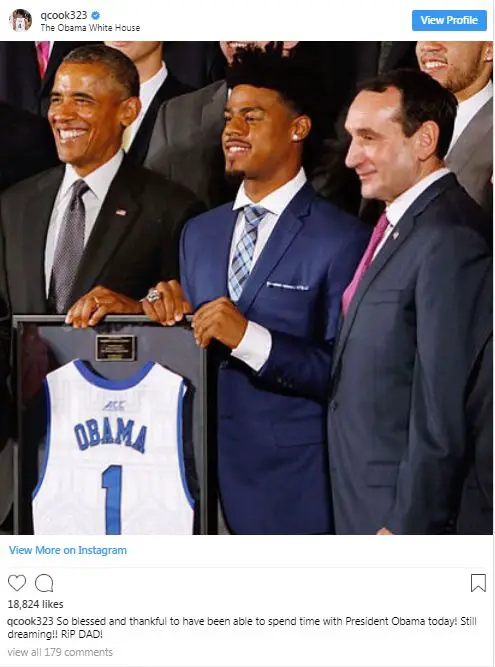 Quinn Cook presents the Duke University Jersey to President Obama (Photo: Quinn Cook's Instagram)
Professional Career: NBA Draft and Records
Quinn Cook went undrafted in the 2015 NBA Draft, leading him to play in summer leagues. He played for the Oklahoma City Thunder in the Orlando Summer League before toiling for the Cleveland Cavaliers' in the Las Vegas Summer League.
Dazzling in a short span for Cleveland, he was offered a contract by them in September 2015, which he gladly accepted. His time with the Cavaliers failed to last long as he was waived by the franchise only a month later.
It was welcomed with the mixed emotions among fans with one portion mourning his absence in NBA while the other rejoicing to watch him play in summer leagues.
Don't Miss:- Demetris Robertson Wiki: From Stats to The Injury That Got Him an Unwanted Break

A fan expresses grief on Quinn getting rejected from NBA (Photo: David Cordova's Twitter)
All these tantrums could hardly hinder Quinn's determination as he came up as an improved basketball player having signed for the Canton Charge in the NBA Development League (D-League). In his impressive debut season, he played 43 games for the Ohio-based team. His average NBA records for the D-League was a notable 19.6 points, 3.9 rebounds and 5.4 assists per game. This won him the 2016 D-League Rookie of the Year award and a place on the All-Rookie Team. He also gained some new admirer in the process, including the NBA Champion from the Cavaliers.
Personal Life and Salary: Net Worth?
Quinn Cook was born in Washington DC, to mother Janet Cook and father Ted Cook. His father used to be an entrepreneur before his death in 2008. Quinn also has an older sister Kelsey Cook and God-Brother of Duke University's All-America Guard Nolan Smith.
There is no official record of Quinn having a girlfriend but have been allegedly dating Daffini Evans, who is a fitness model.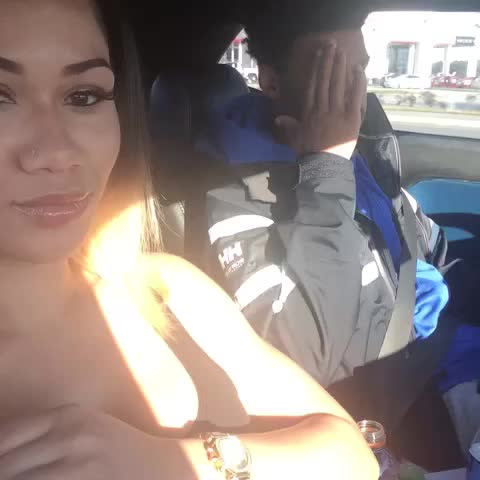 Daffini Evans with Quinn Cook (Photo: lipstickalley.com)
There is no credible evidence (except the screen grab) that the two were dating but he did put this up on his twitter once. And it is ample!
Think it's time for a girlfriend. No more stallin. RiP DAD! — Quinn Cook (@QCook323) September 5, 2011
The salary for all D-League players has always been strictly monitored. The salary cap has been divided into 3 player classification tiers. Being one of the notable players in the league, it is safe to assume that Quinn Cook falls in the high tier of the classification.
The salary for these players is $25,000. However, there have been reports of players earning more and Quinn definitely falls on the latter category as he is currently earning a salary of $1,559,783 from Golden State Warriors. Quinn, who is currently on a two-year contract with the sports team, is yet to reveal the amount of his net worth.
More From LiveRamp Up:- Dee Gordon Stats That Got Him Multi-Year Contract With Marlins; Career Affected By Suspension?
Signed with a contract of over a million dollars, Quinn even surprised his mother with a gift of a brand new car in August 2018. Golden State Warriors even shared a tweet to capture the emotional bond while Quinn gifted his mother with the surprise car.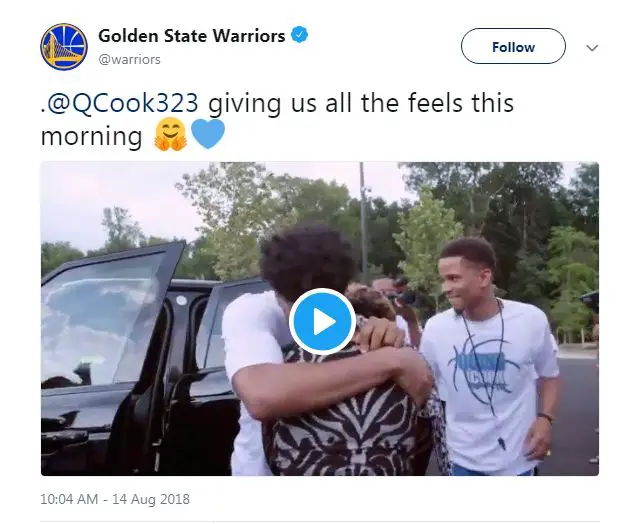 Quinn Cook gifts his mother a surprise car in August 2018 (Photo: Golden State Warriors' Twitter)
Additionally, when Quinn was honored back in August 2018 as 10th August was declared "Quinn Cook's Day" by the First Baptist Church of Glenarden, the NBA star took the opportunity to thank everyone for their love and even expressed his love towards his father. Quinn shared an Instagram post to thank the community and wished happy remembrance to his father.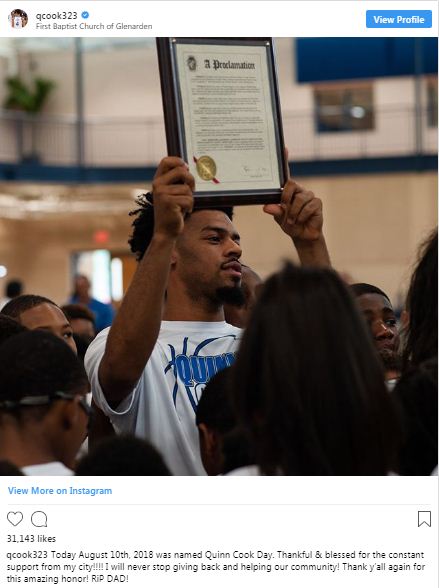 Quinn gets honored with "Quinn Cook Day" on 10 August 2018 (Photo; Quinn Cook's Instagram)
Quinn's father had died when the NBA star was just a teenager of just 14 years of age, so his father could never witness Quinn's success which is why the honor was important to him and he even dedicated the honor for his late father.