TV/FILM
American Music Awards 2018 | Winners & Nominees List You Can't Miss
The 46th annual American Musical Awards held in Los Angeles last night saw some of the music industry's biggest heavyweights battle it out for the prized trophies.
In addition to being a star-studded affair, the 2018 edition of American Musical Awards(AMAs) will be best remembered for its female-centric lineup of performances. In a night dominated by female acts in both performances on stage as well as in terms of a number of awards won, surely this year's AMAs will go on to live on the memories of music fans for years from now.
The host for the night, Tracee Ellis Ross was on her usual humorous self; so were the winners and the nominees on the stand. Of all the nominees, Country Pop star Taylor Swift and songstress Camila Cabello were the big winners with each receiving four awards.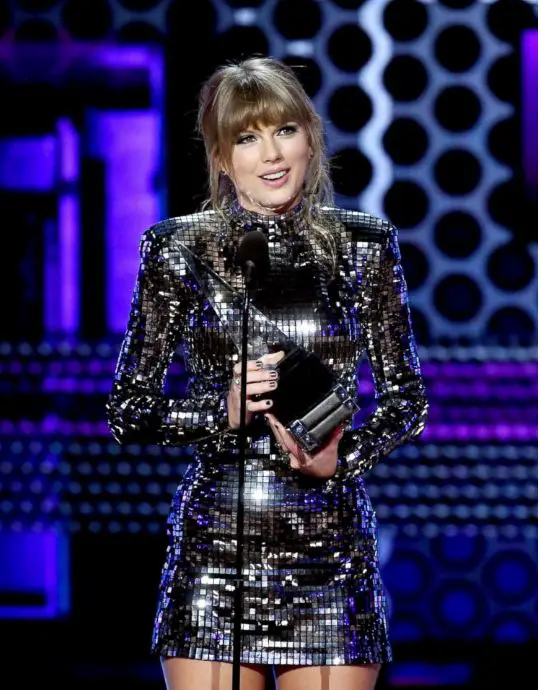 Taylor Swift delivers a speech after winning first of four awards (Photo:- abcnews.com)
Here's a rundown of nominees in a list of notable award categories including the winners:
Artist Of The Year
Nominees:
Drake
Imagine Dragons
Post Malone
Ed Sheeran
Winner:- Taylor Swift
No surprise here, it was always going to be a toss-up between besties Drake and Taylor Swift!
New Artist Of The Year
Nominees:
Cardi B
Khalid
Dua Lipa
XXXTENTACION
Winner:- Camila Cabello
Camilia pulled an upset with this win. Critics and fans alike had predicted Cardi to win this category by ease.
Favorite Social Artist
Nominees:
Cardi B
Ariana Grande
Demi Lovato
Shawn Mendes
Winner:- BTS
The Korean boy band who took the world of music by storm since its inception has announced their arrival. Given their social media following, it's easy why critics helmed them to win this category.
Favorite Artist(Rap/Hip-Hop)
Nominees:
Drake
Post Malone
Winner:- Cardi B
Cardi B debut album Invasion Of Privacy was loaded with bangers as much as it was with content and artistry. She has had one of the biggest years any rap acts have ever had. She deserved the Favorite Artist in the Rap category.
Favorite Album(Rap/Hip-Hop)
Nominees:
Drake(Scorpion)
Lil Uzi Vert - Luv Is Rage 2
Winner:- Post Malone - Beerbongs & Bentleys
Beerbongs & Bentleys is one of the top-selling albums this year. The sophomore album by the New York native produced hit singles such as Rockstar and Paranoid.
Favorite Song(Rap/Hip-Hop)
Nominees:
Drake - God's Plan
Post Malone ft. 21 Savage - Rockstar
Winner:- Cardi B - Bodak Yellow
A tough one. Either of the three nominees could have taken home the coveted Favorite Song in the Rap category.
Favorite Song(Soul/R&B)
Nominees:
Ella Mai - Boo'd Up
Khalid - Young & Broke
Winner:- Bruno Mars ft. Cardi B - Finesse
Bruno and Cardi brought the heat with Finesse. The funk-heavy single, with its timeless sound, transcends genres across all of music.   
Favorite Soundtrack
Nominees:
The Greatest Showman
The Fate of the Furious: The Album
Winner:- Black Panther: The Album
A big win for Kendrick Lamar and Company who helped soundtrack Marvel's latest offering in the form of Black Panther.
Performances: Female Acts Lit Up The AMA Stage
All in all, the 2018 AMAs saw few upsets as well as some surprise wins. However, it was the performances on the stages that have been making waves since the end of the award ceremony.
Reality star turned rapper Cardi B took the stage for the first time since giving birth to her first child, Culture alongside J Balvin and Bad Bunny in what can only be described as a color performance. Songstress followed Cardi's suit and tore the house down with her performance of "Limitless."
Fellow R&B legend Mariah Carey's stunned the audiences with a live rendition of "With You." In a weird turn of events, the rock outfit Panic! at the Disco paid a humbling tribute to British rockers Queen by covering "Bohemian Rhapsody" live from Australia.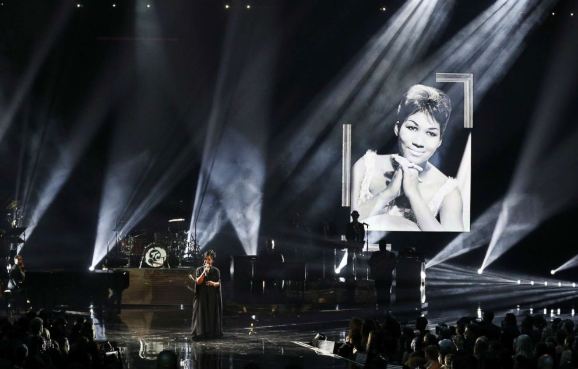 A group of world-class soul musicians serenades the AMAs audiences with their tribute to Aretha Franklin (Photo:- abcnews.com)
Gladys Knight, Ledisi, Mary Mary, Donnie McClurkin, and CeCe Winans closed the night by paying an emotional tribute to the late great Queen of Soul Aretha Franklin.