TV/FILM
Aquaman Clobbers Box Office! Late 2018 'Billionaire' Movie Reviews
Despite opening to the lowest domestic grossing for a DCEU movie, Aquaman has proven itself to be a winner at the box office.
After the last DC movie "Justice League" failed to make an impact with the audience and failed miserably at the box office, a new film featuring a man-fish hybrid was deemed absolutely unnecessary.
However, proving the experts wrong, Aquaman has been able to win the hearts of critics and viewers alike, which can be known from its huge worldwide collections.
The movie's success has been credited to its cast who did an excellent job, along with the post-production members, VFX team, and the director.
Cast And Plot Of 2018 Movie
Aquaman released in December 2018 on different days all around the world. The movie features the story of Arthur Curry or "Aquaman," a half-human half-Atlantean breed who is the heir to the throne of Atlantis.
See Also:- NBC Cancelled Timeless (Again), Will It Get Renewed After Series Finale?
The titular character is played by Jason Momoa, reprising his role from earlier DC movies, Batman V Superman: Dawn of Justice, Suicide Squad and Justice League. The movie follows the plot of Aquaman's origin story and his journey to becoming the king of Atlantis.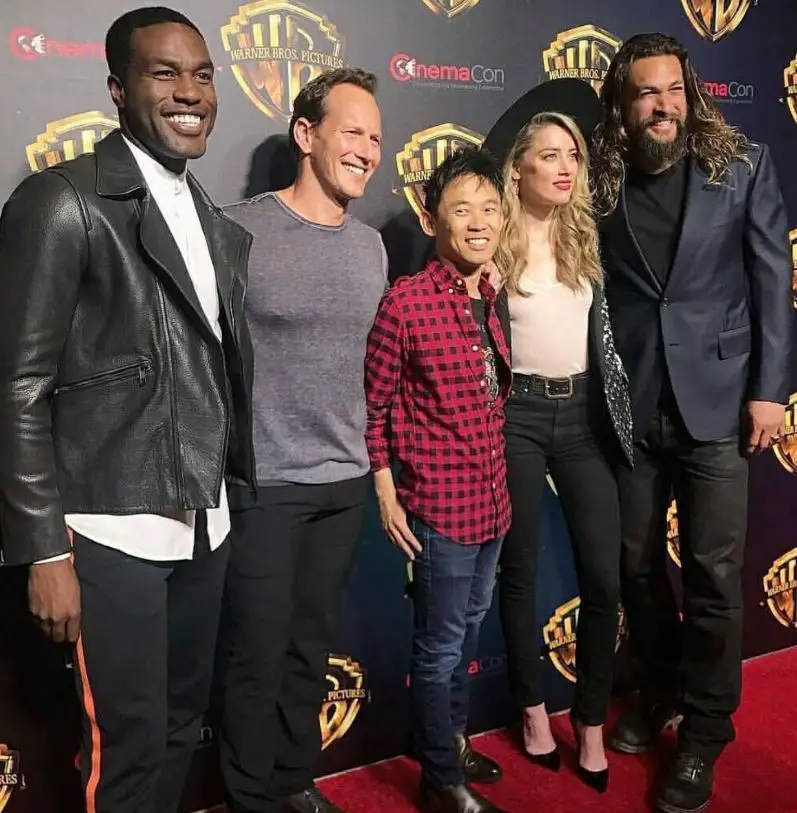 Aquaman (2018) cast Yahya Abdul-Mateen II, Patrick Wilson, James Wan, Amber Heard and Jason Momoa (Photo: Pinterest.com)
As the film progresses, Arthur learns that he is the heir to the underwater kingdom and must free the citizens of Atlantis from the reign of the current evil ruler, Orm / Ocean Master. In the meanwhile, he must also maintain peace between the land and the ocean.
Directed by professional filmmaker James Wan, the movie stars an extended cast which includes some high-profile actors and actresses. The role of Arthur's mother Atlanna is performed by Nicole Kidman; whereas, Temuera Morrison plays as Arthur's father.
Don't Miss:- Kenya Barris, 'Black-ish' Creator Signs $100 Million Netflix Deal
Similarly, Amber Heard appears as Aquaman's ally Mera, while Patrick Wilson is the main antagonist of the movie named Orm or the Ocean Master.
The movie also boasts some veteran actors including Willem Dafoe as Vulko, Dolph Lundgren as Nereus, Yahya Abdul-Mateen II as Black Manta, and Ludi Lin as Captain Murk.
The supporting cast for the movie includes actors like Michael Beach, Randall Park, Graham McTavish, Tainui Kirkwood, Otis Dhanji, and more.
Box Office Collection, Movie Review
Aquaman, which released on 21 December 2018 in the US and Canada, was earlier released on different dates all around the world. The movie has got a wide release in the US with over 4125 screens and grossed $67.4 million in its opening weekend. On Christmas Day itself, Aquaman made a collection of $22 million.
The movie's worldwide box office estimated as of today has been nearly $600 million. Forbes has estimated Aquaman's lifetime collection to gross over $1 billion.
The film generally garnered positive reviews from both audiences and critics alive. Jason Momoa was praised for his performance as the lead character.
More From LiveRamp Up:- Teen Choice Awards 2018 | Winners List of Movies and TV Shows
Screen Rant's Andrew Dyce defined the movie as "beautiful, weird, badass" and wrote on his Twitter feed,
"Aquaman is a breathtakingly beautiful, weird, badass, FUN idea of a modern superhero fantasy (anime) and makes zero apologies. Second half's one cheer/laugh after another. Imagine '80s Schwarzenegger starring in "Hideo Kojima's AVATAR" and you're most of the way there. #Aquaman"
Similarly, critic Meg Downey reviewed the film as both "good and bad." Also, another review by Brandon Davis suggested the movie as "great" if not the best. He wrote on his Twitter,
"#Aquaman is great. James Wan made a really unique super hero origin film, often crossing into fantasy-epic territory, but grounded in family and discovery. The world is visually incredible. Jason Momoa as Arthur Curry is a total bad-ass. @yahya and @patrickwilson73 stand out!"
Further, Aquaman also received positive reviews from the audience, which can be seen in the movie's massive box office collection.