TV/FILM
Top 10 Black Lesbian Celebrities Relationship Status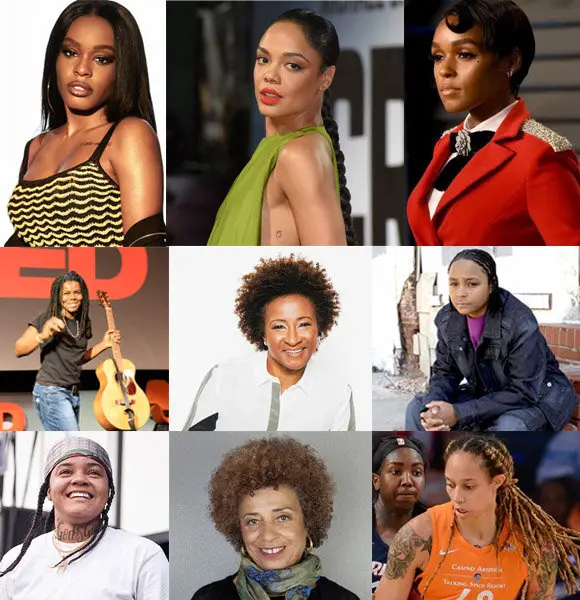 You probably know that there was a time in America - or the show-biz world - when asking about celebrities' sexuality often got met with side-eyes. But over the past decade or so, that trend has somewhat simmered down.
In part because of the sweeping changes surrounding the plight of the LGBT community is gaining momentum day by day and also because "the queers" in the entertainment industry no longer feel threatened and insecure about a possible blackball situation. 
And, at the forefront of the said movement are black lesbian celebrities, who - in more recent years - have publically acknowledged their sexuality while remaining open about their relationship.
To celebrate the milestone, here we have compiled a top 10 list of black women identifying as lesbian and their relationship status!
1. Azealia Banks
By far the most troublesome celeb in the list, Azealia isn't "lesbian" per se, but she has always identified as bisexual. In the past, the New York rapper dated both women and men; the latter more so than the former.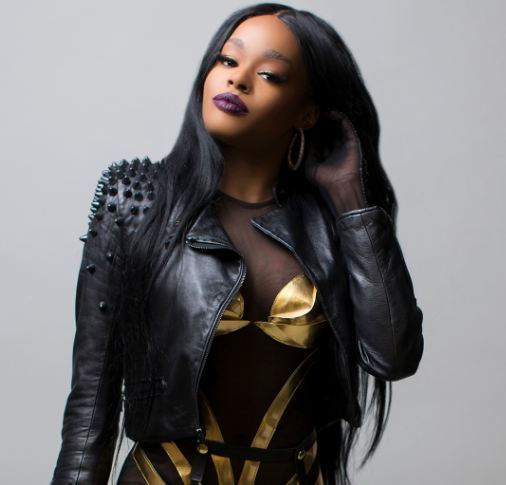 Known for her Twitter antics, rapper Azealia Banks is open about her sexuality (Photo:- billboard.com)
At the very moment though, she appears to be single. Perhaps, her Twitter antics occupy all her time and energy.
Relationship Status:- Single & ready to mingle.
2. Tessa Thompson
Much like Azealia, actress Tessa Thompson finds the "lesbian" label all too boring. In 2018, the Sorry To Bother You star came out as bisexual quipping:-
"In my family, you can be anything you want to be. I'm attracted to men and also to women. If I bring a woman home, or a man, we don't even have to have the discussion".
Rumour has it that the Los Angeles native is secretly dating Janelle Monae, another black woman in our list.
Relationship Status:- Linked with Janelle Monae.
3. Janelle Monae
A staunch supporter of the LGBTQ community, Janelle identities herself as a lesbian among other things. Much like her rumored girlfriend, the Tonight songstress loathes conforming to specific sexuality.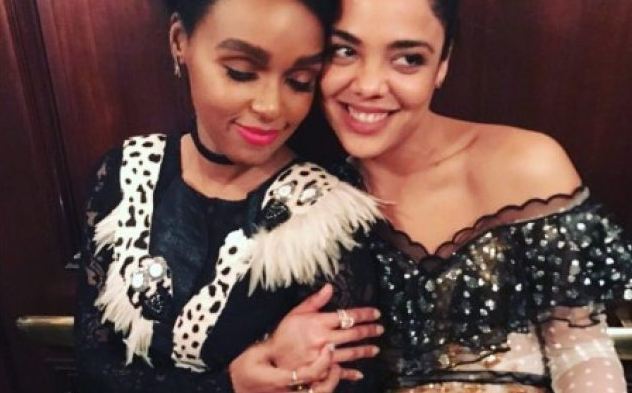 Romantically linked since 2018, Janelle Monae and her rumored girlfriend Tessa Thompson are the hottest lesbian couple in the Tinsel town (Photo:- naturallymoi.com)
Identifying as pansexual, Janelle has won the hearts of many; Tessa is one of them.
Relationship Status:- Rumored to be dating actress Tessa Thompson.
4. Tracy Chapman
Grammy Winning-artist Tracy Chapman has yet to come out as a lesbian, despite the consensus among the public that she is one. The Fast Car hitmaker once aptly replied:-
"I have a public life that's my work life and I have my personal life. In some ways, the decision to keep the two things separate relates to the work I do."
At one point, she appeared smitten with The Color Purple author Alice Walker. They could be still together.
Relationship Status:- May or May not be with Alice Walker.
5. Wanda Sykes
When comedian Wanda Sykes opened up to her parents about her being lesbian, she was in her 40's. She was previously in a marital relationship with music producer, Dave Hall.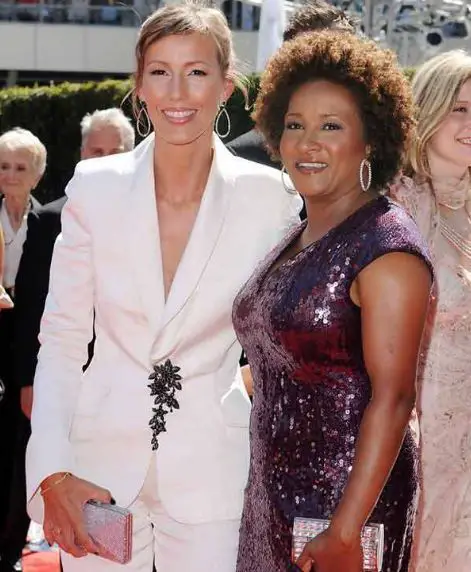 Wanda Sykes, who came out at the age of 40, is raising two children with her partner Alex Niedbalski, a French national (Photo:- huffingtonpost.com)
Today, alongside her partner Alex Niedbalski, she actively advocates for the LGBT community all the while raising their two children.
Relationship Status:- Already taken!
6. Felicia Pearson
Actress Felicia Pearson burst into the acting scene portraying the character of Snoop in the popular drama The Wire. One of the many reasons why her performance resonated with so many is because she was playing herself -- a tough-skinned lesbian.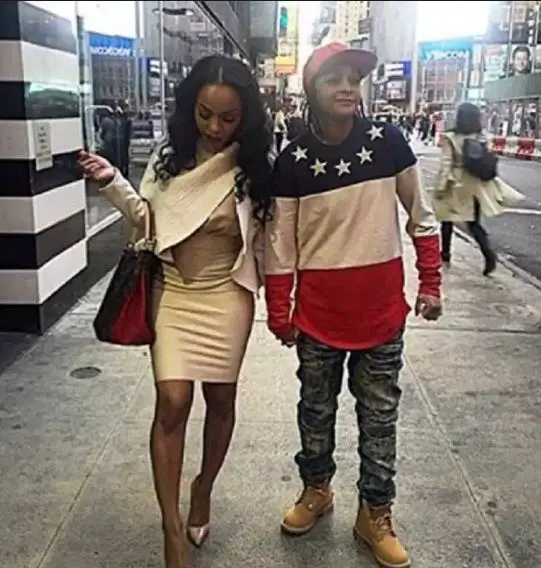 Appearing on LNHHNY, the Wire Alum Felicia Pearson and her girlfriend, Judith J. Adrienne gained notoriety (Photo:- heavy.com)
Since getting killed off from the show, the actress-turned-rapper has had few run-ins with the law and even authored a book.
Relationship Status:- Bestie Judith J. Adrienne is still her boo.
7. Syd, the Kid
The Internet's very own Syd, the Kid is slowly but steadily branching away from the Odd Future sound that she and the group's leader Tyler, the Creator made mainstream. And, it shows in her music.
The short-haired bombshell's explicit lyrics aimed toward women is further proof that she's coming to her own.
Relationship Status:- Secretly seeing DJ Chantel Jeffries or so the gossip tells.
8. Young M.A.
Moving from one musician to another: there isn't more iconic black lesbian figure in pop-culture today than East Coast emcee Young M.A. Notorious for "stealing" fellow celebrities' girlfriend - ask Rich The Kidd & Bow Wow - the Ooouuu hitmaker has established herself as a sex symbol in the last year or so.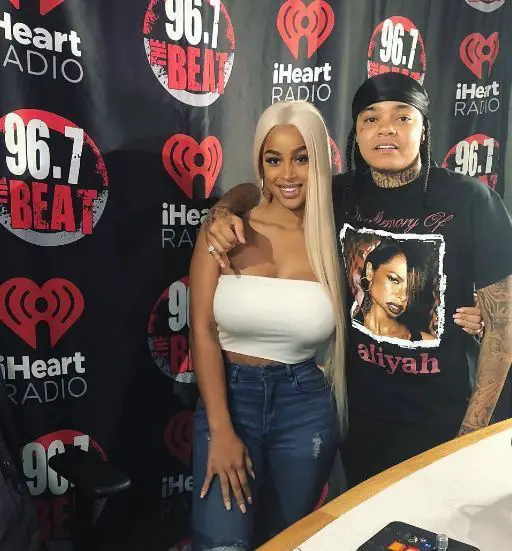 Mrs. Steal Yo Girl Young M.A. poses with Bow Wow's girlfriend Kiyomi (Photo:- mtonews.com)
The likes of Torri Brixx, Bernice Burgos, and Kiyomi Holden are a handful of women, who have fallen for her New York charms.
Relationship Status:- Apparently in a romantic situation with rapper G Herbo's baby mother.
9. Angela Davis
In many ways, politician and activist Angela Davis paved the way for the Young M.As of the world. Coming out in the late '90s, the Civil Rights Movement leader is just a handful of women in American politics, who is openly lesbian.
Now in her mid-70s, Angela along with like-minded celebrities continues to for minorities the as well as underprivileged groups in America; LGBT community
Relationship Status:- Engaged to "the cause!"
10. Brittney Griner
Brittney Griner is to American sports what Angela Davis is to American politics. When one thinks of a black lesbian sports figure, it doesn't get any more significant than the former WNBA athlete.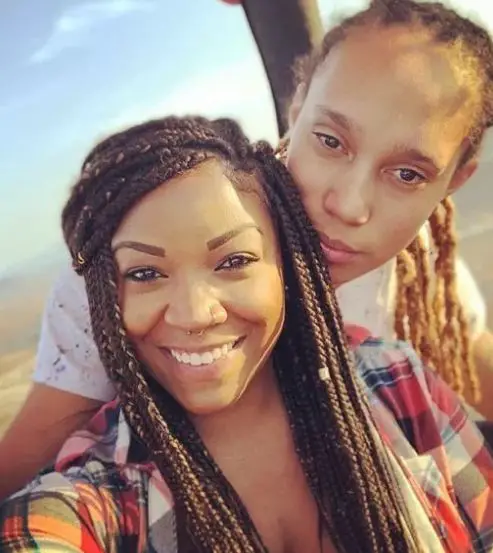 Openly gay Brittney Griner and fiancee Charelle Waston are currently busy making plans for their wedding (Photo:- freedyo.com)
After years of dillydallying, Brittney seems to have found the woman of his dream in her girlfriend-cum-fiancee, Charelle Watson.
Relationship Status:- Engaged-to-be married!
And there you have it, the list of top 10 black lesbian celebrities and their relationship status. In all honesty, being a woman, black and lesbian - all at the same time - sounds like a recipe for failure. Aren't we all glad that these powerful women have defied all the odds and come out on top?