TV/FILM
Game of Thrones Season 8: GOT Final Season Airing In April, A Holocaust
HBO's popular series "Game Of Thrones" has finally announced it's season finale to be aired this April 2019. With the final story arched in more exciting yet unexcepted episodes, Got has left its fans wondering how the show will end!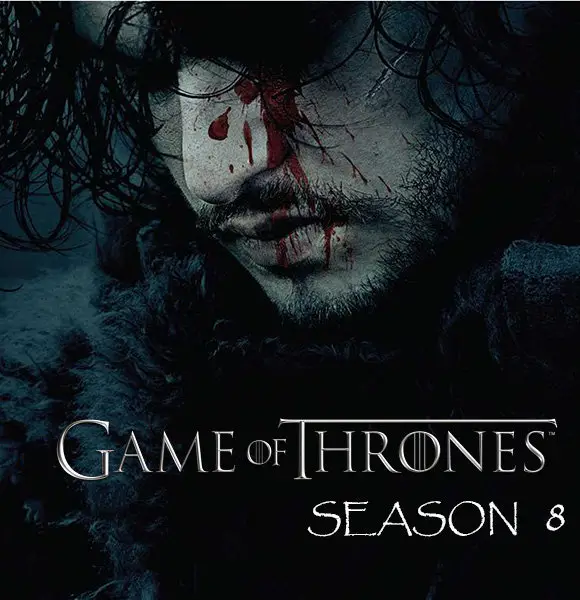 It has been a total of eight years for Games Of Thrones, where the fans have been gripping to the fantasy world of kings, queens and the dragons. Everything covered in bloodbaths, betrayals and euphoric adrenaline making the show one of the most watched series till date.
HBO's popular series "Game Of Thrones" has finally announced it's season finale to be aired this April 2019.  
With the final story arched in more exciting yet unexcepted episodes, Got has left its fans wondering how the show will end!
A Brief Recap To Season 7:
The prior season of game of thrones had left everyone aghast with its game changer episodes.
Season 7 remolded the story of Bran Stark from an ordinary Stark kid into the three-eyed raven who could now touch every story woven in the past and the present.
With so many Stark members down to the dust, Little Rickon Stark also joined the dead army after been killed by the ruthless Ramsey Bolton while trading him to Jon Snow.
Jon, who stood proudly, determined to win the battle of the bastards, however, called it a win after his sister Sansa came with another bunch of army to the rescue alongside Little finger.
Don't Miss: Rose Leslie & Kit Harington Married; Recited Wedding Vows In Front Of 'Game Of Thrones' Crew
With the two Stark kids, Bran and Arya returning home to Winterfell, the North just felt more homely when the two sisters stood shoulder-to-shoulder recalling their Northen Anthem saying :
"The lone wolf dies but the pack survives."
After of course Arya mercilessly slitting the throat of Peter Baelish in command of her sister Sansa.
Littlefinger, who had prior his murder given his cunning personality, spark to create tension between the Stark sisters to pave his way into Winterfell using Sansa like he did multiple times before.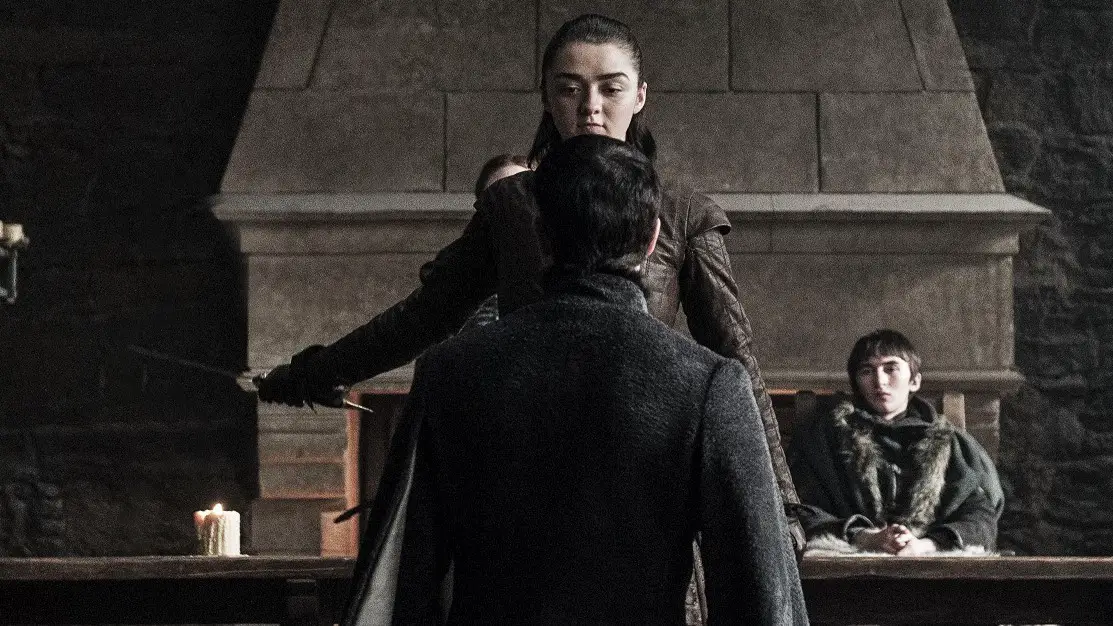 Arya Stark Slits Throat Of Little Finger In Season 7 (Photo: Watchersonthewall.com)
Arya Stark, the "Noface Girl" did pay off her revenge of the Red Wedding to Walden Frey's family by poisoning them and making a pie out of their bodies. Arya bid farewell to Walden slitting his throat and saying:
"The North Remembers"
Jon collaborated with the Wildings and bent his knee to the Mother of Dragons, to win the battle with the dead. Everything went bizarre after the White Walkers had captured one of Daenerys' dragon and broken through the wall leaving the ginger-headed Tormund to fall into the pit of the wall.
With Cercie Lannister planning her attack on Danny and Jamie Lannister heading to the North disgusted with his sister-lovers action, The Kings Landing is left with the Unsullied guarded to win the throne for their Queen Danny.
The season also proved to a table turner when Jon Snow's true parents were discovered and wrapped up with Jon making love with Danny in the end.
Game Of Throne's Final Season 8 To Be Aired On April 2019:
With some remarkable episodes and storyline wrapped up in season seven that left fans wanting more of the show, HBO first confirmed that Game of Thrones' season 8 will be releasing its first half in the year 2019.
The network then finally confirmed that game of thrones season 8 would be aired this April 2019. However, the exact date of the release has still been unknown to the fans, but the details about having a total of just 6 episodes.
David Benioff and D.B. Weiss, who are behind the GOT series, made it clear that even though the season finale would be aired with just 6 episodes, the length of each episode will be run for 80-90 minutes.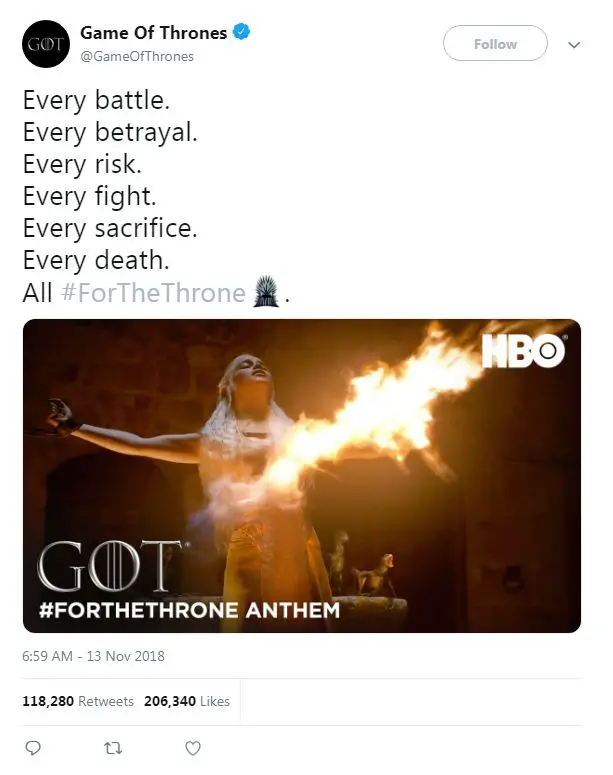 GOT Page Officially Declares The Release Of Season 8 On April 2019 (Photo: Game of Throne's Twitter) 
While all the credit of the final show goes off to Dave Hill who will write episode 1, Bryan Cogman episode 2, David Benioff and D.B Weiss who will end the show with their last four grand episodes. No doubt how everybody will be left aghast yet again with these talented story creators.
Read Also: Matthew Rhode Age 36 Married, GOT Themed Romantic Wedding Ceremony
And of course, the rumors about spending $15 million on every episode of S8 has just made everybody lose their patience to wait any longer.
The cast members have reacted to the season finale with great emotions. Director, David Nutter has summoned the final season into three words saying:
"Spectacular, Inspiring, and Satisfying."
While the Mother of Dragons, Emilia Clark reported her reaction to the Vanity Fair by saying:
"It f—ed me up, Knowing that is going to be a lasting flavor in someone's mouth of what Daenerys is . . ."
Kit Harington, who played the character Jon Snow, shared his word to Huffington Post saying:
"It's relentless; scenes that would have been a one-day shoot five years ago are now a five-day shoot, They spent an increasing amount of money on less episodes, so it's gonna be much bigger in scale, the CGI…We're trying new things, experimenting with new camera techniques. I think we're trying to break boundaries and push past boundaries in these final two seasons!"
While Sophie Turner claimed her words in 1883 Magazine saying:
"This season is bloodier than ever. It's full of betrayal, full of war, full of danger,"
What Would Be Next:
While so many fans are holding on to certain clues about the final season, Direction Nutter along with  Benioff and Weiss have made sure that no spoilers would be exposed to the audiences this time.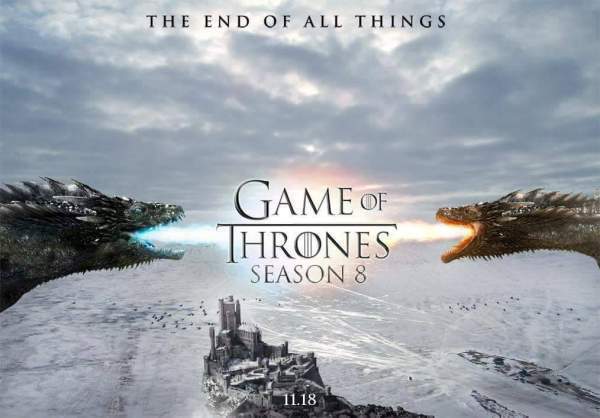 GOT This April (Photo: Gameofthronesspoiler.com)
However, with meager clues, one can imagine if the storyline would start with  Daenerys and Jon in Winterfell, the unsullied batling in the snow for the first time against the deads, more new characters, and more new setups to arise with more exciting table turners in this episodes.
GOT Cast: GOT's Alfie Allen Gay Rumors Swerve! DJ Girlfriend, Dating Reflects Paradise
The only question everybody wants to get an answer to is
"Winter is finally here so, who will win the throne?"