TV/FILM
NBC Cancelled Timeless (Again), Will It Get Renewed After Series Finale?
After much waiting, the fans of the NBC time-bending series Timeless - starring actors Matt Lanter & Abigail Spencer as its lead - got the fitting series finale they wanted.
The two-part series finale featured Lucy (Abigail Spencer), Wyatt (Matt Lanter), and Jiya (Claudia Doumit) travel back to the 19th century California to the put a stop to Rittenhouse's evil schemes.
As predicted, Rufus (Malcolm Barrett) - who had died in an earlier series finale - would get saved; not by the Time Team but instead, by the show's one-time antagonist Flynn (Goran Visnjic).
In the show's second part, Lucy and co travel to 1950 North Korea, a country facing the imminent prospect of a war breaking out, in an attempt to reunite a family. The creme de la creme, however, comes toward the end of the finale as a quick time trip to 2023 reveals Wyatt & Lucy get married with twins and Rufus & Jiya finally get together.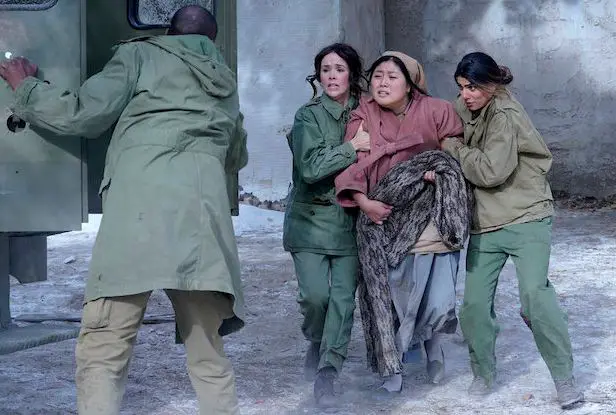 A screengrab of Timeless' series finale (Photo:- tvline.com)
The latter scene involving Lucy handing over her journal to Flynn also gave the finale its coming-together moment. However, it's the penultimate scene of the aptly titled end The Miracle of Christmas that has ignited a fire of hope among the Clockblockers (show's fandom).
Series That Might Peak Your Interest:- Game of Thrones Season 8: GOT Final Season Airing In April, A Holocaust
Will NBC's Timeless Get Renewed For 2nd Season?
The ending of the beloved NBC series has left much to look forward to in the future.
Asked whether the final scene - a little girl engineering her time machine - left a door open for a continuation of some sort, the show's executive producer Shawn Ryan professed optimism. He told The Hollywood Reporter:-
"There's definitely a door open if someone is interested in opening it further, absolutely."
If the show does get revived, rest assured, it won't be on the conjunction with its current home NBC.
Why Did Timeless Get Cancelled Twice? Matt Lanter & Abigail Spencer React To The News
Despite boasting an average 4.2 million viewership an episode, NBC announced its plans to cancel Timeless on 10 May 2017, only to renew the series for a second season three days later.
From NBC's Sister Network:- Maria Teresa Kumar Age 44 Bio Reveals Husband Identity & Family Status
Following the completion of the second season - to Clockblockers' dismay - the sci-fi series would get canceled one more time as NBC, on 22 June 2018, announced that it had halted the production citing economic obstructions.
Shawn Ryan reveals there won't be another season (Photo:- Shawn Ryan's Twitter)
As for a reason behind the annulment, Shawn took to his Twitter to explain it all. On 22 June 2018, tweeting to his 36.6 thousand followers, he wrote:-
"Discussions still take place between @SPTV and @NBC about a possible two-hour movie to conclude the #Timeless story, but there are considerable economic obstacles that make it an uncertainty... "
Soon Matt Lanter reacted to the news via Twitter. Quoting Entertainment Weekly's tweet, he professed his admiration to the Clockblockers by writing:-
"I love you #Clockblockers. You've fought so hard and deserved so much more. #Timeless"
Timeless' other lead Abigail Spencer, however, was slightly diplomatic with her thoughts as she asserted her desire to "wrap up the story" powerfully and elegantly.
You May Learn Something New Today:- Noelle Nikpour Background Check: Married Life, Parents Details & Facts
Little did she know that her prayers would get answered in a mere nine days. On 31 June 2018, NBC released a statement which read:-
"NBC and Sony Pictures Television are collaborating on a two-part "Timeless" finale to air during the holidays, giving closure to the globetrotting series that has generated incredible viewer passion."
A fitting end to the bittersweet story or maybe not!