Entertainment
After Dating Affairs, Is Adam Beach Settled Again Following Wobbly Unsuccessful Relationship With Girlfriend-Turned-Wife
Twice-divorced actor Adam Beach is sharing pleasant life with his wife Summer Tigers and his daughter. Let's get to know more about 'Smoke Signals' actor's personal life in our story.
Third-time Success Followed by Twice-divorced:
Saulteaux actor Adam Beach is really into the dating runway. He has always been linked up with a new hottie and found dating too. After two unsuccessful marriages, it seems like he might get success third time with his wedding.
44-years old actor started dating Summer Tigers since 2007. The two also shares a daughter Phoenix (2008). They were taking their relation without marriage, but in 2015, they tied the knot. They took their wedding picture to Instagram to make us familiar about their relation.
The couple shares a healthy life with their daughter. And we are no new to Adam sharing pictures of his daughter and wife which is his loving gesture. To enlighten the fact, we can see many thoughtful posts.
The love of Adam Beach for his wife and daughter can be seen all over his Instagram post. May this love and bond last long.
Marriage and Dating History of Adam Beach:
Adam Beach's record shows that he had been married thrice. First, he was married to Meredith Porter in 1999. Girlfriend turned wife Meredith Porter and Adam Beach shares two sons, Noah (1996) and Luke (1988). Due to their differences, it made their marriage quite pleasant and ended up in divorce in 2002.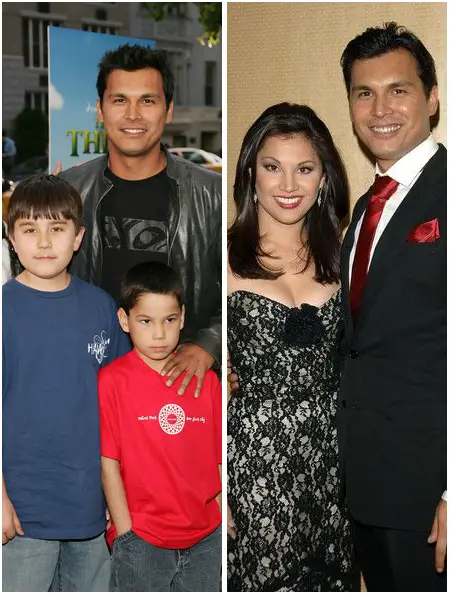 Caption: Adam Beach and Meredith Porter shares three years of marriage and has two sons.
Within a short period following their divorce, there comes another lady, Tara Mason in the life of Smoke Signals's actor. They soon tied the knot in 2003 which went on for four years and ended up in 2007.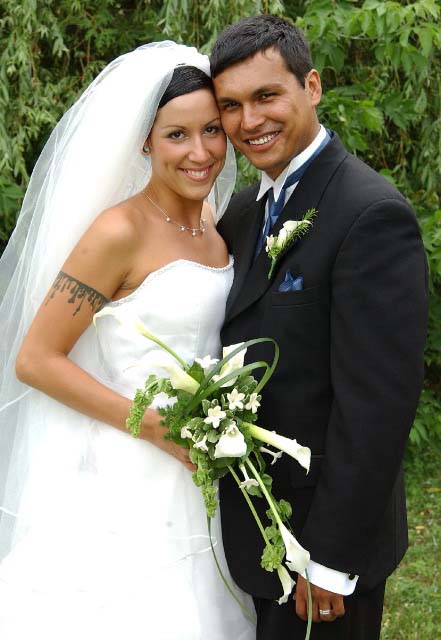 Caption: Adam Beach got married to Tara Mason in 2003.
Photo Credit: gettyimages.com
While filming 'Arctic Air' Adam Beach met his co-actor, Leah Gibson. Both started dating since then which was proved by Adam during an interview. When he was asked about the favorite part of 'Artic Air,' then he replied,
My favourite part is I met Leah Gibson, who's now my girlfriend. She plays Candi on the show. [Laughs] I'm laughing at her, she's right in front of me!
Both were one of a favorite couple of audience that time both on-screen and off-screen. The Canadian show aired from 2012-2014.
Caption: Adam Beach and Leah Gibson in the red carpet of Canadian Screen Awards (Published on Mar 3, 2013).
With the end of the series, there was also full stop in the story of the lead dating with no official statements. Adam Beach started his career from 1990. After two and half decades in entertainment, his film credits include Smoke Signals (1998), Windtalkers (2002), A Thief of Time (2004) and Suicide Squad (2016). All his work in films and television has contributed to making a sizeable figure of a net worth of $2 million.