Entertainment
Broadcaster Jeremy Paxman: Is He Secretly Married To His Longtime Partner? Get Acquainted With The Truth
It is quite surprising to know that Jeremy Paxman being a top English Journalist has kept his marital a matter of secret. Paxman has already disclosed his girlfriend. But what about his wife?
What is the truth behind his current status? We'll follow it up with you!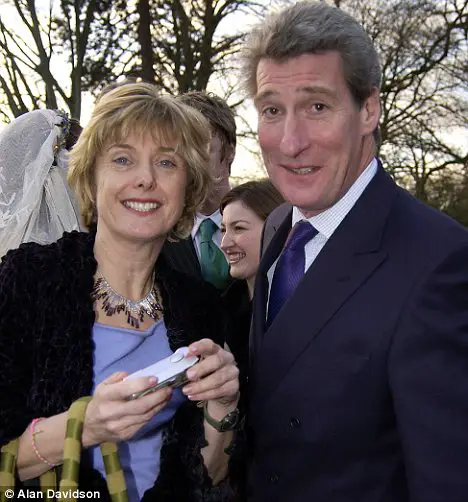 Caption: Jeremy Paxman along with her partner Elizabeth Ann Clough.
Source: dailymail.co.uk
One thing is sure; Jeremy Paxman is no single. He has been in a relationship as partners with Elizabeth Ann Clough for last 30 years. Both of the couples live in Oxfordshire with their children, daughter Jessica, who is 24years old and 18-year-old twins, Jack and Victoria. Both partners Jeremy and Clough has illustrious careers with BBC.
Moreover, one interesting thing about the couple is that they are not married till date although they have been together for last three decades. But what might be the reason behind their unmarried status?
It was in February of 2011 when rumors about their separation emerged. The main reason behind it was that the Newsnight presenter's long-term companion, Elizabeth Clough, had been forced to leave her highly paid occupation as a television producer and it was because of the BBC's flight from London.
'The Big Questions,' the program where she worked had moved to Scotland by BBC, and it is the reason that put the strain on their three-decade relationship. Steve Anderson, the creative director of Mentorn, the production firm for which she worked said in an interview with The Telegraph on 13 February 2011:
"When the program was relocated by the BBC to Scotland she spent some time bedding it in, but she couldn't relocate"
Moreover, he added:
"She and Jeremy are not separating. I spoke to Elizabeth this afternoon. She was at home with Jeremy and both were taking turns to help one of their daughters with her Spanish homework."
Both of them are bonded in a strong relationship and share a mutual relationship. But it wasn't as always as today for Jeremy Paxman as his childhood was punctuated with beatings and that too with shoes, sticks, shoes, bare hands and other kinds of stuff.
The relationship between Jeremy Paxman and his father wasn't that to be remembered as he says''My feelings ranged from resentment to passionate hatred.' It might be the reason as Paxman turned into one of the brutal, aggressive and ruthless political interviewers.