Entertainment
Who is Jon Gosselin's Girlfriend? Divorced His Wife in 2009, Planning To Get Married Again?
WHO says that you can't fall in love for more than one time? And who says that every time it is the right person? Jon Gosselin doesn't think so, and he can give us four reasons why. Jon who is an American television personality was best known for his appearance on a reality TV show "Jon & Kate Plus" with his ex-wife. But time has changed and things have moved on and now he has a new girlfriend!
Meet Colleen Conrad, Jon Gosselin's new nurse girlfriend who doesn't seem to have much introduction in the media. The only reason she came to light was after her affair with Jon since 2015 and is now living with him.
The two of them seem to be going great together and rumors about their plan on getting married soon have been flying over the social media. Many of his fans are also very curious to know about this, although the answer isn't clear yet.
However, in an interview with "ibtimes.com" in 2015, he gave an answer for situation as he said,
" I don't know. Never say never! You never know, for me I'm super spontaneous. Colleen and I are doing great, the kids are getting along well together, and I'm just living a normal life and DJing."
So, considering the possibility there is a chance that we can hear about his marriage soon, although things with his ex-wife could make him insecure about the feeling of getting married.
Divorced his Wife in 2009:
Jon and his ex-wife Kate Gosselin; who is also a TV personality, were a pretty good couple on and off the screen and were together for 11 years between 1997 to 2009. They got married in 1999 and had eight kids together: Mady and Cara, sextuplets Alexis, Hannah, Aaden, Collin, Leah and Joel.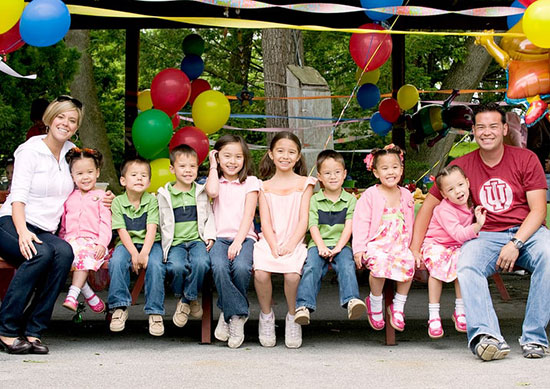 Caption: Jon and Kate, with their children, 2012.
Source: usmagazine.com
However, all didn't go well between the two of them got divorced in 2009, following a serious conspiracy from their sponsor TLC. Jon was furious after TLC tried to persuade them to hold their marriage, for the sake of the show's success.
He said in an interview with usmagazine.com in 2016.
"So I quit. 'I'm not having my divorce filmed. I'm not having it aired out for the public's consumption. And I'm not having reruns so my children can keep on watching the demise of their parents"
The news of his slamming TLC hit the media greatly.
Besides, Jon, who seems to be lamenting his past life with his ex-wife, is furious with her for all the pain and loss. He also is not happy how the divorce took away everything from him, including some of his kids and how his life has turned low and quiet for the Reality star turned into a DJ. His net worth now is just 10 thousand dollars, compared to his ex- wife's splendid bank balance of 200 thousand USD.
Kate, on the other hand, seems to be doing great now and seems to be enjoying her post-marriage days. She was known to have been dating millionaire Jeff Prescott until recently when sources reported; Jeff dumped Kate for a younger Belarusian woman.