Entertainment
Did Klay Thompson Cheat On Girlfriend That Just Could be His Wife? Has New Dating Affair Now Or Mended Things With Beau?
Relationships are fragile, and one needs to handle it with care, as it doesn't take time for a slight crack to despair the relation. Honesty and faithfulness are two important aspects of a relationship, and when those pillars are to be questioned upon, it speaks volumes.
Sharing similar story is Klay Thompson, who was accused by her former girlfriend of cheating. But, does the accusation hold right? What happened to their relationship? Are they still dating? Or Klay has found love in someone else? Let's see through.
Klay Thompson Girlfriend's Cheating Claims:
One of the basic things that can ruin a relationship is infidelity. Every now and then, people in a relationship are found being its victim.
Similarly is the story of Golden State Warriors' player Klay Thompson, who reportedly cheated on his girlfriend, Hannah Stocking.
As per the reports, Klay's girlfriend- an accomplished volleyball player and a biology-chemistry graduate, Hannah, tweeted about finding her boyfriend naked with a groupie on October 11, 2015.
When you catch ur man naked in bed with a groupie.... lol @KlayThompson,'
The Tweet was followed by other two Tweets respectively,
'I told him I'd @ him if he didn't stop harassing me... So I guess he really wanted that tag to get his number up.'
However, the tweet was deleted soon, but it could not get past the media's eyes.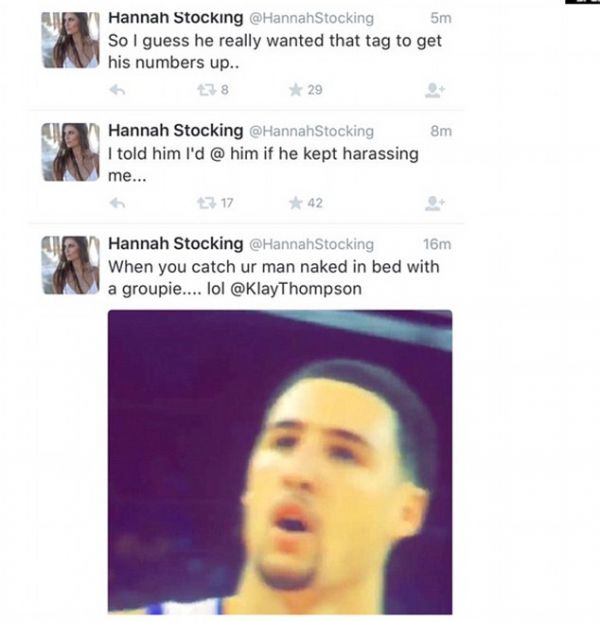 Caption: Hannah Stocking's cheating claims on Klay Thompson.
Photo Credit: Daily Mail
In June 2015, the news of their falling relationship surfaced on the media and Klay reportedly dumped Hannah Stocking for his then-new-girlfriend, Karrueche Tran.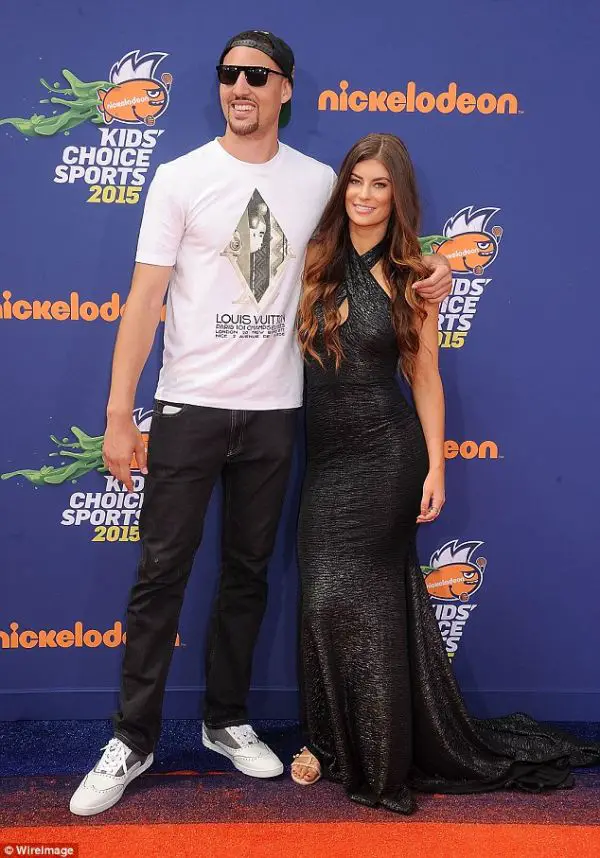 Caption: Klay Thompson with his ex-girlfriend Hannah Stocking attending Nickelodeon Kids Choice Awards 2015.
Photo Credit: Daily Mail
Klay and Hannah, who dated for about a year since October 2014, has not yet commented anything official regarding the cheating accusation.
The couple could have married, giving a profound meaning to their love, justifying the relation of a husband and a wife. But the duo parted ways; breaking hearts of many fans.
However, now it seems like Klay Thompson has stumbled upon love again. According to the recent reports on Terez Owens on June 22, 2017, Klay is dating Brittany Lucio, former Miss USA contestant.
Klay Thompson can be called a lucky man, and you will agree when you see the Instagram pictures of his rumored girlfriend, Brittany Lucio.
Despite the raging rumor, Klay and Brittany are yet to confirm their ongoing dating reports. Klay's fans are eagerly waiting for the official acknowledgment of their affair.
More about Klay Thompson:
Klay Thompson's dad Mychal Thompson has played thirteen seasons of NBA and has predicted that the victory of his son's NBA team in the next five years.
In an interview on June 2017, Klay's father Mychal Thompson confidently forecasted his son's victory and said,
"I'll predict right now, over the next five years, I give 'em four rings. Sometimes things pop up and you can lose one. You don't want to get too greedy. But I think they'll win four more over the next five years, as long as they stay healthy. They're so young and so good and so well-coached and so-well run in the front office. As long as they stay humble, hungry and healthy, they're going to win another four."
Moreover, Mychal even stated that the current Warrior team could beat any team. He stated,
"This Warriors team now, man, they could beat any team in any era because the way they defend—they're so versatile on the defensive end—and the way they shoot the ball—better than any team in history. This team right now could beat anybody, anywhere—and probably would."
Apart from his dad, who is a former NBA player, Klay has a younger brother, Trayce Thompson, who plays baseball for Los Angeles Dodgers' Class AAA and has made a name for himself.
However, Trayce Thompson is mostly recognized as Klay's younger brother. Speaking on this matter, Trayce stated,
I really wouldn't change anything about it, I'm so proud and so happy for everything he has done up there."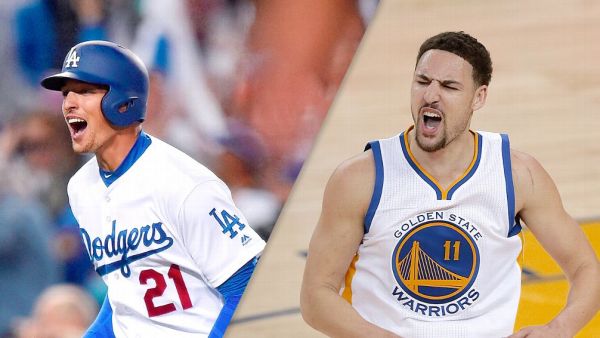 Caption: Trayce Thompson(left) and his Golden State Warrior's brother Klay Thompson (right).
Photo Credit: espn.com
Klay Thompson was titled with Division III State player of the year and League MVP while studying at Santa Margarita Catholic High school. From 2008 to 2011, Klay played basketball at Washington State University.
Furthermore, in 2011 he was also drafted by Golden State Warriors; the same team, with whom he has been playing till this date.
Apart from that Klay has also represented the United States in International competitions. Klay has won Gold in World Cup 2014, held in Spain and FIBA under 19 World Championship 2009 held in Auckland.
With his hard work and dedication towards sports, Klay earns an annual salary of $3 Million and has successfully accumulated a hefty net worth of $6 Million.
Stay with us for the latest updates on Klay Thompson!